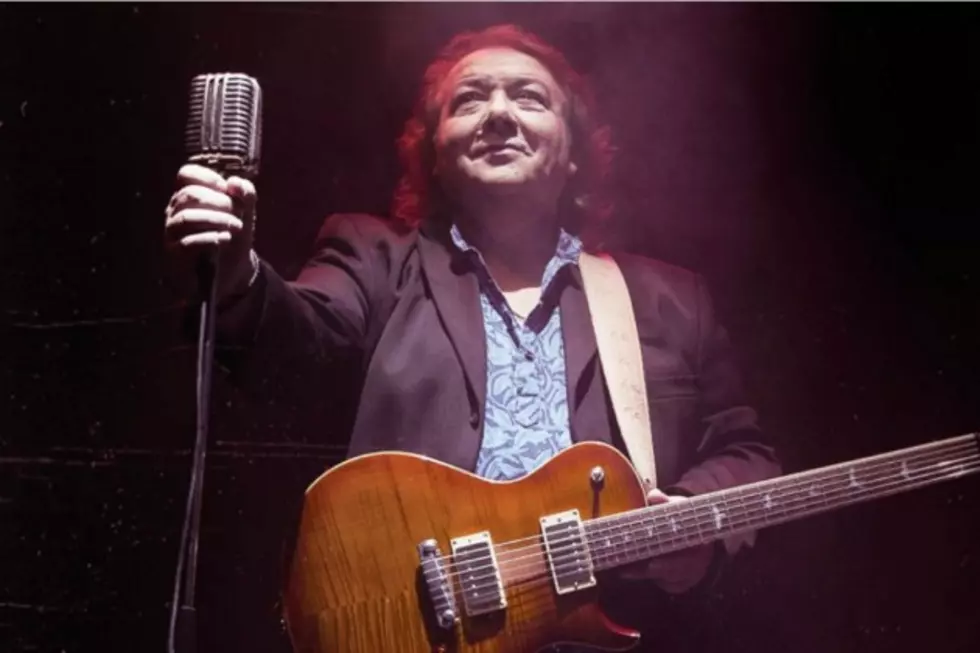 Former Whitesnake Guitarist Bernie Marsden's New Solo Album Proves It's His Time to 'Shine': Exclusive Interview
Mascot Provogue Label Group
Bernie Marsden's years in Whitesnake will always be a big part of his calling card as a songwriter and guitarist. But at this point, the eight LPs he cut with the band represent but a small part of his discography, which has grown to encompass a long list of session credits, band projects, and solo albums that now includes his most recent effort, 2014's Shine.
For fans of vintage Whitesnake as well as members of the classic rock faithful who remain on the lookout for new albums of solidly melodic songs with an amplified bite, Shine is a powerful gift from Marsden, who proves throughout the record's 13 tracks — including a reworking of the Whitesnake chestnut "Trouble," with vocals from David Coverdale — that he remains as creatively vital as ever.
Ultimate Classic Rock caught up with Marsden to discuss the making of Shine, as well as potential future projects (including the possibility of more work with Coverdale) and how this veteran performer continues to make his way in an uncertain climate for classic rock artists. Read on, and check out choice cuts from Shine below.
Let's talk about what you've been up to prior to this latest record.
Well, Shine is the first record album in 15 years -- maybe a little bit longer, actually -- that's being released internationally by a record company. I've been making albums over that period. I probably made about six albums with different projects. There's an album called Stacks, I did a couple of Rory Gallagher things [Bernie Plays Rory in 2005 and Ballyshannon Blues For Rory in 2011] that were very popular. I've been doing those from my website and selling them at shows. I never thought I'd be making a record again. You know, you get to a certain age, I've been around and I've had my time in the business, [but] I was active and I was working and I was doing gigs and recording and out of the blue, I got this call from the record label and they wanted me to make an album. So I wasn't looking for it, but I was sure glad that it happened. [Laughs]
Watch the Album Trailer for 'Shine'
When there's been a gap in time since you've made a record of songs like this, I think sometimes you can be a little bit nervous about going in …
That didn't happen. The strange thing is that over that period of time, I'd written a bunch of songs — not everything on the album, but certainly, let's say, a half a dozen. I sort of thought, "I won't record that yet ... I'll kind of keep it. Something might come along." Out of nowhere, in the back of my mind I thought there might be a Whitesnake reunion or something like that. So that's where songs like "Walk Away" come from, and a couple of other things. "Kinda Wish She Would," I'd recorded before, but in a different kind of form. All of the sudden I got this deal through and I thought, "Now I know why I've been keeping these tracks!" Everyone thought I was really clever and that I'd written like 10 or 15 tracks all of a sudden and that wasn't the case. I wrote about 50 percent of it in the studio, actually.
When you wrote "Trouble," did you know pretty early on that you wanted David to sing on it?
Yeah, I kind of thought that if you're going to go for it and ask people to sing, well go for the top of the mountain. We had reconnected and I'd been playing with Whitesnake again for a couple of years in 2011 and 2012. When I was in the studio, I thought, "Let's do a Whitesnake [styled] song and let's get the Whitesnake singer." He was great. He said straightaway, "What do you want me to do?" I said, "Just sing, my friend. Just sing."
He delivers a vocal on that song that is signature Coverdale.
Yeah, I don't know how much it has hit American radio yet, but they're going to think Whitesnake are back big time. I guess in a way, it is Whitesnake, because it's him and I performing together again and we wrote most of the stuff anyway, as you know.
Watch the Video for 'Trouble'
It has to be pretty special for you that you were able to rebuild that friendship.
Yeah, it was great. We literally bumped into each other in the London airport. I saw him and I walked up behind him and I just sort of called out, "Is that my good friend David Coverdale?" It was one of those moments that you couldn't have rehearsed and you couldn't have set it up. We just sat down and we got a cup of coffee from Starbucks or somewhere and just reminisced and talked about family that has grown up and where does the time go? About six months after that or maybe a little bit longer, he just called me and said, "Hey, what are you doing? Why don't you come play with me in Sweden?" So that was how we reconnected, on a live situation. We've done about 10 shows since then and it's been good.
We're in touch on a weekly basis, especially by text or email — he sends me pictures or jokes and stuff like that. I know the progress [with the new Whitesnake album] and I know that he's been working really hard at it, but in regards to the record itself, I've had no part in that. I'd like to think that we could maybe write some stuff together at some point. I think there's still some good songs in us. But that's a different kind of thing. It's just nice to know that Whitesnake is still going in some way. That's good.
I think that sometimes you hear an album where it's pretty obvious that the artist was focused on getting a pretty consistent sound and uniform feel to all of the tracks. This album feels like you took a more individual song-oriented approach rather than stressing out about how it was going to sit as a collection.
Well, that's down to the guys from the record label, really. I've become pretty close with Joe Bonamassa, and it kind of was through Joe's connection that the record came about. He won't take that kind of credit for it, but that's a fact, really. They said, "We'd like you to make an album" and I said, "Well, what do you want me to do?" The guy kind of looked at me and smiled and said, "Make a Bernie Marsden record," he said. "I know what you do. There's no one level of what you do. You can be really bluesy, you can be rocky, you can be kind of AOR." He said, "I just expect a Bernie Marsden record, the way that you work." I thought that showed great faith and there was no interference and there was nobody coming in and saying, "Where's the single? Where's the radio play?" It was just me making a record with good musicians and calling in a few of my good friends to play and they were delighted. They didn't come in to hear anything at any stage until I'd finished it. In fact, I invited a couple of those guys in and said, "Why don't you come down to Abbey Road and have a listen?" They jumped at the chance.
When I heard "Walk Away," that song has just got a classic AOR feel to it. Sometimes you hear some stuff that sounds uncomfortably dated and that song, it has a certain sound, but it sounds very fresh.
I don't take offense at the word "dated," because that's the kind of song that I used to be really into. You know, I'd listen to a Toto song or a Journey song or Foreigner or whatever and I'd go, "I love that kind of stuff!" David would say to me in those days, "Yeah, but it's a bit poppy" and I'd say, "Well, I'll be the poppy guy in the band" and that's how it worked out, really. I still retain that kind of thing. I love melody and if you can change a few regular chords into something a little bit different within that rock format, well, I'm the guy who is going to do that. Phil Lynott had a similar kind of attitude to writing, you know, some of the minor chords and the way that he put stuff together. I've been writing with some young guys this week and more or less putting that very element into their material and they're just looking at me, you know, they're in their late 20s or early 30s and they're just going, "How do you do that?" It's just the way I hear stuff. So that's the way it's crafted, is like that. So I don't mind whether it's dated [or not], if it's commercial where people like it and it sounds good on the radio, then I've done the job.
Listen to 'Walk Away'
I think that's what stuck out to me about that song in particular. As you know, as a guy who was in Whitesnake, there are going to be music fans out there, that if they're getting a record from a Whitesnake guy, they expect it to have a certain sound to it and "Walk Away" is a song that I think if I played that for people and didn't tell them who it was, I don't know that they'd say, "Oh, that's the Whitesnake guy." That's really cool.
If you want a Whitesnake type thing, I guess you go to "You Better Run" or something. That's a bit more in the classic Whitesnake vein. That could have easily been a Whitesnake song, I guess, in a previous life. Yet that was a new song. I'm not that worried or conscious about being modern or trying to bring [that into the song]. I left that to the guys in the studio. They're a lot younger than me and production-wise, they bring their ideas and their production values of 2014 into it. I applaud that. Because if I made a record, it would probably sound almost like a Howlin' Wolf-type record. I'm being a bit more graphic, but that's the way [I think], whereas these guys think, "No, we can do this" and I like to use the technology that's available, even if I don't really understand what it is. I just like the sound of it. They'll say, "Shall we do this with the vocal?" and I'll say, "Yeah, go ahead!" If I don't like it, I'll soon say so. Everybody was happy.
"Wedding Day" is another one that jumped out at me from this new album. I love the interplay and the staging of your guitar and vocals on the verses on that one.
Thank you. I had been listening to some stuff on the way home and I'd been listening to a lot of traditional blues stuff and while I was playing that song, I thought, "What would Big Bill Broonzy have done if he had lived to be able to play a Stratocaster?" That kind of spurred me on. So I got the rhythm track all fixed and all dandy on that song. I went from that guitar pick thing into those kind of Midwestern chords. I had no idea what the song was going to be about and then suddenly I got this image of a guy that goes to a wedding and he sees a girl that he should have married ... a girl that he let go and he says, "Hey girl, what do you say? This could be our wedding day." It all made sense. The producer was amazed, he said, "Where did all of this come from?" I said, "A journey back from London last night."
Listen to 'Wedding Day'
What was your approach when it came to recording this stuff? Do you usually spend a lot of time tracking things? Or are you pretty good at seeing when something's done and letting it go?
Because of the nature of the material, especially with a couple of the guys that I wanted to use in the studio — I know the way they play — they put their heart and soul into it. Because of that, I was aware that I needed to get these songs in one or two, maybe three takes. I didn't want to go take after take after take, because I knew that even though they would play it well, their energy level would change. So pretty much everything on the album, purely on the backing tracks, is probably no more than three takes. "Linin' Track," for instance, is one take. That's why you hear me calling the changes on it — that wasn't meant to happen. That was me going, "Next verse" and "Do the stops!" Rob Cass, the producer, said to me, 'You know what? They've got to stay" and I said, "No, no — it will drive me mad in six months that we left them on" and he said, "Well, I think it's great" and I said, "Well, you make the decision." I'm glad now, because that would have been a thing that I would have taken out and now I actually really like it. He said, "This captures the whole vibe of the sessions. It's just you and two or three other guys in the studio making a record, more or less like the old days." After that, we used the modern technology, so everything you hear is not so much live, but done with that attitude.
So instrumentally, you were able to track a good amount of it live with the band?
Yep, pretty much nearly all of the backing tracks on every track except maybe two, were done with a basic four-piece band, guitar, bass, drums and keys. We tried to do the keys as live as possible. If we were using the acoustic piano at Abbey Road, obviously that was difficult. But we always had the piano in the mix during the take and then he would maybe quickly dub another one. But when we used the Hammond organ, like on "Hoxie Rollin' Time," that was pretty much a whole live track that I overdubbed some extra guitars.
You'd worked at Abbey Road in the past. Having worked there before, are there certain rooms that you like for the sounds that you know that you're going to get?
Well, I worked at Abbey Road quite a bit in the '70s when I was much, much younger. Even though I was aware then that it was Abbey Road, it was just another studio in London. There were lots of studios in London and of course we knew about the history of it. But it's become more of an institution now. It's a bit like entering a museum in a way. But never forget that Abbey Road is probably the best-equipped studio in the world and as such, it's a pleasure to play there. People say, "It must be an honor to play there."
It's not an honor, because it's very expensive and at the end of the day, I'm paying the bill there. But there is a vibe about it and it's so professional and so together. Add to that the history ... there will be somebody there who will say, "Where did the Beatles do this record?" and they say, "Right there, where you're sitting." And that would kind of make a few of the hairs on the back of your hand stand up a bit. That happened quite a few times. So yeah, we were all aware of it. Bringing in guests, they'd say, "Where are you doing it?" and I'd say, "Meet me at Abbey Road at 6:00." They were always there at a quarter past 5.
Were you able to record in the same room with some of the guests? How did that unfold?
Pretty much most of the people. David did his stuff in America, because he had just finished a world tour and he said, "Well, to get it done quickly, rather than wait for me to come over, let me have the time and I can spend more time with it." He has his own studio up in Reno. But the rest of the guys, they all came into Studio Three at Abbey Road and off we went. Nobody said no.
I saw the story on your website about running into Jack Bruce at Abbey Road. Did that happen while you were making this record?
More or less. It sort of comes together good as a story, but everything within that story did happen. Not necessarily on the same day, but I did see him when he was coming out of the studio and instead of leaving, I was coming in and he was leaving. He kind of changed that around in his story and said, "Where do you think you're going? Get yourself back in there — I've got a record to make." It was lovely to do those sessions. It turned out to be Jack's last recorded sessions that I did, which is an accolade I'd rather not have, because I'd rather have the great man here. But that really was a pleasure to play with him. He was a fantastic musician.
What were the challenges when it came to capturing these songs and getting them where you wanted them?
The only challenge really was getting the vibe right within a certain time without becoming slightly too familiar. Some guys love it, don't get me wrong -- I'm not saying that one way is correct and one way is wrong, it just depends on the individual. I like to kind of get on with it. They'd all been briefed and furnished with demos so they could hear the songs. I didn't want to have to say, "This is what I want you to do." I'm one of those people who say to other musicians, "I want your soul on this. Don't play it like I play it — just keep to what it is. Play the way you feel it." If I don't like it, I'll soon say so. So the vibe doing it was really, really good.
Listen to 'NW8'
You can hear that in this record.
I think you can. The producer has captured that on nearly every track. The one track that we built up was the last one, "NW8." The guys had gone for a coffee downstairs and I had to double a guitar. I got a lovely sound going, so when they came back, they said, "Well, what do you want to do?" and I said, "Don't speak, just turn the record on." I did that with a click track and I just put the melody down and then we built the track up. So that's the only kind of wholly produced track, because I play bass on that as well. So we produced that through the powers that can be done these days with the great Pro Tools.
Are there more songs than what made it to the record?
I did record some other stuff. So I've got probably the start of three or four songs on the next album, which I just couldn't fit on the album.
Did you demo all of the songs before going in?
Some of it, I did demo, yeah. I went in with some guys. "Who Do We Think We Are," I did a pretty good demo of that. So good that I think some of it I captured almost note-for-note solo-wise. It just seemed to make total sense. It was just the business of getting into Abbey Road and making the sound bigger and everything coming together. I like to do a decent demo -- it helps the musicians you're working with, I think.
Some guys like the demo process and some guys just like to take the songs in the studio and see what develops.
The demo process is good for me, because I'm forever tinkering with lyrics and stuff like that. So I'd hate to go in and say, "This is what it's going to be." I'd rather be able to bend a little bit and the demo process helps with that, I think.
See Whitesnake and Other Rockers With Sexy Nude Album Covers
The 10 Worst Rock and Roll Hall of Fame Snubs
More From Ultimate Classic Rock