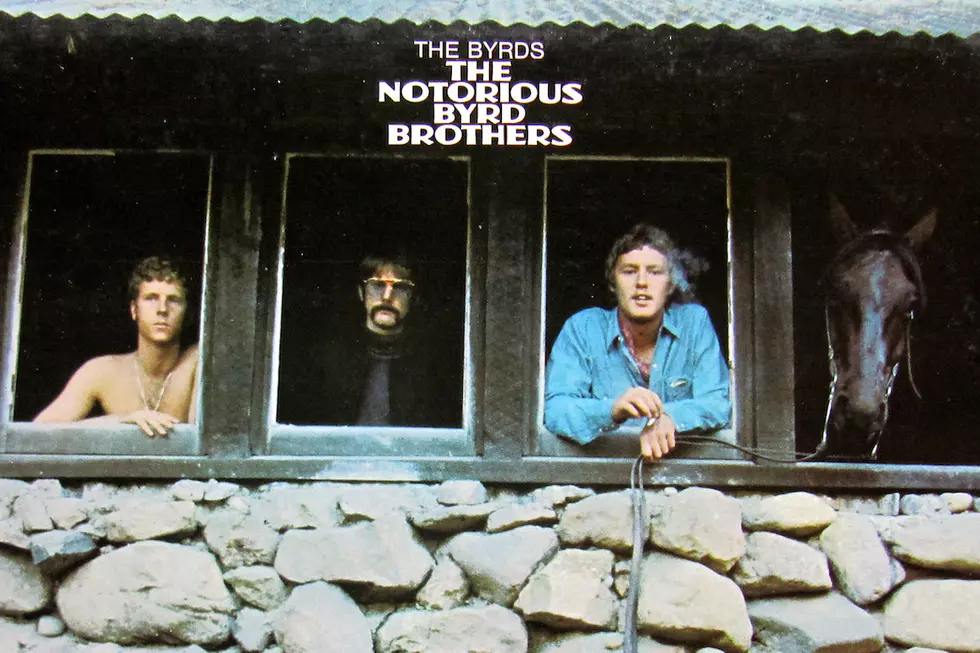 How the Byrds Transformed on 'The Notorious Byrd Brothers'
Columbia
The Notorious Byrd Brothers marks the end of another chapter for one of America's finest rock 'n' roll bands.
Change, of course, was something the Byrds were already used to. In less than three years, they lost three original members. Gene Clark, who was responsible for much of the band's stellar early material, left in 1966; drummer Michael Clarke exited after the sessions for Notorious; and the eternal wild card, David Crosby, was booted out in the fall of 1967.
Though Clark returned to the fold during the recording of this album, the reunion was a short one. Roger McGuinn and Chris Hillman were initially left to proceed – though this, too, would change soon enough.
Despite, or perhaps because of, all the internal strife, The Notorious Byrd Brothers arrived on Jan. 15, 1968 like a glorious chiming bell, and remains one of the band's most loved albums. Its consistency is amazing, with one song after another bending one's mind and inducing a smile. "Artificial Energy" kicks things off in fine style. Co-written by McGuinn, Hillman and Clarke, it's a perfect album opener. The last song recorded for the album, it bursts forth with punchy horns and driving drums. Yes, it's about speed, and it's safe to say the lyrics probably wouldn't fly today: "I'm coming down off amphetamine, and I'm in jail cause I killed a queen."
Listen to the Byrds Perform 'Change is Now'
The band's take on Carole King and Gerry Goffin's "Goin' Back" is perhaps the definitive version of the song. Elsewhere, "Natural Harmony" and "Draft Morning" bask in pure beauty. (Chris Hillman's role as composer really began to expand on Notorious, as he co-wrote eight of this LP's 11 tracks.)
Another Goffin/King song, "Wasn't Born to Follow" – offered here in all of its countrified glory – would later feature prominently in the movie Easy Rider. (Some say the characters played by Dennis Hopper and Peter Fonda in that film were loosely based on Crosby and McGuinn.)
"Get to You" and "Old John Robertson" are both country-tinged numbers that glow of the era they sprang from, while "Change Is Now" is one of the band's most beautiful songs without question, and its jingle-jangle guitars resonate for the ages.
"Tribal Gathering" has David Crosby written all over it. He and Hillman worked up this two-minute gem in homage to the "Gathering of the Tribes" festival held earlier that year in San Francisco. "Dolphin's Smile" conjures up its own psychedelic aquatic adventure over just two minutes, before the album ends on an eerie note with "Space Odyssey." A otherworldly drone set to a sea shanty waltz, the track is driven by a swirling wash of keyboards and guitars.
Listen to the Byrds Perform 'Goin' Back'
Those spacey sounds would have, if McGuinn had his way, pointed to the next chapter in the Byrds story. However, Hillman and the soon-to-join Gram Parsons had other ideas.
The Notorious Byrd Brothers hit No. 12 in the U.K., but barely cracked the Top 50 in America. "Logically, a group which decays from a quintet down to duo, has to pay for the process with vitality, retaining only a crippled imitation of the old sound," Pete Johnson wrote in the Jan. 15, 1968 edition of the Los Angeles Times, "but McGuinn and Hillman still have something to give."
While it could be seen as dated and inextricably rooted in its time, The Notorious Byrd Brothers has managed to transcend that era and today stands proudly as one of the Byrds' finest LPs. It's a cohesive and entertaining ride for all of its 30 minutes, and song-for-song, it's pretty hard to beat.
If there is any fault to find with it, it would be that 'Lady Friend' (released as a single prior to the album) was not included on the LP. It is, arguably, the finest song David Crosby ever wrote, simply a perfect pop record.
 
See the Byrds in Key Moments in Country Rock History
More From Ultimate Classic Rock