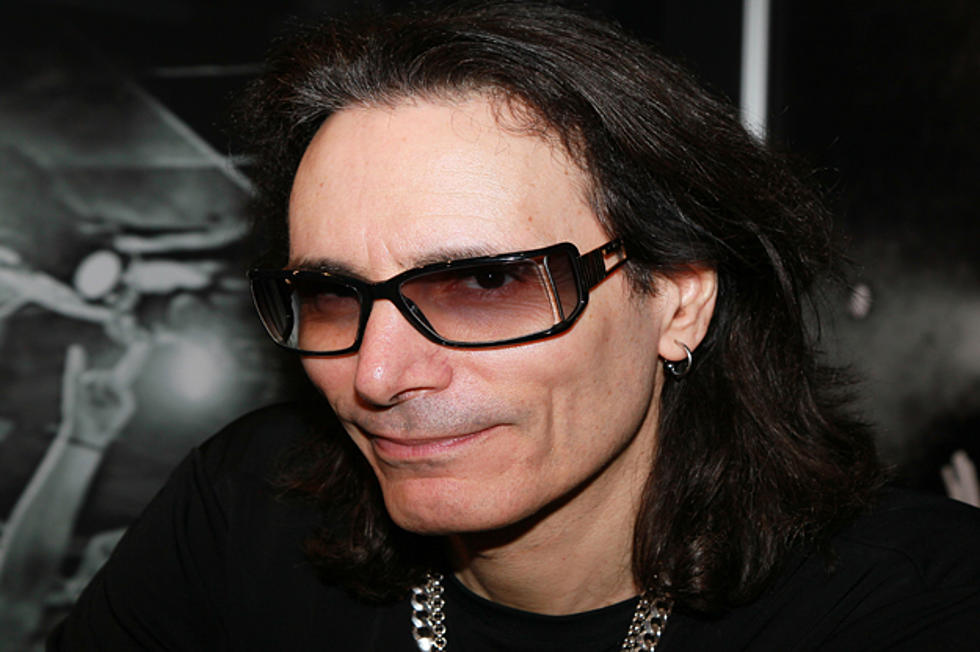 10 Things You Didn't Know About Steve Vai
David Livingston, Getty Images
Whether he's playing guitar with Frank Zappa, David Lee Roth or Whitesnake, or building his own successful solo career along the way, Steve Vai has always been one of the more innovative and flashy players in the music business.Here's 10 things about him that you probably didn't know.
10

He's pretty tall, as guitar players go.

Steve checks in at 6' 2", so when choosing teams for rock and jock basketball, you would definitely want to have Vai on your side. Not only can he probably dunk, he'd make your squad all look a little bit cooler.

9

He not only makes records, he's a record-setter.

On March 3rd, Vai staged the world's largest online guitar lesson for the online campus of the Berklee College of Music, virtually instructing 4,455 students in the first 15 minutes. That's an awful lot of homework to correct!

8

He has his own record label.

As an successful musician himself, Vai wanted to provide a nurturing home for his fellow artists and guitar players. So he set up Favored Nations, a label that has released albums from a wide range of players, including Toto guitarist Steve Lukather (see video) and soft-spoken Austin-based guitar player Eric Johnson.

7

Future guitar gods unite and later feed 'Frankenstein' together.

At age 14, Steve Vai began guitar lessons with another future famous player, Joe Satriani. The pair would later famously reunite for the six string-centric G3 tour, but prior to that, they both played guitar on a new version of Alice Cooper's 'Feed My Frankenstein' from Alice's 'Hey Stoopid' album.

6

A slip of the wrist put Vai in Whitesnake.

Whitesnake was already down a guitarist with the departure of future Def Leppard guitarist Vivian Campbell in 1989. So when second 'Snake guitarist Adrian Vandenberg injured his wrist, Vai got the call from David Coverdale and ended up playing all of the guitar parts on the 1989 'Slip of the Tongue' album.

5

He once kicked Ralph Macchio's ass in a guitar duel

Vai appears in the 1986 film 'Crossroads,' with his character Jack Butler challenging Ralph Macchio to a guitar duel. But really he was fighting himself, because most of Macchio's riffs were allegedly dubbed by Vai!

4

Vai almost was the guitarist on Ozzy's Ozzmosis album

Vai was allegedly set to play guitar on Ozzy's 1995 album. He began writing songs with Osbourne for the record in 1994, but the pair reportedly had a falling out. When 'Ozzmosis' was released, 'My Little Man' was the only remaining track co-written with Vai. His guitar parts were all replaced by longtime Ozzy sideman Zakk Wylde.

3

His ability to decipher complex music got him the gig with Zappa.

Frank Zappa's 1966 opus 'Freak Out!' was an early music purchase for Vai, who would later transcribe the music for Zappa's 'Inca Roads' solo completely from memory while riding a bus. Vai later bonded with Zappa over the music of classical composer Edgard Varese, and was offered more transcription work. The results of those efforts, his first paying gig with Zappa, would later be published in 'The Frank Zappa Guitar Book.'

2

Back when he was with David Lee Roth, the girls wore less clothes.

Remembering his touring days with Diamond Dave, Steve says that 80 percent of the audience was girls in their underwear. Also, after every show there would be a backstage party with at least 50 girls. Yeah, that's how we remember the '80s, too.

1

Yes, that's Steve Vai wearing a beekeeper suit.

Believe it or not, when he's not playing guitar, chances are good that you'll find Steve harvesting honey, in his secondary role as a beekeeper. Thanks to a neighbor's swarm of bees, Vai learned that they're an excellent source for natural pollination. These days, Vai harvests the honey for friends and holiday season charity donations.
More From Ultimate Classic Rock