10 Years Ago: Wolfgang Van Halen Joins Van Halen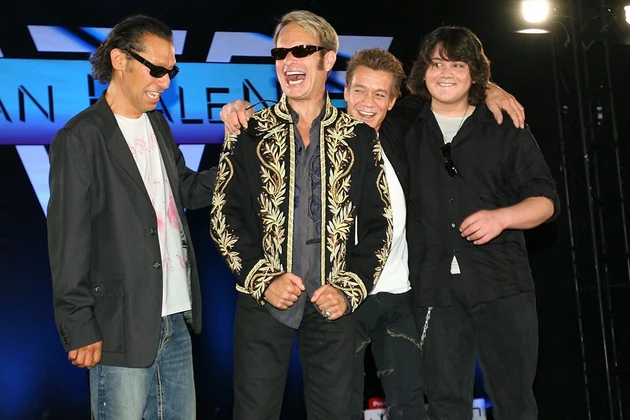 More than two decades after David Lee Roth left the band, long-suffering Van Halen fans finally got the full-time reunion they'd been waiting for. But Roth's return came with another unexpected change in the lineup: the departure of bassist Michael Anthony, who was replaced by Eddie Van Halen's 15-year-old son Wolfgang.
The group's new addition might have been young, but he was already very familiar to fans — both as a musical inspiration for his dad, who named the 1991 instrumental "316" after Wolfgang's birthday, and as an increasingly frequent presence in Van Halen's music: When the band toured with former singer Sammy Hagar in 2004, Wolfgang contributed rhythm guitar. The group had always been a family band first and foremost, uniting Eddie and his brother, drummer Alex Van Halen, so adding another member made sense.
Bringing Wolfang in at Anthony's expense, however, forced fans to choose sides in yet another of the schisms that had come to overshadow's Van Halen musical activity. A major part of the band's trademark sound, Anthony was reportedly shown his walking papers because of his continued friendship (and musical collaborations) with Hagar — although in vintage Van Halen fashion, his exit was publicly treated as essentially a non-event.
"Wolfgang breathes new life into what we're doing," Eddie told Guitar World in December 2006. "He brings youthfulness to something that's inherently youthful. He's only been playing bass for three months, but it's spooky. He's locked tight and puts an incredible spin on our s—. The kid is kicking my ass! He's spanking me now, even though I never spanked him. To have my son follow in my footsteps on his own, without me pushing him into it, is the greatest feeling in the world."
Van Halen's paternal pride was echoed by photographer Ross Halfin, who posted a Dec. 13, 2006, journal entry describing watching the new lineup rehearse. "It was jaw-droppingly amazing," he wrote. "It was as exciting as the first time I saw them. They will come back and destroy the world. One of the tightest, freshest sounding groups ever. I want to go and play the first album as soon as I get home. Had a blast listening to them, it made me remember why I liked music in the first place. Having Edward's son on bass has rejuvenated them."
Wolfgang's arrival was officially confirmed Feb. 3, 2007, as part of a press release announcing the band's summer tour — their first with Roth on vocals since 1984 — accompanied by a statement from Eddie saying he was "very excited to get back to the core of what made Van Halen." Although plenty of fans were thrilled to welcome Roth's return, many were unhappy about Anthony's absence, particularly when he was temporarily airbrushed out of archival album artwork.
Anthony, for his part, stayed busy in various projects with Hagar — including their supergroup Chickenfoot — and refused to say anything unkind about Wolfgang or his former bandmates. Calling him "a great kid," Anthony talked up his replacement's musical prowess in a 2013 interview, saying, "He plays drums, guitar, bass and sings. His dad, Ed, wanted his son to play with him, so, you know, that's, you know, totally great. I mean, I found out that he was going to be playing bass with everybody else … when they did their press conference. I wished him luck in a couple interviews I did, and hopefully he read those."
Eddie, unfortunately, wasn't quite as compelled to take the high road. Perhaps annoyed by years of fans asking for Anthony's return — or lamenting the absence of his high harmony background vocals — Van Halen did his best to minimize Anthony's contributions in a 2015 interview, claiming he'd had to teach him his bass parts note for note and insisting, "Mike was just born with a very high voice. I have more soul as a singer than he does. And you know, people always talk about Mike's voice on Van Halen songs, but that's a blend of Mike's voice and my voice. It's not just him." (Hagar, it's worth noting, jumped to Anthony's defense.)
While his tenure with the band started under the shadow of controversy and remains something of a sore spot for some fans, Wolfgang has done an admirable job of steering clear of the arguments and letting his music do the talking. He's filled his downtime between group projects by moonlighting with Tremonti, and although Van Halen's future plans as a band currently seem up in the air, their youngest member could step out on his own shortly. In 2015, Eddie revealed that Wolfgang was working on an "important" solo album that sounds "like AC/DC meets Van Halen meets aggressive pop" and adding, "The riffs are catchy. It's a little of everything and sounds like a freight train coming at you. I've never heard anything quite like it. It's so powerful that I'm jealous."
Van Halen Albums Ranked Worst to Best
Best of Ultimate Classic Rock