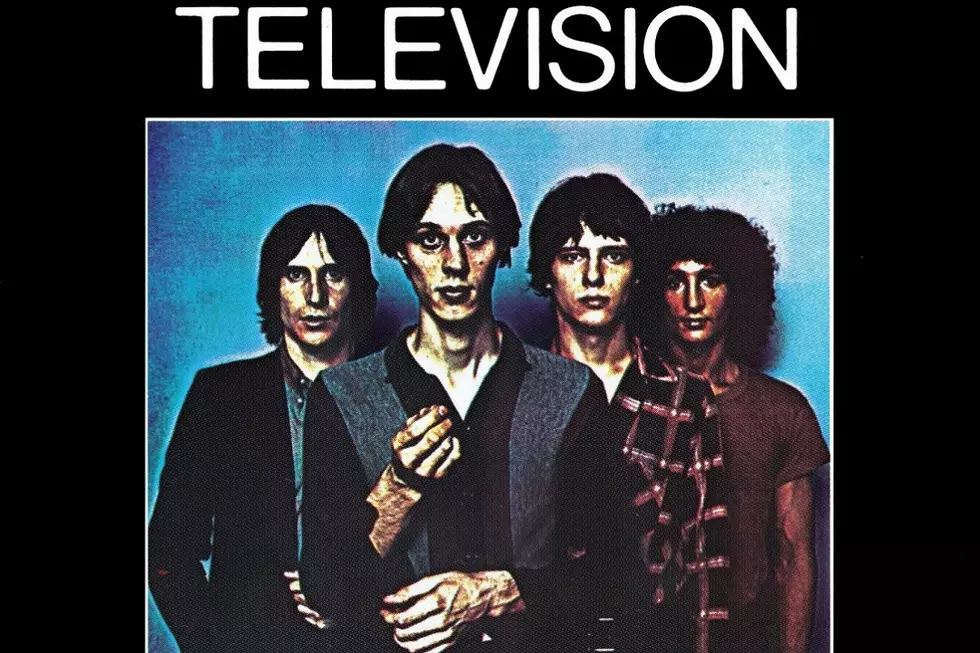 The Story of Television's Influential Masterpiece, 'Marquee Moon'
Elektra
Television might not have sounded like a lot of the other CBGB bands, but its members were purely "punk" in their attitude. When it came to making their debut album, the guys in Television were uncompromising.
For starters, Television zigged when most of the New York groups zagged. Guitarists Tom Verlaine and Richard Lloyd favored thin, intermingled guitar over power chords – surgeon's scalpels vs. bulldozers. Some of that easily identifiable difference was because of Television's influences. Although Lloyd was a rock devotee and had learned at the hands of Jimi Hendrix, literally, Verlaine had fostered a long-running love of jazz.
"In the early '60s I hated pop. I took up sax in about '63, and an older friend of mine had some [John] Coltrane and Ornette Coleman records, and that's the music I liked," Verlaine told Guitar Player in 1993. "I never listened to guitar music – I thought it was a really twee instrument. But when I wanted to write songs, I decided that was the thing to play. For me, even a solo is an accompaniment of some kind, or it just takes the place of a voice."
To achieve that sense of "voice" and the band's needlepoint precision, Television practiced constantly. As Verlaine, Lloyd and drummer Billy Ficca became better musicians, original bassist Richard Hell became frustrated and left the group, to be replaced by Fred Smith.
"We used to rehearse like five or six hours a day," Lloyd told Gibson Guitar in 2011. If that sounds like excruciating work, it wasn't for Lloyd, who spoke lovingly about the fun that he and the other members were having. "I felt like I had run off and joined the circus. That's how super that felt."
Television thought so highly of the music it was making that the band members, especially frontman Verlaine became increasingly proprietary about it. The band rejected offers for a record deal as early as 1974, just a year after forming, because the members didn't feel the band was quite ready.
After making some demos with Brian Eno in the producer's seat, Television famously turned down the opportunity to make a debut LP for Island Records with Eno, because Verlaine didn't think he had captured the band's warmth. They vetoed a contract with Clive Davis' Arista Records when Verlaine decided he would only agree to a deal if he could produce the sessions himself. As the New York punk scene exploded and artists like Patti Smith, the Ramones and Blondie got signed to contracts, Elektra Records agreed to sign Television with Verlaine's stipulations, as long as the group worked with an experienced engineer.
"Tom didn't want anyone telling him what to do, or telling us what to do," Lloyd recalled. "And so, what we decided was we would get an up-and-coming engineer/producer. And who better than Andy Johns, who was Glyn Johns's brother, who was the engineer on Led Zeppelin, the Rolling Stones, Cream, Traffic. My God, you name it, he engineered it, and he was beginning to become a producer. In the meantime, we get all that skill… which was just phenomenal."
So Marquee Moon came from these disparate factors: Verlaine's jazz fandom, Lloyd's rock god pedigree, the edgy punk scene and a co-producer who was schooled in some of the greatest rock records in existence. But it wasn't just the sound, or Lloyd and Verlaine's sixth-sense for intermingling their guitar lines that made the debut album special. It was the songs Verlaine brought to New York's A&R Recording Studio.
"Marquee Moon is a set of songs we had already been working on for years, and playing live as well," Lloyd said. "So they were, in a way, codified."
Indeed, six of the LP's eight tracks were well-honed before it came time to record the songs in the fall of 1976. Lloyd and Verlaine had worked out who played which solo at which point on which tune (hence the detailed solo credits on the finished album). "Guiding Light," written with Lloyd, and "Torn Curtain," solely credited to Verlaine like the others, were two new songs added to the mix.
Each side of the LP featured three shorter songs followed by an epic – the 10-minute title track on the first side which displays Television's use of melody and counter-melody. The lyrics of the different songs coalesced into what many interpreted as a subconscious concept record about lower Manhattan – a dark, urban dream, but one full of puns, asides and imagery about the natural world.
Also of note is the album cover, which featured a tweaked photo of Verlaine, Lloyd, Ficca and Smith made by the famous and controversial Robert Mapplethorpe. The art photographer had previously shot Patti Smith for the Horses sleeve.
"Tom was friends with Patti Smith, and Patti was friends with Robert," Lloyd told Vintage Guitar. "Since Robert was one of the great living photographers, it was an easy choice. Tom thought of it and I thought it was absolutely wonderful that he agreed to do it."
When Mapplethorpe allowed Television to choose the band's favorite photo from the session, the guys picked the one with Verlaine's reaching his hand toward the camera, then went to make copies of it at a print shop. Supposedly, Verlaine directed a clerk to mess with the knobs on some copies, and the strangely colored, splotchy finished cover is the result of the accidental experimentation.
Marquee Moon was released on Feb. 8, 1977 in the U.S., and about a month later in the U.K. Although it got rave reviews on both sides of the Atlantic, the record only performed well commercially in Britain. "Marquee Moon" and "Prove It" both charted as singles in England, as did the LP. Over time the album's reputation has only grown, as the music press and many alternative and indie musicians credit Marquee Moon with an astounding amount of influence with decades of rockers. The likes of R.E.M.'s Michael Stipe, former Red Hot Chili Pepper John Frusciante, Joy Division's Stephen Morris and U2's the Edge have credited the album for changing the way they approached their music.
"The electric guitar had really become such an unoriginal-sounding instrument," the Edge said, according to Rip it Up and Start Again. Listening to Marquee Moon "was just such a throw-down to me."
How Alternative Rock's Biggest Bands Got Their Names
More From Ultimate Classic Rock