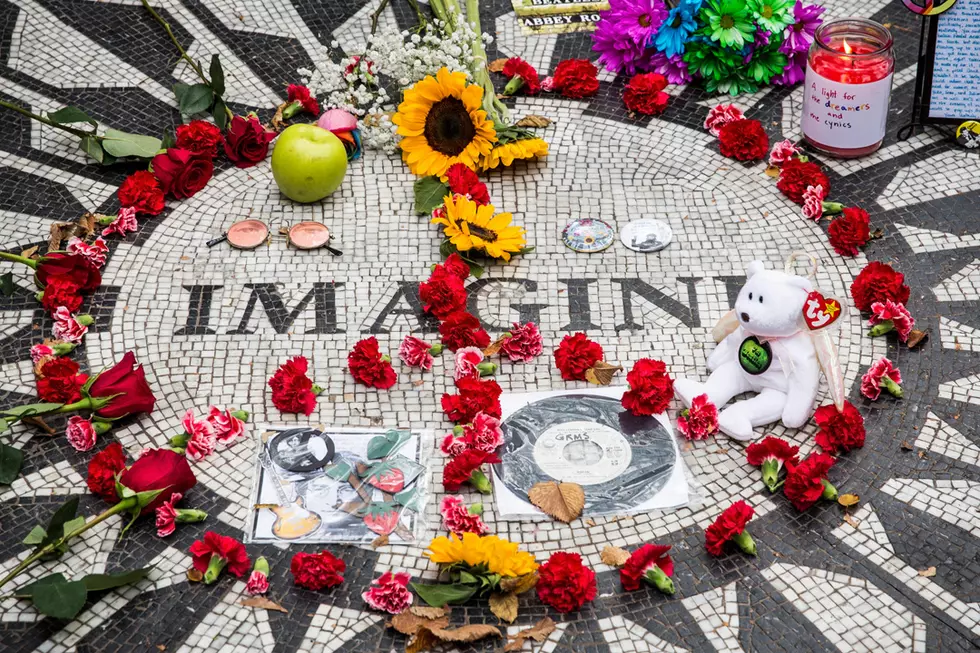 How Strawberry Fields Became a Tribute to John Lennon
Andrew Burton, Getty Images
Yoko Ono dedicated Strawberry Fields, a lush 2.5-acre section of New York's Central Park, in memory of her late husband John Lennon on Oct. 9, 1985. The musician and peace activist would have been 45 years old that day.
The New York Daily News reported that most of the time Ono kept her arm protectively around her 10-year-old son Sean. Sharing the stage with Mayor Edward Koch, Ono told several hundred invited guests and the press, "This garden is the result of all of us dreaming together. It's our way of taking a sad song and making it better," borrowing a line from the Beatles' "Hey Jude."
"John Lennon's vision of universal harmony has been translated faithfully into a garden of peace," said Koch.
Strawberry Fields is located just inside the W. 72nd Street entrance to Central Park, across the street from the Dakota, the historic building where Ono and Lennon lived, and in front of which Lennon was killed on Dec. 8, 1980. Ono considered leaving New York after the tragedy but ultimately decided to stay in their apartment, which overlooks Strawberry Fields. "It happens to be where John and I took our last walk together," Ono wrote in an open letter that appeared in the New York Times a few months after the project was announced in 1981. "John would have been very proud that this was given to him, an island named after his song, rather than a statue or monument."
Lennon explained in Anthology that growing up in Liverpool, Strawberry Field was "an old Victorian house converted for Salvation Army orphans. (Apparently, it used to be a farm that grew strawberries.) As a kid I used to go to their garden parties with my friends Ivan, Nigel and Pete. We'd all go up there and hang out and sell lemonade bottles. We always had fun at Strawberry Field." Those memories inspired Lennon to write the Beatles' 1967 hit "Strawberry Fields Forever."
Lennon added that "Strawberry Fields Forever," like "most of my good songs," is personal. "I always wrote about me when I could. I didn't really enjoy writing third-person songs about people who lived in concrete flats and things like that. I like first-person music. But because of my hang-ups, and many other things, I would only now and then write specifically about me."
Central Park was like a backyard for Ono and Lennon. In 1993, Ono told The New Yorker that they filmed the video for Lennon's "Woman" in what would become Strawberry Fields. "About a week before John's death, we did this filming for a music video we were making, and we filmed ourselves there," she said. "We said to each other, 'This is such a sorry spot' — it was so desolate, and nobody was caring for it. I said, 'Well, shall we donate some grass, or something?' John said, 'Yeah, that's a good idea.' Of course, I didn't know it was going to be like this at the time."
Watch John Lennon and Yoko Ono in Central Park
On April 16, 1981, Koch signed into law a bill that designated a section of Central Park as Strawberry Fields. Ono responded with an offer to pay for the entire area to be planted with trees, shrubs and flowers. Her donation was $1 million split evenly between the cost of landscaping the area and an endowment fund to pay for its upkeep.
In her open letter, Ono invited all the countries of the world to contribute native plants and stones for the memorial. "The plants will eventually be forests, the rocks will be a resting place for traveling souls, the bricks will pave the lane John and I used to walk on and the circle where we used to sit and talk for hours. It will be nice to have the whole world in one place, one field, living and growing together in harmony. This will be the nicest tribute we could ever give to John."
Contributions from 50 different countries have been incorporated into the site.
Landscape architect Bruce Kelly worked closely with Ono to design the teardrop-shaped plot. At its center lies a black and white mosaic with a single word: "Imagine," the title of one of Lennon's most iconic songs. The mosaic was a gift from the city of Naples, Italy. "It's turned out absolutely wonderfully, just as Yoko Ono always said it would," Kelly told the New York Times days before the dedication. "You almost begin to think there is something mystical about Strawberry Fields."
Fans gather at the memorial on Lennon's birthday and the anniversary of his death. Strawberry Fields has become one of New York's most popular tourist destinations.
Ono recorded a greeting for visitors of Strawberry Fields. "During his career with the Beatles and in his solo work, John's music gave hope and inspiration to people around the world. His campaign for peace lives on, symbolized here at Strawberry Fields […] It bears the word "Imagine." That song was John's plea for us all to envision a world without conflict or division and imagine instead a world of peace. He wrote those lyrics from a place of incredibly deep love and immense hope for our future."
As Strawberry Fields opened for the first time to waiting fans, Ono told the audience, "May the garden give joy to our offspring for many centuries to come. Enjoy."
John Lennon Albums Ranked
More From Ultimate Classic Rock