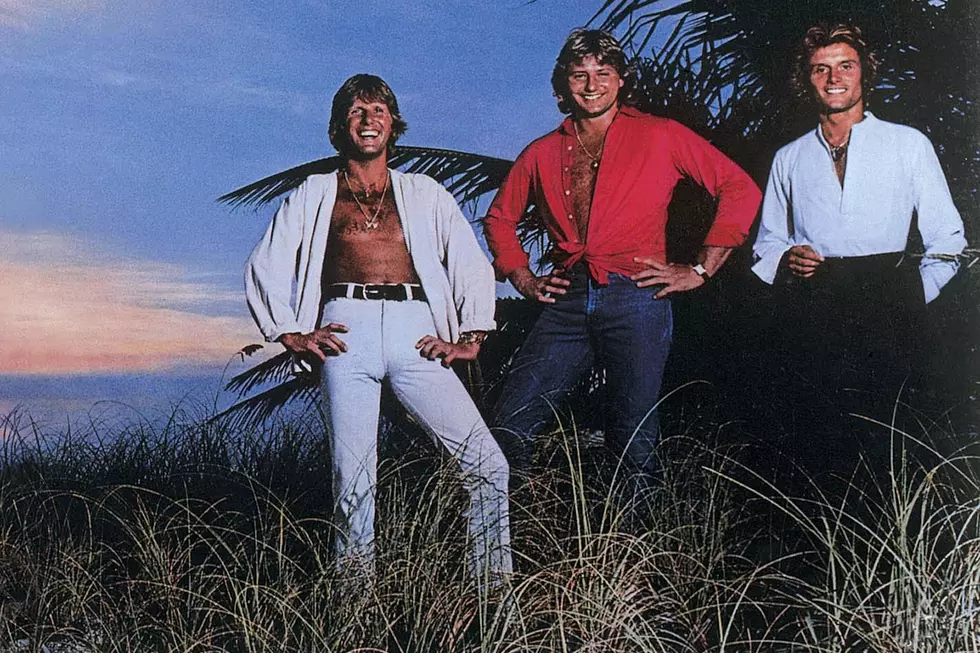 How Emerson Lake and Palmer Found Themselves on a Dismal 'Love Beach'
Atlantic
As the end of the '70s neared, Emerson Lake and Palmer found themselves at a commercial and creative crossroads. Worn out from years of touring and increasingly at odds with one another over which direction their music should take, they needed a break to regroup. Unfortunately, their record company had other plans for the trio.
Pressured to turn around a quick follow-up to 1977's odds-and-sods collection Works Volume 2, they headed to Compass Point Studios in the Bahamas during the summer of 1978 to begin laying down tracks for their seventh studio album.
The result was a recording made for mostly non-creative reasons – and as soon as ELP fans got their first look at the cover for Love Beach on Nov. 18, 1978, they knew something was very different about this set of songs.
Rather than the heady artwork featured on previous ELP records, this album featured the trio standing on the beach, flashing diamond-white smiles while displaying copious amounts of chest hair. It was entirely out of character for a band that had made its fortune with serious (and seriously lengthy) incursions into classically infused prog-rock territory. The LP actually concluded with a 20-minute suite (dubbed "Memoirs of an Officer and a Gentleman") that hearkened back to their glory days, but the bulk of the track listing was taken up with shorter, more FM-friendly songs. Coupled with that infamous album cover, it seemed obvious that Emerson Lake and Palmer were capitulating to current trends, and the critics – who'd never exactly been kind to ELP in the first place – were brutal.
The end result was an album that went down as one of the more infamous duds of the decade, and one whose failure was surrounded with a cloud of toxicity so potent that Emerson Lake and Palmer wouldn't record again as a trio until the early '90s. But like a lot of records initially greeted by derision, Love Beach has undergone something of a reappraisal in recent years. In fact, as early as the mid-'80s, the members of ELP seemed to be able to look back with a deeper understanding of the record's doom.
"We were persuaded to make it under duress," Greg Lake said during a 1986 interview in support of the Emerson Lake & Powell album. "I think at that time we would've gladly taken a break from touring and recording. And because we were pressured into that situation, I think it was something where we all would've rather said, 'Look, we've gotta stop this for a while.' And that's really what happened."
Reflecting on the trio's decision to break up rather than tour behind Love Beach, Lake argued: "It wasn't like one of those break-ups where there was lots of mudslinging and bitterness. We all just felt simultaneously that we'd been pushed too far. We could sense it. And rather than go back out and keep flogging it, purely for commercial reasons ... it just didn't feel right. It was one of those things. You'd have had to have been there at the time, but you could've felt it: nobody was that keen to play."
Looking back on the album during a 2011 interview, Keith Emerson argued that if the band had only managed to stand behind Love Beach, it might have been a success. "I think all of us got cold feet," he admitted, imagining that "If we'd gone out on the road and said 'Forget what you've been listening to, this is the new direction,'" fans would have been more willing to follow along. He still had to concede, however, that their "new direction" had been motivated by commercial concerns.
"Genesis and Yes had successfully made that crossover," he explained. "They'd had hit records. Atlantic Records were in the process of wanting to go that way – radio playable material was of all importance. What ELP had come up with before ... the record company had to really go through it and say, 'What are we going to release as a single?' We were not a singles band. Love Beach was an attempt to make a lot of radio playable material and to lighten up."
Ultimately, Emerson felt that the album artwork was really to blame for most of the record's reputation. "I think it's the package that it kind of comes in," he sighed. "The most off-putting thing was that with ELP we were basically looked upon as three very austere guys, you know? Back in those days, if you were photographed smiling and laughing, it didn't work. It was quite a long time before you saw the Beatles laughing. I think basically the package that Love Beach was put into, which had the three of ELP on the cover looking like the Bee Gees and having a good laugh – that was shock and horror."
"It's not that Love Beach is a bad album," argued Lake in a separate interview. "It was an album that the band really didn't want to make. We were forced to make it contractually, but once we'd decided to do it, we gave it our best shot. So it was another ELP album, but it wasn't the best of ELP records -- it wasn't Tarkus, Trilogy, Brain Salad Surgery, Pictures at an Exhibition or Emerson Lake and Palmer, or Works Volume 1. It wasn't that quality. It was an album that was tired creatively."
No amount of hindsight can dull the sting of what drummer Carl Palmer has deemed a "slightly sad" piece of work. "I always refer to it as the worst album that ELP ever made," he explained. "Not only did the music not really stand up for me, but the album cover I didn't like. I didn't like the whole period of being in Nassau, the Bahamas. I didn't think that it was conducive to the band's way of writing, living, creating, rehearsing, playing. ... For me, it wasn't a great album, no."
Top 50 Progressive Rock Albums
From 'The Lamb' to 'Octopus' to 'The Snow Goose' — the best LPs that dream beyond 4/4.
Gallery Credit: Ryan Reed
ELP Are One of the Bands Who Hated Their Own Albums
More From Ultimate Classic Rock