10 Things You Didn't Know About Thin Lizzy's Phil Lynott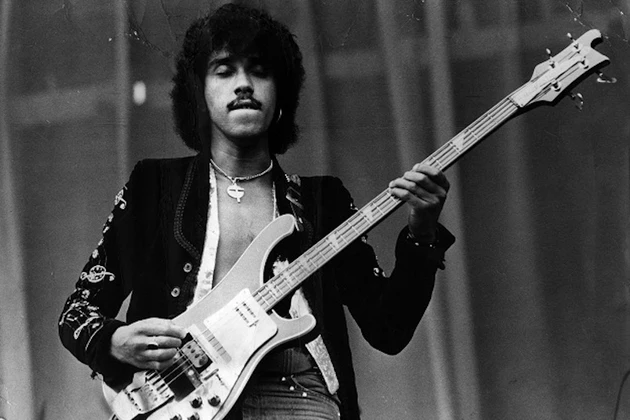 The late great Phil Lynott of Thin Lizzy fame passed away in 1986, after years of drug and alcohol problems. As we remember the substantial contributions he made with his music, we came across 10 things that you might not know about Thin Lizzy's Phil Lynott.
He Was a Poet on Vinyl and Paper
Lynott's insightful lyrics continue to resonate with fans in the 25 years since he passed away. He published two volumes of poetry in the '70s, based predominantly on his lyrical writings for Thin Lizzy. The two books were eventually combined into a single book issued in the late '90s that borrowed its title from his first literary release, 'Songs For While I'm Away.'
Jimi Hendrix Was His Hero
The accomplishments of Jimi Hendrix as a black musician were a huge inspiration to Lynott, who was half black himself, as an indicator of the potential success he could have with his own career. Hendrix's influence is further felt within Lynott's musical output and vocal stylings. He remembered Jimi on the 10th anniversary of his death in 1980 with 'Song For Jimi,' a relative rarity featuring former Lizzy bandmates Eric Bell and Brian Downey. At the time of his death, it was rumored that Lynott was in line to potentially portray Hendrix in a planned biopic.
Had Two Siblings He Did Not Know
Phil's mother, Philomena Lynott worked hard and sacrificed a lot to raise Phil in the way that he wanted to. But for more than 50 years, she kept a secret — Phil had two additional siblings who had been given up for adoption. In her book 'My Boy,' she talks about her struggle to keep Phil at a time that she was being urged to surrender him for adoptive purposes. Of the two half-siblings, Phil was not aware that he had a brother, but did learn of his sister after she made contact with his mother.
Tonsillitis Cost Him a Job
Pre-Thin Lizzy, Lynott was in a '60s band called Skid Row (no relation to the '80s youth who later went "wild") with future Lizzy bandmate Gary Moore. Necessary removal of his tonsils left Lynott without a gig when the band sacked him for his absence. Tough crowd! It worked out just fine for Phil though, because a few years later, he found himself a part of Thin Lizzy, the new band that would be the ultimate vehicle for his future success.
Success of 'Whiskey In the Jar' Was a Bit of a Fluke
Metallica had a big hit with their cover of Lizzy's 'Whiskey,' but if the band would have had their way, the 'Tallica guys might have had to dig a little bit deeper to ever hear the track. The song was originally set to be nothing more than a B-side, it was the record label's idea to make it a single. The Lizzy guys were completely against the idea, feeling that 'Whiskey' wasn't representative of their true sound as a band. The label's choice ended up being a good idea, commercially at least.
Provided the Theme Music for 'Top of the Pops' for Five Years
In the early '80s, Lynott was fortunate to have his solo composition 'Yellow Pearl' chosen as the new theme song for the weekly British television show 'Top Of The Pops.' Lynott's song was the theme music for the show from 1981 until 1986. No doubt, the regular royalty checks for that gig were probably nice.
Was Intimidated by Bob Dylan
Coming up as a songwriter, it was daunting for Lynott to see the seemingly perfect achievements of bands and artists like The Beatles, Bob Dylan and Van Morrison. He came to realize, though, that it was natural to be imperfect. He said in an interview that he "hit on the theory that you have to learn by mistakes, and that you can't just go on getting better and better. And that's when I knew I wasn't going to be able to write 'Desolation Row', 12 verses and every verse a killer."
How to End Interviews With Style
On the list of awkward ways to close an interview, one that statistically produces an unpredictable result is any variation of "So, what else do you have to say to the fans?" Lynott had a great answer waiting on day, as he replied "Look, I hate those guys in interviews that say 'Come and see the band, and buy all the records.' They always sound so insincere. So I'd like to say, really sincerely, Come and see the band and buy all the records."
Knew Enough to Steal From the Best
Lynott craved the on-stage experience of playing live for the fans, but at the end of the day, he was just as much of a music fan as we were. He spoke specifically of going to see ZZ Top, at a live show that left him "screaming in the aisles." He even copped to borrowing from his Texas idols for his song 'Leave This Town,' which had a ZZ Top type feel from the moment he first heard Scott Gorham play the opening riff. But at least he was honest about it, saying in an interview "I sort of ripped off ZZ Top for all they're worth."
So Who Were 'The Boys,' Anyway?
Who exactly 'The Boys Are Back In Town' is about has been much-debated since the song's release. Possible inspirations have allegedly been Manchester football, soldiers in the Vietnam War and, even the band's own fans. But the song actually is believed to be a referential tribute to a ragamuffin bunch of criminals based in Manchester called the Quality Street Gang. Members of the gang frequented the bar which Lynott's mother ran, and Phil immortalized one of them in another Lizzy song, 'Johnny The Fox Meets Jimmy The Weed.' When the song became popular, he gave 'Jimmy The Weed' his own gold record. His mother recalls that Philip "liked them" and thought that the gang were "characters."
Best of Ultimate Classic Rock