Robert Plant Wants to Hear New Music From Jimmy Page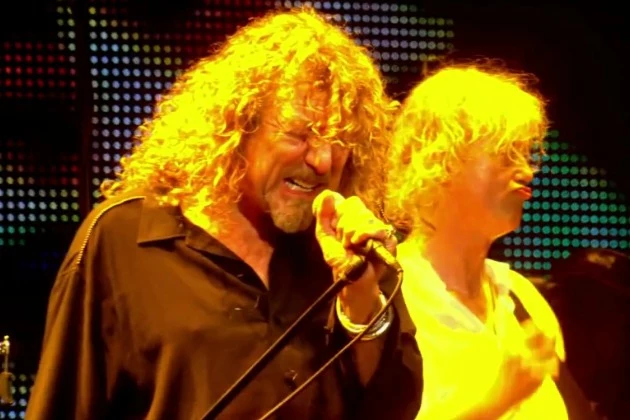 Robert Plant has been outspoken in his desire to move forward with his music instead of dwelling on his Led Zeppelin legacy. And as he made clear during a recent conversation with the Telegraph, he knows his old partner Jimmy Page could find the same sort of fulfillment from new music, if he'd only get down to business and start creating it.
"He should get on and do something," Plant sighed. "He's a superb talent. That's the sad thing for Jimmy, he knows that I'm his guy, I'm his pal, but the warmth that he needs to actually enjoy the world, it's all there. Come on and give it to us."
Plant's remarks may be misinterpreted by some as a dig at Page, but he's really one of the few people who can give the legendary guitarist that kind of friendly nudge in public — and given that Page's solo career has mostly consisted of a series of long pauses between projects, Plant definitely has a point. Fortunately, Page has said he's already sitting on "lots of material" for his next LP, so hopefully, once the latest Zeppelin reissues have arrived in stores, he can turn his attention back to his own music.
In the meantime, Plant's got his own new record to worry about: 'lullaby … and the Ceaseless Roar,' due Sept. 9, and during his chat with the Telegraph, he reiterated his excitement for the album, waxing rhapsodic about the music's "amazing curves and twists" and "loop and sample and crunch." He credits much of his current passion to his latest band, the Sensational Space Shifters, which he referred to as "a kind of commonwealth."
"I want this," Plant enthused. "The brotherhood is magnificent."
Still, that didn't keep Plant from reiterating his recent comments about this album potentially being his last. Surveying his peers, he mused, "There are only three or four frontmen left, from our time, who actually just kick the mic stand up and do it, and that's me, Rod Stewart and Mick Jagger. But the only important thing is, can you contemporize your gift? Can I knock myself out, or am I just going through the motions? Because if I'm going through the motions, I'm f—ed."
Best of Ultimate Classic Rock