Top 50 Led Zeppelin Songs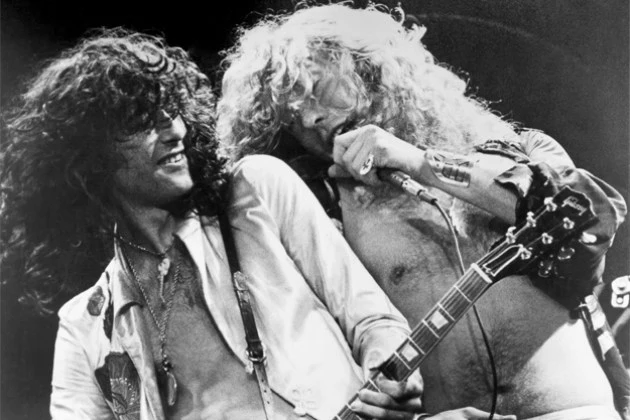 Our list of the Top 50 Led Zeppelin Songs demonstrates quite clearly why the group is among the most popular, important and influential acts in classic rock history.
Choosing the best tracks from the eight studio albums Jimmy Page, Robert Plant, John Paul Jones and John Bonham made during their time together was both fun and difficult. After all, let's face it, just about any Zeppelin song that's on is — in that moment — the greatest song you've ever heard in your life.
We set a few ground rules before beginning our selection process — first off, nothing from 1982's post-breakup unreleased tracks collection 'Coda' would be eligible. Neither would any live tracks, nor any of the rarities that turned up on later compilations, such as 'Baby Come On Home.'
We hope you enjoy this trip through the catalog of one of the most important bands in classic rock history. Feel free to give us hell about our choices in the comments section below — like we could stop you!
Top 50 Led Zeppelin Songs:
No. 50: 'For Your Life'
No. 49: 'The Song Remains the Same'
No. 48: 'In the Evening'
No. 47: 'Good Times Bad Times'
No. 46: 'Ten Years Gone'
No. 45: 'The Wanton Song'
No. 44: 'Your Time is Gonna Come'
No. 43: 'All My Love'
No. 42: 'Houses of the Holy'
No. 41: 'Thank You'
No. 40: 'Custard Pie'
No. 39: 'Since I've Been Loving You'
No. 38: 'In the Light'
No. 37: 'The Rain Song'
No. 36: 'Four Sticks'
No. 35: 'Bron-Y-Aur Stomp'
No. 34: 'The Rover'
No. 33: 'The Ocean'
No. 32: 'You Shook Me'
No. 31: 'The Battle of Evermore'
No. 30: 'Fool in the Rain'
No. 29: 'Celebration Day'
No. 28: 'Nobody's Fault But Mine'
No. 27: 'Communication Breakdown'
No. 26: 'Bring it on Home'
No. 25: 'Out on the Tiles'
No. 24: 'What is and What Should Never Be'
No. 23: 'Immigrant Song'
No. 22: 'Achilles' Last Stand'
No. 21: 'Heartbreaker / Living Loving Maid'
No. 20: 'Gallows Pole'
No. 19: 'Dancing Days'
No. 18: 'Friends'
No. 17: 'Going to California'
No. 16: 'Trampled Underfoot'
No. 15: 'Babe, I'm Gonna Leave You'
No. 14: 'Over the Hills and Far Away'
No. 13: 'When the Levee Breaks'
No. 12: 'That's the Way'
No. 11: 'Rock and Roll'
No. 10: 'No Quarter'
No. 9: 'How Many More Times'
No. 8: 'Misty Mountain Hop'
No. 7: 'Ramble On'
No. 6: 'In My Time of Dying'
No. 5: 'Dazed and Confused'
No. 4: 'Black Dog'
No. 3: 'Stairway to Heaven'
No. 2: 'Whole Lotta Love'
No. 1: 'Kashmir'
You Think You Know Led Zeppelin?
Subscribe to Ultimate Classic Rock on
Best of Ultimate Classic Rock