Paul Simon Announces 'A Concert in Hyde Park' Film and Album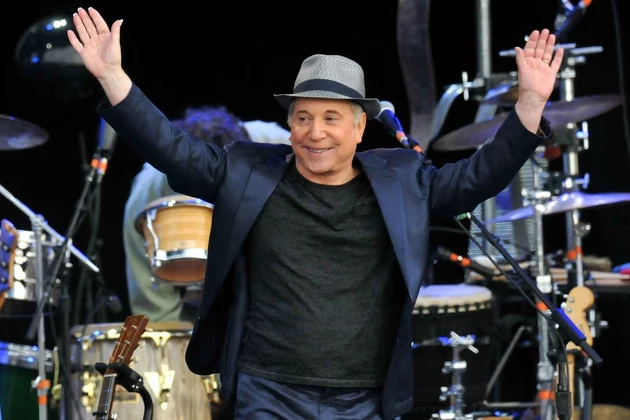 Paul Simon's performance at London Hard Rock Calling Festival in 2012 will be released next month as The Concert in Hyde Park, a concert film and live album, according to Rolling Stone.
You can watch his performance of "Diamonds on the Soles of Her Shoes" below.
The show, which took place around the time of the 25th anniversary of Simon's career-renewing multicultural album Graceland, featured the entire LP except for its final track, along with guests from the 1986 release, including Hugh Masekela and Ladysmith Black Mambazo.
Simon performed several other hits –like  "Kodachrome" and "50 Ways to Leave Your Lover," as well as Simon & Garfunkel classics like "The Sound of Silence" and "The Boxer" — at the concert.
The performance even included a guest appearance from Jimmy Cliff, who sang a duet with Simon on "Vietnam" and "Mother and Child Reunion," as well as his own "Many Rivers to Cross" and "The Harder They Come." The latter two will be included only on the DVD version of The Concert in Hyde Park.
The sets will be released on June 9, with a PBS premiere to air before then. Simon will be on the road this summer, with his tour kicking off June 1.
Paul Simon, 'The Concert in Hyde Park' Track Listing:
"Kodachrome"
"Gone at Last"
"Dazzling Blue"
"50 Ways to Leave Your Lover"
"The Harder They Come" (Jimmy Cliff) *
"Many Rivers to Cross" (Jimmy Cliff) *
"Vietnam" (with Jimmy Cliff)
"Mother and Child Reunion" (with Jimmy Cliff)
"That Was Your Mother"
"Hearts and Bones" / "Mystery Train" / "Wheels"
"Me and Julio Down by the Schoolyard"
"Slip Slidin' Away"
"The Obvious Child"
"Homeless" (with Ladysmith Black Mambazo)
"Diamonds on the Soles of Her Shoes" (with Ladysmith Black Mambazo)
"I Know What I Know"
"The Boy in the Bubble"
"Crazy Love, Vol. II"
"Gumboots"
"Under African Skies" (with Thandiswa Mazwai)
"Graceland"
"You Can Call Me Al"
"The Sound of Silence"
"The Boxer" (with Jerry Douglas)
"Late in the Evening"
"Still Crazy After All These Years"
* DVD only
Paul Simon / Simon and Garfunkel Albums Ranked Worst to Best
Best of Ultimate Classic Rock