Dave Grohl Puts Nirvana / Courtney Love Drama Behind: 'We're Family, No Matter What'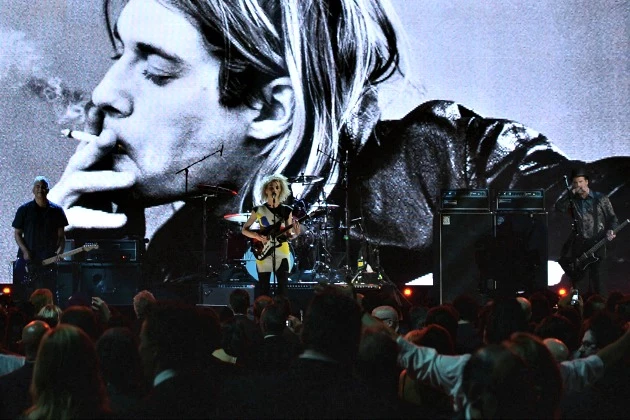 Short of a surprise appearance by a resurrected Kurt Cobain, Nirvana's induction into the Rock and Roll Hall of Fame had just about everything a fan could ask for. And as the surviving members explained to Rolling Stone, it all came together naturally.
As we reported the night of the ceremony, drummer Dave Grohl, bassist Krist Novoselic, and guitarist Pat Smear reunited for a set of Nirvana songs with an assortment of guest singers, including Joan Jett, Sonic Youth's Kim Gordon, St. Vincent, and Lorde. According to Grohl, they initially reached out to some male singers too, but "Some of them were nervous. I think some of them were maybe apprehensive because of how heavy the whole thing is."
Jett, however, had no reservations. "She took it on like it was her calling," Grohl explained. "She got really excited and sent me this flurry of e-mails. She learned every song on 'Nevermind.' She's everything that Nirvana stood for. She's a powerful, rebellious, musical force of nature. We couldn't think of anyone better to join us."
Once Jett joined in, Grohl said he had an epiphany: "Wait, it has to be all women. Don't even ask anyone else." As he put it, "'If we can fill the Rock and Roll Hall of Fame performance with these incredible women singing Nirvana songs, then we'll have achieved our own revolution.' It also added a whole other dimension to the show. It added substance and depth, so it didn't turn into a eulogy. It was more about the future."
But it was also about the past — and revisiting music Grohl said he'd distanced himself from for decades. "I hadn't played in that band in 20 years," he pointed out. "Hearing what it sounded like when we played 'Scentless Apprentice' legitimized it for me. I'd almost forgotten what it was like to be in a room full of Nirvana. That first day back really legitimized it. I was like, 'Oh, that's right! We sounded like this, and that's why people paid attention."
It wasn't just the music that offered fans a measure of poignant resolution. After years of bitter public feuding, Cobain's widow Courtney Love shared heartfelt embraces with Grohl and Novoselic, proving that unlike some bands, Nirvana would celebrate their Hall of Fame induction in peace.
"Early on in the evening I just tapped her on the shoulder," Grohl said of Love. "She turned around and I just said, 'Hey.' She said, 'Hey.' Then we gave each other a big hug. I said, 'How are you?' She goes, 'Good, how are you?' I said, 'All right.' And she said, 'Let's do this. Let's rock this tonight.' And I said, 'Yes.' That was it."
Rock it they did, both on the Hall of Fame stage and during a lengthy post-show performance, all of which left Novoselic admitting, "You never say never now. We did it. I sure won't say no. Maybe we can even do some new music one day." Grohl demurred when asked about new music, saying "we haven't even talked about it," but it seems likely that more Nirvana nostalgia is in his past; the post-Hall gig was filmed, and the whole night was, as he put it, "a big deal to us, personally and emotionally."
"We're family, no matter what. And we all love each other, no matter what," Grohl reflected. "It's a lot bigger than a paragraph or a picture. It's real. So it was a reunion, and we were there for Kurt. It was a beautiful night. It was good."
Best of Ultimate Classic Rock