Top 10 Leonard Cohen Songs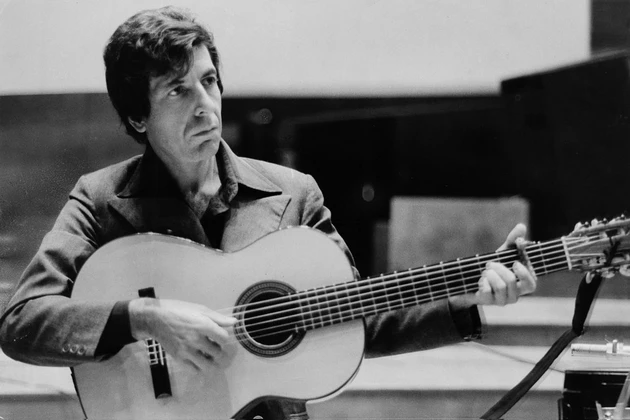 Leonard Cohen's legacy goes beyond the numerous covers of his songs, and the seemingly endless soundtrack appearances. Those things helped afford him some small measure of fame, but they never gave a full accounting of his genius.
For that, as this list of Top 10 Leonard Cohen Songs shows, you've got to dig into the albums – places where the singer-songwriter challenged himself as much as he ever challenged the listener.
Singing with a foundation-rattling voice that could be remarkably pitiless, winkingly acerbic and unfathomably sad, Cohen continued pushing toward the far creative horizon over 14 studio albums before his 2016 death – bringing in elements of jazz, gospel, cabaret and pop to augment his foundational sound as a folk-poet.
Often, Cohen discussed things that others couldn't (or at the very least wouldn't) like politics, sexuality and religion. But he never pulled a punch when it came to his own frailties and, as you'll see in this list of the Top 10 Leonard Cohen songs, he always approached things with a sharp, writerly eye.
"Tower of Song"
From: 'I'm Your Man' (1988)
Even non-fans might remember Leonard Cohen reading the lyrics from this witheringly self-aware, yet somehow delightfully funny song upon his induction into the Rock and Roll Hall of Fame. Along the way, he makes fun of his basso-profundo voice, appears to unfavorably compare his writing style to Hank Williams Sr., and laments how time wears us all down: "I ache in the places where I used to play." As with so much of Cohen's music, however, there's something else moving just beneath the surface – a lonesome stillness that adds gravity to every line.
"Stranger Song"
From: 'Songs of Leonard Cohen' (1967)
Even many decades later, "Stranger Song" remains a tangle of intrigue as Cohen dots the song with similar lines seemingly voiced by completely different characters. This mirrored narrative effect gives the track a disorienting depth where we never quite reach the bottom of what happened, even as Cohen offers a smart interior allegory comparing a series of lovers to the cards in a poker game.
"Anthem"
From: 'The Future' (1992)
On a twilit album of apocalyptic worry, "Anthem" provides a moment of lasting insight – all of it encapsulated in one line: "There is a crack, a crack in everything," Cohen sings, before adding: "That's how the light gets in." Elsewhere, Cohen wrestles with bigger topics, approaching them with his usual introspective aplomb, but that one line – so full of rugged spirituality – holds everything up.
"Master Song"
From: 'Songs of Leonard Cohen' (1967)
Cohen's greatest narrative song plays on his strengths as a seasoned author whose first book, called Let Us Compare Mythologies, arrived more than a decade earlier. But coming up with a trick-ending, S&M-laced story involving the master of a slave's master is one thing; making it over into a song of this magnitude is another. That's Cohen's enduring genius.
"Everybody Knows"
From: 'I'm Your Man' (1988)
Leonard Cohen's ability to deftly balance light and dark – to say nothing of more modern sounds – is shown in high relief. "Everybody Knows" has since been covered by everyone from Guns N' Roses to Don Henley, but too often others treat it as nothing more than a harrowing laundry list of the things that rend our hearts – forgetting the sardonic wit in Cohen's vocal that completes things here.
"Chelsea Hotel #2″
From: 'New Skin for the Old Ceremony' (1974)
Cohen later expressed regret for having publicly confirmed that this kiss-and-tell song's subject was Janis Joplin. In truth, he'd obviously been struggling with the memory from the beginning. "I need you," he sings as "Chelsea Hotel #2″ unfolds and then, "I don't need you." By the time the song concludes, it seems Cohen has come to a frank conclusion: "I don't think of you that often." Ouch.
"Bird on the Wire"
From: 'Songs from a Room' (1969)
A stripped-down plea for mercy, this brutally honest song is as raw boned as other great Cohen songs are lyrically ornate. Yet his simple search for redemption still hits home. In fact, country legend Kris Kristofferson is said to have requested that the first lines — "like a drunk in a midnight choir, I have tried in my way to be free" — be put on on his head stone.
"Famous Blue Raincoat"
From: 'Songs of Love and Hate' (1971)
This is far from the only time that Cohen dove into the tangled web of a love triangle, but his descriptive skills put "Famous Blue Raincoat" in its own league. As Cohen wrestles with the intricacies of his main character's response – the man's wife, in fact, seems to be happier – we're left with the indelible image of the lover's raincoat, "torn at the shoulder." In fact, every word – beginning with the devastating opening line, "It's four in the morning, the end of December" – is simply unforgettable.
"Suzanne"
From: 'Songs of Leonard Cohen' (1967)
Leonard Cohen, thanks to a lengthier history as a writer, arrived to music fully formed. Need proof? "Suzanne," the very first song on his very first album, is one of his best. As with "Hallelujah," found next on our list of Top 10 Leonard Cohen songs, he brilliantly juxtaposes an arching Biblical theme – this time with a story of sensual beauty that nevertheless thrums with real-world emotion.
"Hallelujah"
From: 'Various Positions' (1984)
Unlike most things Cohen, this song is all but ubiquitous – seeming to appear in any television episode or movie scene meant to conjure #thefeels. And yet Cohen's original reading somehow still holds such resonance. That's because "Hallelujah" constantly questions its own power, rather than luxuriating in it. In that moment of wonder-filled doubt, Cohen finds new faith – and that's something which will always speak to humanity.
Best of Ultimate Classic Rock