10 Years Ago: Former Kiss Guitarist Bruce Kulick Shot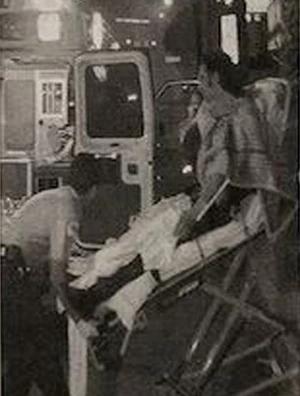 Former Kiss guitarist Bruce Kulick took time today to remember a moment that almost became the next great rock tragedy. Ten years ago (Oct. 16, 2003) Kulick was walking with a friend on Sunset Blvd. when two stray bullets struck him in the leg and head. A couple of inches — or less — either way and Kulick says he could have been killed.
At his website, the guitarist recalls how it went down from his perspective. A fight at the Rainbow Bar and Grill in Hollywood left one man drunk and angry, holding a loaded 9MM. Kulick had just seen Vince Neil perform next door. The man started shooting wildly, and one bullet struck Kulick's right thigh while another grazed his temple. One other person was shot in the foot.
"I was in shock," he writes, "as it sounded like a car backfiring and felt like a hot poker went through my leg. I didn't know what happened until paramedics … told me."
The head wound was easily treated and the medical team told him the other bullet hit only flesh and muscle, not bone or arteries. By the time he got home the news was all over CNN and MTV. "With the help of some dear friends, I was able to heal quickly and survive a truly surreal experience," Kulick writes.
At the time, MTV reported that the 21-year-old gunman was tackled by a club patron and then beaten up by several members of the crowd. He was also treated at the hospital before being released to police. In Feb. 2005 he was given 10 years in prison, which Kulick indicates was shortened.
A song from his most recent solo album 'BK3′ recalls the day. 'I Survive' was released on the 2010 album, but Kulick — who also plays guitar for Grand Funk Railroad — says it still takes him back to that day in 2003. Kulick was with Kiss from 1984-96.
Hear Bruce Kulick Perform 'I'll Survive'
Subscribe to Ultimate Classic Rock on
Best of Ultimate Classic Rock