Top 10 King's X Songs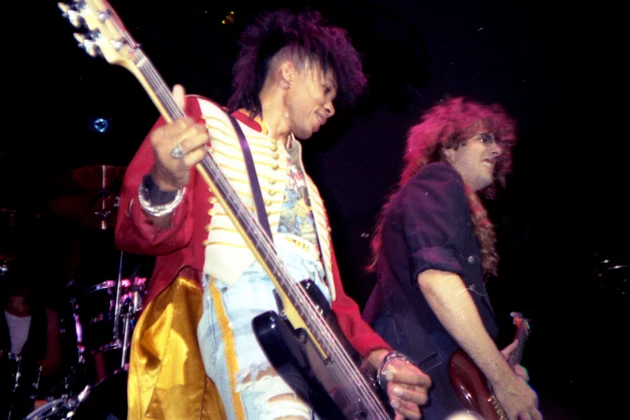 Underrated is a word that gets thrown around a lot with bands, but seldom has it been more applicable than with King's X. Since the late-'80s the Texas-based trio of bassist/vocalist Dug Pinnick, guitarist/vocalist Ty Tabor, and drummer/vocalist Jerry Gaskill has released 12 studio albums to a devoted, if not huge, fan base. And while breakthrough commercial success has mysteriously eluded the group, their legacy of great music is undeniable.
It's been six years since the last King's X studio album, so now is as good a time as any to take a look back at some of their best work. In that spirit, we now present our list of the Top 10 King's X songs.
'Vegetable'
From: 'Manic Moonlight' (2001)
As the '90s progressed, King's X stripped their sound down to its basic elements more and more, and started to emphasize rhythm over melody. That evolution reached its zenith on 'Vegetable,' which has one of the funkiest and most infectious riffs in the band's staggering catalog. The trio sounds absolutely reborn on this track.
Early King's X albums relied on finesse as much as muscle, but the release of 'Dogman' marked the point where the band truly began to emphasize the heavy in heavy metal. With famed Pearl Jam/Stone Temple Pilots producer Brendan O'Brien calling the shots for the band, 'Shoes' is a prime example of just how powerful the new King's X could be – but without sacrificing what made them so unique.
The fourth King's X album marked a shift in the band's sound, away from lush progressive arrangements toward a more streamlined, aggressive style. The leadoff track from 'King's X,' 'The World Around Me,' announces that shift in grand style. Gone is the experimentation and swirling psychedelia that marked the group's first three albums, and in its place is a muscular but no less impactful sound.
'Charlie Sheen'
From: 'Please Come Home… Mr. Bulbous' (2000)
Let's clear one thing up right away: 'Charlie Sheen' was picked for this song's title simply because it fit the lyrics. That's it. Otherwise, this groovy track with a fantastic, rumbling bass part from Dug Pinnick has absolutely nothing to do with the troubled actor. Truly, this song is "winning!"
'Goldilox'
From: 'Out of the Silent Planet' (1988)
So is 'Goldilox' a great song about pining not only for someone to love, but for love itself? Or, as many have assumed, is it really a great song about pining for a connection with God? It really doesn't matter, because either way it's just a great song. Dug Pinnick's soulful vocals are in full effect here, as is Ty Tabor's inimitable guitar tone.
'Pleiades'
From: 'Gretchen Goes to Nebraska' (1989)
While King's X was labeled a Christian rock band early in their career, they were never afraid to tackle not only their own ambivalence toward religion, but its negative impact on people as well. Perhaps no song did this more powerfully than 'Pleiades,' which is ostensibly about doomed 16th century Dominican friar, and astrologer Giordano Bruno and the horrific fate he met at the hands of the Catholic Church.
'We Are Finding Who We Are'
From: 'Faith Hope Love' (1990)
Early King's X is often described as Beatlesesque, and 'We Are Finding Who We Are' demonstrates why that comparison is made so often. It's an intricately crafted pop song disguised as powerful, melodic hard rock. In a just universe, this would have been a hit for King's X.
Although it's not entirely clear just what Ty Tabor is singing about on 'Life Going By,' it's practically impossible to not feel uplifted by the song anyway. Perhaps it has to do with evocative lyrics like, "I've known a love forever / A truth I couldn't sever / A chord that flows as free as wind." Or perhaps it's the unbeatable vocals of Tabor, Pinnick, and Gaskill. Whatever it is, it's a heck of a way to end a great album (the band's last for Atlantic Records).
This underrated classic has a bit of a split personality. On the one hand we've got an upbeat, chugging mid-tempo riff and typically lush King's X vocal harmonies. But then some hints of darkness creep in after the second chorus, and by the end things are altogether more sinister-sounding. It all adds up to one of the group's most deceptively simple but satisfying tracks.
'Out of the Silent Planet'
From: 'Gretchen Goes to Nebraska' (1989)
By turns trippy and heavy, 'Out of the Silent Planet' showcases King's X at their absolute songwriting and performing peak. While the song doesn't quite hit the six-minute mark, it's hard to think of a better word to describe it than 'epic.'
Best of Ultimate Classic Rock