Joe Perry's New Solo Album Will Include Iggy Pop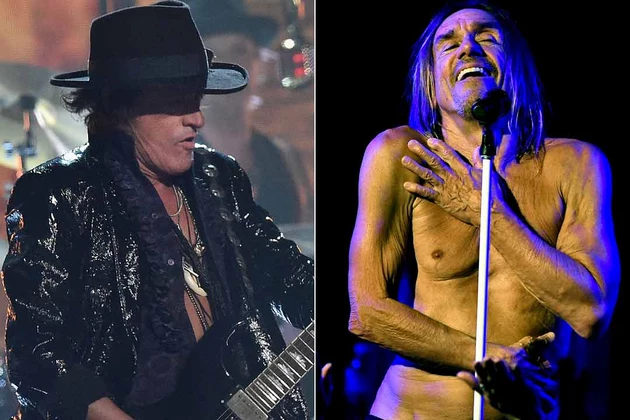 Joe Perry has been assembling a new solo album for a few months now, and just last week a song surfaced from the sessions. The track, "I'll Do Happiness," features vocals by veteran singer Terry Reid, whom Jimmy Page wanted in Led Zeppelin.
It appears that Reid isn't the only one joining the Aerosmith guitarist on the LP. Iggy Pop and David Johansen are also slated to appear.
In a new interview with Rolling Stone, Perry said Pop visited the studio after a show in California and listened to some of the songs Perry had recorded. "Within a couple hours, he had finished [recording] everything, and that was really the turning point for the record," he said.
Johansen, who's known Perry since the '70s, when the former was singing for the New York Dolls, also stopped by to guest on a few cuts. "We've been friends for such a long time, but we've never really had a chance to get in the studio and get in a solid situation," noted Perry. "We got three or four tunes."
Perry has been working on the upcoming album, which doesn't have a title or release date yet, as he waits to join the Hollywood Vampires on tour. The supergroup — which also includes Alice Cooper and Johnny Depp — released its self-titled debut album last year and will be hitting the road in May. He said one of the reasons he's been holed up in a California studio is so he can bring in a few more guests for his upcoming record.
"Boston's a great city and there are some really talented cats, but out here there is always somebody passing through or they live out here," he explained to Rolling Stone. "It's just been a wider spread of friends and neighbors I can ask if they want to come in and have a go."
Even though the album was tentatively scheduled to be an all-instrumental LP, it has since shifted direction with no real template. "It's got all kinds of sounds, but I would probably say 'funky' is the quickest way to put it," Perry said. "Everything starts with rhythm and that vibe. When I'm writing songs, it always starts with some variation of R&B and funk, whether it's been from the first Aerosmith stuff 'til what we're going to work on this afternoon."
Aerosmith Albums Ranked Worst to Best
Best of Ultimate Classic Rock