Doors Albums, Ranked From Worst to Best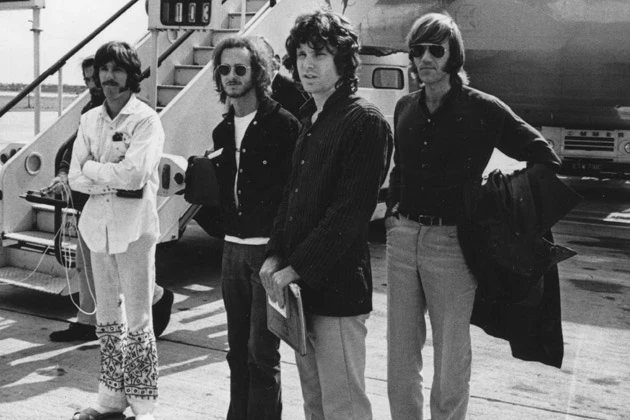 The Doors did more in a short period of time than almost any other classic rock band. They released only six albums during their 1967-71 run, but each record left an indelible mark on the group's overall legacy. From their classic self-titled debut to 'L.A. Woman,' which turned out to be their unplanned final LP, the Doors' catalog is filled with (mostly) indisputable gems. But where to start? Our ranking of the band's albums, from best to worst, fills you in. We're not including the three albums that were released after singer Jim Morrison died in 1971 — that year's 'Other Voices' and 1972's 'Full Circle,' both of which featured just the surviving trio, and 'An American Prayer,' an album of Morrison poetry recited by the late singer — because there's no way they can even come close to the records the original quartet made together. These are the six albums the band released during its too-short years as a recording unit. These are the ones that matter.
The Doors followed their only No. 1 album, 'Waiting for the Sun,' with a wildly experimental LP filled with brash brass and swirling strings. Even in the comedown year of 1969, when everyone was shaking off their psychedelic colors and trying on something new, it was a perplexing move by one of rock's most popular bands. Part of it had to do with Morrison's increasing unreliability; his boozing had grown so severe that guitarist Robby Krieger ended up writing half the songs and even singing one. But part of it also had to do with the band's restlessness. They got their No. 1 album, what next? Apparently, horns, strings and half-assed lounge music.
'Waiting for the Sun' (1968)
The Doors' third album was the first to include songs written after they had become stars (both their self-titled debut and its hastily assembled follow-up, 'Strange Days,' featured music penned in 1965 and 1966). And after two classic LPs, 'Waiting for the Sun' sounded a bit like a band coasting on its new fame. Its best songs -- 'Hello, I Love You' (their second No. 1), 'Five to One' -- still pop from the speakers after all these years, but the flame that ignited their first two records dims a little here. Still, as we noted above, it's the only Doors album to make it to No. 1.
Following the horns and strings experiments of 'The Soft Parade,' and the lukewarm reception the album received, the Doors steered back toward their bluesier roots for their fifth LP. Even though it lacks the monster radio hits of its predecessors ('Roadhouse Blues' is its best-known song), 'Morrison Hotel' is one of the band's most cohesive records, a tightly assembled, and tightly played (nothing here stretches past the four-and-a-half-minute mark), group of songs about life, and death, at the dawn of the '70s.
Less than eight months after the release of their debut album, the Doors returned with a weirder, darker and more dangerous set of songs that at times felt like a tightrope walk over a psychedelic circus. Most of the songs were written before 'The Doors' was released, but fine-tuned over three months during the Summer of Love, the result was a record that was deeper, richer and more disturbing than almost anything else that came out during that fertile period in rock history. The epic 11-minute closer, 'When the Music's Over,' was an elegy for an era that had yet to pass.
By the time the Doors recorded their sixth and final album during the winter of 1970-71, Morrison was a bloated and bleary mess. Just a few months earlier, he was sentenced to six months in prison for allegedly exposing himself to a Miami audience in 1969. But he pulled himself together long enough to make one of the Doors' greatest albums -- a swaggering, blues-influenced work that was mostly recorded live. That intimacy and driving sense of urgency powers cuts like 'The Wasp (Texas Radio and the Big Beat)' and the title track. Three months after 'L.A. Woman' was released, Morrison died in Paris of heart failure at the age of 27.
When the Doors' debut album came out during the first week of 1967, it sounded little like the other pop music that was getting airplay alongside its breakthrough single, 'Light My Fire.' No bassist, an organ player who pretty much dominated every song and a singer who often came off like he was a drunken poet in search of an open mic and a drink -- who would have thought they'd become of rock's most significant bands? Featuring a mix of blues, cabaret and originals that were a little bit of both plus a dash of the emerging psychedelic scene, 'The Doors' -- one of the best debut albums ever made -- still resonates as deftly played and arranged art-rock disguised as classic rock 'n' roll.
Best of Ultimate Classic Rock