Top 10 Deep Purple Songs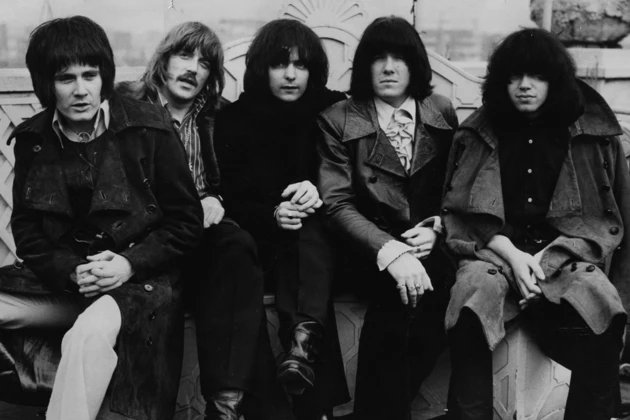 Deep Purple were without a doubt one of the earliest pioneers of the hard rock movement. As such, any list this short is liable to start a debate. But we think this list of Top 10 Deep Purple Songs is a good cross-section of hits and buried treasures:
'Perfect Strangers'
From: 'Perfect Strangers' (1984)
Coming 10 years after the classic "Mark II" lineup fell apart with the departure of Ian Gillan and Roger Glover, Perfect Strangers was a surprising return from old friends. Picking up where they left off, the band's reunion was met with generally favorable reviews. Their fans certainly welcomed them back wholeheartedly, with the band earning gold and platinum albums around the globe. Their trademark sound is intact on the title track, which kicks off our list of the Top 10 Deep Purple Songs. Though the party wouldn't last long, at least the magic was back for a little while.
'Hush'
From: 'Shades of Deep Purple' (1968)
Ritchie Blackmore's rock and roll roots date back to the early '60s as a session guitarist and member of instrumental group the Outlaws. He set off with his own to form Deep Purple in 1968. Often referred to as the "Mark I" lineup, the version of the band sailed similar waters to those of Vanilla Fudge, taking other people's songs and transforming them into their own. Nowhere was this more effective than on the sole U.S. hit from this lineup, a cover of Joe South's "Hush." The grooving three-minute gem was an international hit, and its organ-based groove remains a classic.
Epic is one word that could easily be used to describe this monster Deep Purple song from the ever-so classic album In Rock. Clocking in at over 10 minutes, the song finds the band stretching out, to say the least. Everyone, especially Blackmore and vocalist Ian Gillan, absolutely soar here. It's dynamic and powerful stuff from the second era of Purple.
Enter the 'Mark III' incarnation of the band. With the departure of Gillan and Roger Glover, what was to become of Deep Purple? Answer: bring in a couple of guys named David Coverdale and Glenn Hughes and create this eternal barnburner. A killer riff and a pedal-to-the-metal performance pushes this to the top of the 'Mark III' era hand down. More A1 drumming madness from Ian Paice is on display here, as well as some ace Blackmore guitar work.
'Woman From Tokyo'
From: 'Who Do We Think We Are?' (1973)
Deep Purple deliver a great pop song wrapped in a straight-ahead, riff-heavy rock setting with this classic from the 1973 album Who Do We Think We Are? The group were at the top of their game with the previous year's Machine Head. Although the band were starting to unravel during the recording of this album (which would prove to be the final with the "classic" lineup for 10 years), "Woman From Tokyo" was a perfect example of the guys kicking ass on some straight ahead rock and roll, with yet another dynamic riff at its core.
A stomping, ominous riff and another killer song lands at No. 5 on our list of the Top 10 Deep Purple Songs. The song is a slow-grooving monster propelled by rock solid organ work from Jon Lord and a compact Blackmore solo that blisters from the fire. It's there and gone in just over three minutes. One of Purple's more compact sledgehammers.
The opening title track from the 1971 release Fireball, as its name implies, fully cooks! The power and drive of the band here is stunning. We should mention, for the record, that Ian Paice is one of the greatest rock and roll drummers ever — an absolute monster on the kit. The rest of the guys don't hold back here either. It's a train out of control — speed driven rock and roll at its finest — and you're best off just hanging on and enjoying the ride.
"Speed King" kicks off the mighty In Rock album with a wall of sonic chaos before jumping into this tribute to vintage rock and roll. References to Little Richard, Elvis Presley and others of the first wave are front and center, but given full Deep Purple treatment. A pile driver performance of maximum rock and roll, this speed addict of a song goes full throttle for over five minutes, and never lets up.
'Highway Star'
From: 'Machine Head' (1972)
The lead-off track to the band's landmark Machine Head LP, "Highway Star" is possibly the best summation of everything that was great about the best Deep Purple songs. Each member is on top of their game here, with fantastic performances all around. It's a perfect album opener, and perhaps the ideal driving song, as the surging groove propels this sucker to zero to sixty — and then some.
'Smoke On The Water'
From: 'Machine Head' (1972)
What can you say about this undeniable Top 100 Classic Rock Song that hasn't been said? As is often the case in rock and roll, it's all about the riff and is there a more iconic riff in rock history? The centerpiece of the Machine Head album, "Smoke" has gone from instant classic to radio staple to punch line and back to classic again many times over its lifetime. It helped push the album to No. 1 in the U.K. and into the U.S. Top 10. It's an iconic rock classic, plain and simple, and tops our list of the Top 10 Deep Purple Songs
Deep Purple Ranks as One of the Hall of Fame's Worst Snubs
Best of Ultimate Classic Rock