Classic East and West: Everything We Know (and Don't Know) So Far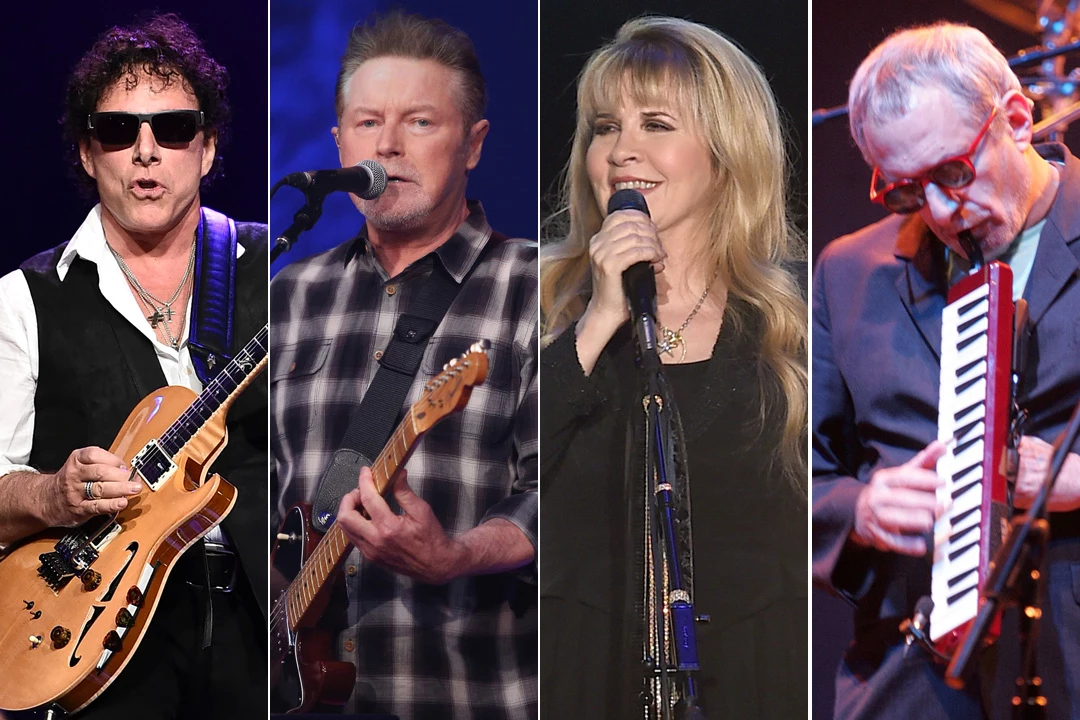 This summer, two festivals, called Classic East and Classic West, will take place at stadiums in Los Angeles and New York. Fleetwood Mac and the Eagles — making their first performances since the 2016 death of Glenn Frey — have been tapped as the headliners, and several other classic bands are on the undercard.
Usually at major multi-day festivals like Coachella, Bonnaroo and Lollapalooza, a classic rock band may headline a full day loaded with indie rock, hip-hop and electronic dance music. But last year's Desert Trip focused exclusively on classic rock, with the Rolling Stones, Bob Dylan, Paul McCartney, Neil Young, Roger Waters and the Who performing over three evenings at the Empire Polo Ground in Indio, Calif. Classic East and West, a joint venture by Azoff MSG Entertainment, Live Nation, the Oak View Group and CAA, is taking the same approach.
With information being slowly revealed, we've compiled everything we know, and what has yet to be known, about the new festivals into one place.
When and Where
Classic West will take place at Dodger Stadium in Los Angeles on July 15 and 16. Two weeks later, July 29 and 30, they'll play New York's Citi Field.
Who Will Be Playing?
The lineups for both weekends are identical, with the Doobie Brothers and Steely Dan opening up for the Eagles on Friday night and Journey and Earth, Wind & Fire opening up for Fleetwood Mac on Saturday.
Who (if Anybody) Will Stand in For Glenn Frey?
Last September, Don Henley suggested that "the only way I would consider any kind of reunion, I think, would be with Glenn's son, Deacon." But two months later, he admitted that was more a case of him thinking out loud rather than something that was in the works. And he also repeated that they would likely never perform without Glenn. "I don't see how we could go out and play without the guy who started the band," he said. "It would just seem like greed or something. It would seem like a desperate thing."
While Deacon remains the only name that has even been mentioned in conjunction with their reunion, their old friend Jackson Browne, who performed "Take It Easy" at the Grammys tribute to Frey, could conceivably stand in for Frey. Vince Gill, who briefly fronted Pure Prairie League before going on to a lengthy career as a country star, has also been linked with them after playing "Life in the Fast Lane" at December's Kennedy Center Honors.
Ticket Information
We don't yet know when tickets will be going on sale, nor how much they will cost. Tickets for last year's Desert Trip ranged from $199 for a single-day general admission pass to $1,599 for three-day passes for the pit and the best-quality reserved seating. Granted, Desert Trip was a three-day festival and this is only scheduled for two. However, with more bands on the bill and more seating options, it would not be surprising to see that number increase.
Will This Take the Place of Desert Trip?
Desert Trip was phenomenally successful, selling out in a few hours and grossing $160 million. However, organizer Paul Tollett suggested that it was a "unique, one-off thing." If that proves to be the case, and Classic East and West are similarly lucrative, it opens up the possibility for it to be repeated in future years.
Rock's 100 Most Underrated Albums
Best of Ultimate Classic Rock