45 Years Ago Blood, Sweat & Tears Release 'Child Is Father to the Man'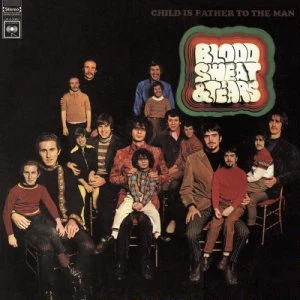 The game of rock and roll was wide open to interpretation and experimentation in the mid-'60s. No one knew this better than musician/songwriter Al Kooper.
After digging around the music business in New York City, Kooper landed his first break by penning the Top Ten hit 'This Diamond Ring' for Gary Lewis & The Playboys in 1965. Around the same time, he found himself taking part in a much different circle as he found himself involved with none other than Bob Dylan.
Kooper not only performed with Dylan at the infamous 1965 Newport Folk Festival, but he wound up playing the Hammond organ part on the landmark 'Like A Rolling Stone' single. "Producer Tom Wilson invited me to a recording session, and me being 21 years old and incredibly ambitious, I decided I was going to play on that session," he said in the Dylan 'No Direction Home' documentary. Kooper worked his way onto the recording by coming up with the organ part, which Dylan ended up loving and which, in part, became the 'Bob Dylan Sound' for a moment.
Shortly after that session, he joined New York band the Blues Project, but stayed little more than a year. It was mid-1967 when Kooper would put together his own vision for a contemporary rock band with Blood, Sweat & Tears. The initial idea was to expand on the concept of jazz rock or brass band rock put forth by bands such as the Buckinghams. Chicago would also grow from this idea around the same time. Kooper assembled a core eight-man band to make this vision work. The band were soon signed to Columbia Records and work on their first album began in the fall of 1967.
Released on Feb 21, 1968, 'Child Is The Father To The Man' featured a variety of interesting songs, most written by Kooper, but with a few well-selected songs from outside writers such as Tim Buckley, Randy Newman and Harry Nilsson. The LP begins with and 'Overture' that, like most good overtures, ties together various themes that will crop up on the album.
The first proper song is 'I Love You More Than You'll Ever Know,' a stirring soulful number written by Kooper. Elements of that Dylan session merge with a more sophisticated mindset to create something unique. Keep in mind, this is in a world fresh from the impact of the Beatles 'Sgt. Pepper's Lonely Heart's Club Band,' so experimentation and exploration were front and center throughout the making of the album. A beautiful cover of Tim Buckley's beautiful 'Morning Glory' from his amazing second album, 'Goodbye And Hello' comes in next. The horns are front and center here and that trademark Kooper organ still shines through.
'My Days Are Numbered' is pure soul-meets-rock, with the horns adding perfect dynamics while a backwards guitar solo plays upon that brass bedding with great effect. Nilsson's 'Without Her' is done up with a bit of Bossa Nova flair to it, while Randy Newman's 'Just One Smile' is a perfect fit for the ensemble with its soul-moving chorus.
The album's high point might just be 'I Can't Quit Her.' Written by Kooper with songwriter Irwin Levine, it's the hit that should have been, but alas was not to be. All the elements of a great mid-'60s pop record are here, complete with dynamic playing, catchy melody and just the right groove. This was a tight and focused ensemble of musicians, for sure.
The album was more than just an assemblage of songs, the whole thing runs together seamlessly incorporating elements of folk, jazz, soul, rock, pop and psychedelia to make one very unique offering. The album only reached the top 50, but it would set the stage for the success of Chicago, Chase, Lighthouse and many other rock groups with horn sections to follow. Blood, Sweat & Tears themselves would have a huge hit with their chart-topping second album which would be released by year's end.
Al Kooper, however, would not be a part of the band's chart success. He left the group he formed shortly after the release of their debut, citing the standard "musical differences" as the reason. He would go on to work with old Dylan sessions pal Mike Bloomfield, Stephen Stills, the Rolling Stones and Lynyrd Skynyrd to name a few. Despite a long and prolific career, 'Child Is The Father To The Man' certainly makes a strong case as the best thing Kooper ever did. Listen again, or listen for the first time; the years have not dimmed its light.
Listen to 'Child Is Father To The Man' by Blood, Sweat & Tears
Subscribe to Ultimate Classic Rock on
Best of Ultimate Classic Rock