21 Years Ago: Black Sabbath Release 'Cross Purposes'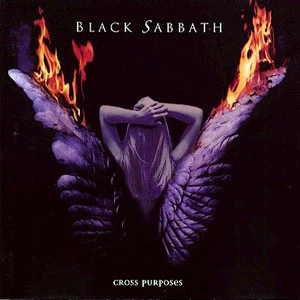 "Good grief! What now?"
One can't help but presume that words to that effect probably passed the lips of several people within the Black Sabbath organization, as they considered the options available to them before getting to work on the heavy metal legends' seventeenth studio album, 'Cross Purposes,' which eventually saw the light of day on Jan. 31, 1994.
Leading up to that album's creation, Sabbath's career had begun resembling a virtual tragic-comedy of errors, as they failed again and again to hang onto singers long enough to reclaim their due place amongst the world's leading heavy metal bands. This trend had already plagued the band's career for much of the '80s following their separation from original singer, and now proven solo star, Ozzy Osbourne. But when resilient guitarist Tony Iommi and founding bassist Geezer Butler managed to make peace with onetime vocalist Ronnie James Dio and drummer Vinnie Appice to complete the popular 'Mob Rules' lineup, the '90s suddenly looked more promising for Black Sabbath.
Unfortunately, the impressive comeback initiated by 1992's resulting 'Dehumanizer' album abruptly ran aground when Iommi and Geezer agreed to support and then play alongside Ozzy on the latter's final, pre-retirement shows (of course the retirement didn't last), prompting an enraged Dio to quit once again (Judas Priest metal god Rob Halford famously filled in), with Appice following in short order. All of which brought Iommi and Butler pretty much back to square one.
In due time, they mustered the will and strength to soldier on and, after calling up the ever reliable (and infinitely patient) Tony Martin to man the microphone and recruiting erstwhile Rainbow drummer Bobby Rondinelli, recorded the album that became 'Cross Purposes.' To their credit, despite initial plans to release the work under a new band moniker, the foursome eventually emerged with a perfectly respectable Black Sabbath album, bearing strong material in the likes of 'Cross of Thorns,' 'Dying for Love,' and 'The Hand that Rocks the Cradle.' However, it ultimately lacked the absolute home run track necessary to catapult the band out of its drawn-out losing streak.
Instead, 'Cross Purposes' met with little support, or even interest, from fans and critics alike, barely scratching its way into the Billboard Charts at a flaccid No. 122 as the band gamely hit the road for select dates in America and the UK. By June, Rondinelli had tendered his resignation (he was replaced in a pinch by original Sab-man Bill Ward), and a disillusioned Geezer soon followed, leaving Iommi as Sabbath's lone remaining founding member once again. 'Forbidden,' the next Black Sabbath studio LP, and last until 2013's partial reunion for '13,' would meet with even greater scorn and/or indifference and seal the '90s as another disappointing decade for the great heavy metal institution.
See the Yearbook Photos of Tony Iommi and Other Rock Stars
You Think You Know Ozzy Osbourne?