Top 10 Beatles Solo Albums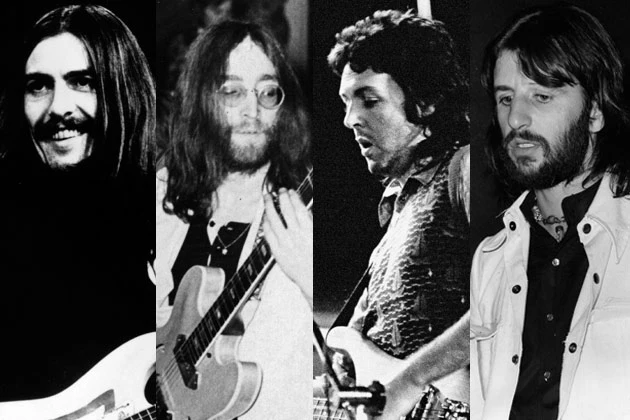 Some Beatles are greater than others. And some Beatles solo albums rank right up there with the band's best records. It should come as a surprise to no one that John Lennon and Paul McCartney made the best of them. And that George Harrison was responsible for one of the earliest solo classics. But even Ringo Starr made a great album, with a little help from his famous friends and former bandmates. Some tried to break from their legacy; others tried to extend it. Our list of the Top 10 Beatles Solo Albums mostly comes from the decade following the group's split, proving that the Fab Four still had some great music in them.
'Living in the Material World' (1973)
Harrison's followup to the sprawling 'All Things Must Pass' is tighter, more focused and song-oriented. It's also Harrison's most spiritual and pop-friendly album. 1973 was a big year for the ex-Beatles: They all released albums, three of which make our list of the Top 10 Beatles Solo Albums.
All four Beatles (as well as Billy Preston, Harry Nilsson and members of the Band) show up on Starr's hit third album, which spawned two No. 1 singles, 'Photograph' and 'You're Sixteen.' Backed by an ace band and working with a solid set of songs, Starr sounds inspired throughout. He got lazy on later records, resting on his legend. He plays to win on 'Ringo.'
McCartney's debut album (and the first No. 1 solo LP by a Beatle) was performed almost entirely by the ex-Beatle. And at times, it sounds like it —  personal, low-fi and missing most of the bells and whistles of the Beatles' later albums. Many of the tracks play like sketches rather than fully formed songs, but it's a revealing blueprint of McCartney's post-group career. Plus, 'Maybe I'm Amazed' still stands as one of the best solo Beatles cuts.
'Ram' includes McCartney's first post-Beatles No. 1 hit, 'Uncle Albert / Admiral Halsey,' which, like the album, is credited to Paul and wife Linda. But more importantly, it serves as the foundation for McCartney's best solo work — a wildly experimental record that makes some room for his timeless pop smarts. Layered, complex and way smarter (and tougher) than much of McCartney's post-Beatles music, 'Ram' is one of his most ageless records.
Produced by George Martin and featuring drums by Ringo on one track, 'Tug of War' is McCartney's most Beatles-like album, filled with classic pop hooks and sharp melodies. It occasionally dates itself, with Martin's production working overtime to keep up with the '80s, but some of McCartney's best post-Beatles songs are here. It's also the most recent LP to make our list of the Top 10 Beatles Solo Albums.
Like McCartney's 'Ram' (see No. 7 on our list of the Top 10 Beatles Solo Albums),' Lennon's comeback LP was co-credited to his wife. But 'Double Fantasy' goes one step further than 'Ram,' alternating Yoko Ono's songs with Lennon's. After five years of seclusion, in which he played househusband and father, Lennon returned with this moving "heart play" — his most personal record in a decade. It was also his last album. He was killed a few weeks after its release.
Following 1970's blistering 'Plastic Ono Band' (see No. 1 on our list of the Top 10 Beatles Solo Albums), Lennon tuned out his rage and found some peace on his most Beatles-like solo record. He'd spend the rest of the '70s mostly breaking down his legacy and building it back from the roots. He embraces it here with wide-open arms.
McCartney's best post-Beatles album (co-credited to Wings) is also the roughest-sounding record of his solo career, all crunching guitar riffs and sharp pop twists and turns. Knocking back solid rockers, and shoving aside the silly love songs that dominated so much of his mid-'70s work, McCartney would never be this loose again.
'All Things Must Pass' (1970)
Harrison not only was the first Beatle to release a solo album (1968's blah 'Wonderwall Music,' basically a soundtrack), he was also the first to score a No. 1 single: 'My Sweet Lord,' the anchor of this great three-record set. Even though it meanders a bit with all the jams and loose work prints, 'All Things Must Pass' is a fascinating work, sprawling, epic and brimming with great ideas, which Harrison apparently was stockpiling from his old bandmates, who gave him only a couple songs per album anyway.
'Plastic Ono Band' (1970)
Lennon's first proper solo album (nobody counts those experimental noise messes he made with Yoko) shouldn't come as much of a surprise to anyone who'd been paying attention to his later Beatles songs. Always the most conflicted and tortured member, Lennon, for the most part, held back the reasons for his restlessness — the mommy issues, the class issues, the Beatle issues — until after the group broke up. 'Plastic Ono Band' is raw, primal and cathartic. No way he could have gotten away with this with the band.
So You Think You Know The Beatles?
Best of Ultimate Classic Rock