Barbra Streisand Shares Stories of Exchanging Fan Letters With Bob Dylan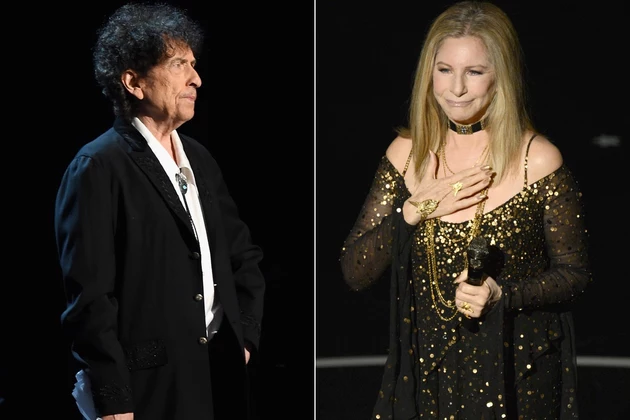 Scholars and Dylanologists haven't even begun to delve into the thousands of things contained in the Bob Dylan Archive, but we already know about some of the more intriguing items, including a fan letter from Barbra Streisand. As Streisand recently told The New York Times, the correspondence went both ways.
Saying she was "touched" to hear Dylan had saved her note, Streisand said she was prompted to search through her own papers to dig up the other half of the story. "As I remember it, first he sent me flowers and a lovely note, asking me if I would like to sing with him. In return, I sent him the note that's in his archive, thanking him for the flowers and the invitation. But for whatever reason, it never happened at the time."
They picked up where they left off in 1983, when Streisand was working on her Yentl film and Dylan had recorded the Infidels LP.
"Hee sent me his latest album, along with the letter I still have," she continued. "In it, he writes, 'There are some songs on this album which I'm sure you would love to do.' He adds, 'I'm looking forward to seeing your movie. Maybe you can direct me in one of mine.' And then he goes on to say something that still means so much to me: 'You are my favorite star. Your self-determination, wit and temperament and sense of justice have always appealed to me.'"
As previously reported, the Bob Dylan Archive is being established in Tulsa, Okla., where a permanent exhibition space will stand near the city's Woody Guthrie Center. According to Streisand, Dylan's note to her may end up as part of the collection: "I thought scholars, and fans, might like to know the story behind my note. And I plan to send a copy of his letter to Bob, so it can be included in his archive, as well as mine."
Bob Dylan Albums Ranked Worst to Best
Best of Ultimate Classic Rock