Bob Dylan's Archives to Be Permanently Stored in Tulsa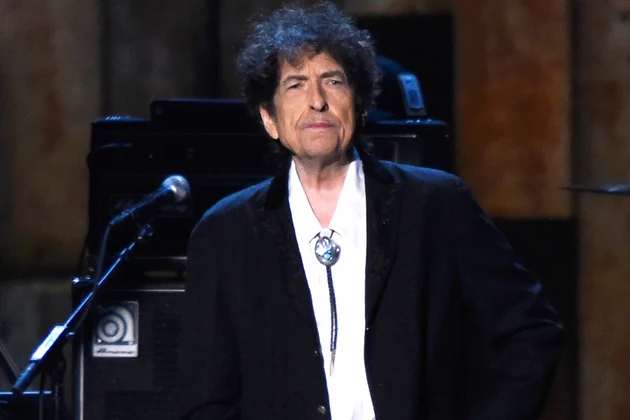 Bob Dylan's back pages are getting a new home — and there are more of them than anyone could have guessed.
According to a new press release, a collection of Dylan's personal materials — called the Bob Dylan Archive and amassing more than 6,000 effects, including manuscripts, notebooks, films, photographs, memorabilia and correspondence — will be permanently housed in Tulsa, Okla., thanks to a deal struck by the George Kaiser Family Foundation and the University of Tulsa.
Roughly 1,000 of the items are already in Tulsa, where the New York Times was granted access to view a collection they deemed "deeper and more vast than even most Dylan experts could imagine" — including a trio of notebooks showing the countless rounds of revisions he went through while working on material for his classic Blood on the Tracks LP.
The Archive, which reportedly commanded a fee of $15 to $20 million, will undergo a two-year digitization and preservation process, and is ultimately set to be housed in a permanent exhibit space nearby the city's Woody Guthrie Center — a development that naturally sits well with Dylan.
"I'm glad that my archives, which have been collected all these years, have finally found a home and are to be included with the works of Woody Guthrie and especially alongside all the valuable artifacts from the Native American Nations," he said in the press release. "To me it makes a lot of sense and it's a great honor."
Referring to Dylan as a "national treasure," Kaiser Family Foundation executive director Ken Levit predicted that the move would make Tulsa the epicenter for scholarly study of his works. "We are proud to be bringing such an important, comprehensive and culturally significant archive to Tulsa," Levit enthused. "Our combined philanthropic and academic approach made a strong case for assuring Mr. Dylan and his representatives that Tulsa would provide the ideal environment to care for and exhibit this collection, and the result is a boon for Tulsa that will soon attract Bob Dylan fans and scholars to our city from around the world."
Bob Dylan Albums Ranked Worst to Best
Best of Ultimate Classic Rock