10 Things You Didn't Know About Ringo Starr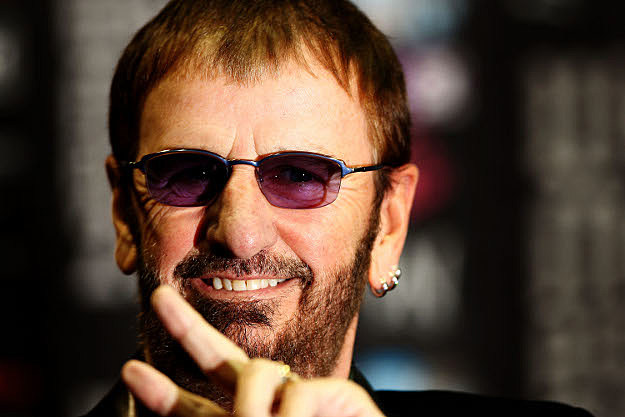 Even though he barely looks a day over maybe 60, famed former Beatles drummer Ringo Starr marks his 71st birthday today. He's packed a lot of drumming, touring, peace and love into those 71 years, so we're taking a few minutes to explore 10 things you might not know about Ringo Starr.
He's a left handed drummer but plays a right handed kit.
Today's highly regarded drummers often talk about the influence that Ringo had on them as players. According to Starr himself, it was the limitations brought on as a lefty drummer playing on a right-handed drum set that helped to create his playing style.
He was the original man in the cab for 'Thomas The Tank Engine.'
Starr was the storyteller/narrator for the children television program 'Thomas and Friends' from 1984-1986 a role that would later be occupied by George Carlin and then Alec Baldwin. He also appeared for two seasons as 'Mr. Conductor' on the Thomas offshoot 'Shining Time Station.' His departure from 'Thomas' was attributed to a renewed focus on his solo music.
You can also call him a bit of an artist
Growing up, Starr expressed early interest in art, drama and mechanics. We're guessing that the "drama" part probably served him well during his Beatles years. In the '90s, he began experimenting with computer-created art, saying it gave him something to do while on tour. He continues to create and sell art pieces to this day.
Back off Bolin, er, Boogaloo!
Rumor has it that 'Back Off Boogaloo' was directed at Paul McCartney's commentary to the press about the other Beatles, but Ringo claims that it came from having dinner with Marc Bolan of T-Rex. Apparently, Bolan peppered his conversation with the word "boogaloo" frequently, which gave Starr the idea. Coming home, he discovered that his recorder was out of batteries, so he borrowed some from his kids' toys in order to get his ideas down on tape.
That drum part you're hearing was recorded in one take.
Ringo's not a big fan of redoing his drum parts, preferring to record them live in the studio with the band playing along. This style of recording is partly influenced by the Beatles sessions with George Martin, in which he had to learn to play quickly to prevent the tape from running out, and still capture the unexpected moments that came out of jam sessions.
He regrets not having collected much Beatles memorabilia.
According to Ringo, he rarely kept items related to the group back in the day, because he didn't realize the value that it all would have someday. Instead, he gave a lot of it away. In an interview with radio personality Jody Denberg, Starr said that he now wishes that he had kept "everything."
The next time you're at The Met, look for Ringo's drum.
Last year, Ringo loaned the Metropolitan Museum of Art one of his snare drums, a gold Ludwig that was presented personally to Starr in 1964 by the drum company. Ringo had been using the brand for all of his touring and television appearances, which naturally brought Ludwig a lot of business. They presented Starr with the gold snare as a token of appreciation.
'Y Not' become a producer?
For his 15th studio album, Starr, who had co-produced several of his solo albums previously, decided that he would handle the primary production duties for 'Y Not.' He told NPR that the album started with no songs, just individual pieces and instruments that he built up into the songs that form the record.
He's married to a Bond Girl.
Sure, they've been married for quite a while, but even we forget sometimes that Ringo's wife Barbara Bach is a former Bond girl. She appeared in the James Bond movie 'The Spy Who Loved Me,' and also later appeared with Starr in the movie 'Caveman' and Paul McCartney's 'Give My Regards To Broad Street.' At 63 years old, she's still pretty good looking!
The 'Ringo' album features all four Beatles, sort of.
Starr's 1973 'Ringo' album featured all three of his former Beatles bandmates, who each appeared on the album and helped to compose various songs. They don't all perform together on any one track, although 'I'm The Greatest,' written by John Lennon, comes close as it features Starr, Lennon and George Harrison. Out of the rest of the Beatles-assisted tracks, Harrison notably helped Ringo write 'Photograph.'
Best of Ultimate Classic Rock