10 Things You Didn't Know About Don Henley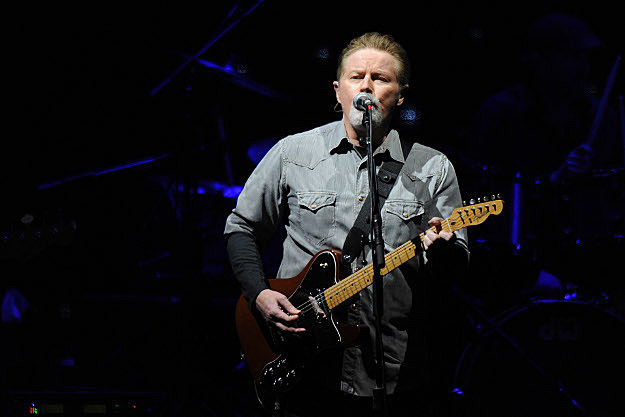 You already know that Eagles singer-guitarist/drummer Don Henley has an opinion on many subjects — from environmental concerns to politics — and he's never afraid to share it. To our benefit, he's used his celebrity status to stump for important causes and when necessary, he makes a whole lot of noise. Today (July 22), Henley is staring at 64 candles, and to celebrate his birthday, we're looking at 10 Things You Didn't Know About Don Henley:
He's a little bit country.
The Sunset Grill was real.
Inspired by a popular hamburger joint on Sunset Boulevard, Henley's love for their burgers offered at least partial mouth-watering inspiration for the composition of his popular solo hit. No doubt their business improved as a result of the free advertising, something that probably helped drive up the price tag for the restaurant which eventually was sold in the late '90s to new owners.
Don is Kool with the Gang.
The '80s were a good for Henley, a time when he scored seven Top 40 hits, including the impatiently dance-critical number 'All She Wants To Do Is Dance.' That tune was covered a short time later by Kool & the Gang, who unfortunately (or fortunately?) didn't find the same success that Henley had with the track.
'Don Henley Must Die' … but not so fast!
Rock and roll wildman Mojo Nixon recorded 'Don Henley Must Die,' his famous anti-ode to the Eagles singer in the '80s (alongside a similar "tribute" to Debbie Gibson) and it was Henley who had the last laugh when he showed up at one of Nixon's shows and joined Nixon onstage, much to Nixon's surprise. Of course, the two men are now friends – isn't that a happy ending?
The Fleetwood Mac song 'Sara' has a sad Henley connection
Henley and Stevie Nicks began dating in the '70s and she got pregnant. To deal with the situation, she had an abortion during a break in touring and wrote 'Sara' in response to her sadness over the loss of the baby.
Playing drums hurts his back.
Henley cut back on drumming as the years passed because of the bad back that he acquired as a result of drumming and singing at the same time. It turns out, all of that stuff that your mom warned you about regarding posture – it's true.
Sheryl Crow was his background singer.
Prior to breaking big with her own singing career, Crow was a background vocalist for a number of artists including Henley, whom she recorded and toured with on the 'End of the Innocence' album and tour. She later reunited with Don, adding backing vocals to 'The Garden of Allah,' released on the Henley hits collection 'Actual Miles' in 1995.
He has a little bit of 'Patience' for Axl Rose.
Axl came down to add some background vocals to Henley's 'I Will Not Go Quietly' and Henley returned the favor a short time later when regular Guns N' Roses drummer Steven Adler was in rehab. GN'R were set to perform on the 1989 American Music Awards and they needed a drummer, so Henley filled in, drumming on the mellow 'Patience.' We would have loved to have seen him tackle 'Paradise City' instead.
The Heartbreakers connections run deep.
Former Tom Petty drummer Stan Lynch has long been an associate of Henley's, offering both musical and moral support. Heartbreakers guitarist Mike Campbell is another friend, who co-wrote several Henley songs, including 'The Boys of Summer.' Henley says that his work with Campbell stemmed from visits that he would make to Campbell's home studio to hear things he was working on. If he heard an interesting riff or idea, Campbell would put it on a cassette for him to take home. That's a hell of a musical doggie bag right there.
He loves Ringo. (Don't we all?)
Henley took a lot of stock in Ringo Starr's "less is more" approach to drumming and he says its the Beatle stickman who helped him cut his "rock n' roll teeth," with additional influence coming from Levon Helm and Ginger Baker. Henley says that like most drummers, he "picked licks up from all the records I ever heard."
Best of Ultimate Classic Rock