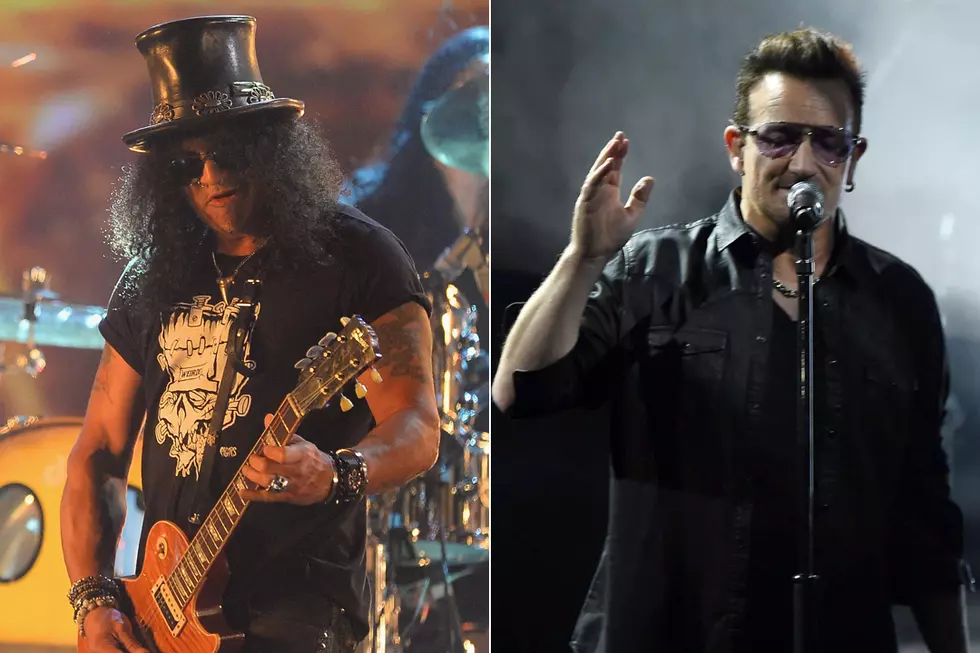 U2 Send Sober Slash A Case Of Guinness
Samir Hussein / Matthias Nareyek, Getty Images
Slash has been sober since 2006, but apparently U2 didn't get the message. This week, the former Guns N' Roses guitarist arrived for a concert in their hometown of Dublin, Ireland, to a present from them that he couldn't use.
He tweeted, "Many thanks to @U2 for the 'Welcome to Dublin' case of Guinness! The only thing I miss about being sober."
Earlier this year, Slash opened up about what it was like the first time he performed sober, which took place during a quick tour of California with Velvet Revolver. "That was a trip and it was a little shaky," he said. "But you get past that pretty quickly cause you're in the moment. You can't just sit there and go, 'Oh my God, I can't do this.' You have to do it, so I got over that pretty quickly."
Slash took the accidental gift with good humor, and we hope he divvied up the stout with his band and crew. Still, as long as Bono is apologizing to everyone who was upset by the download of 'Songs of Innocence,' he may want to also send Slash a nice basket of fruit along with an "I'm sorry" note.
Slash Talks About the State of Rock N' Roll
More From Ultimate Classic Rock