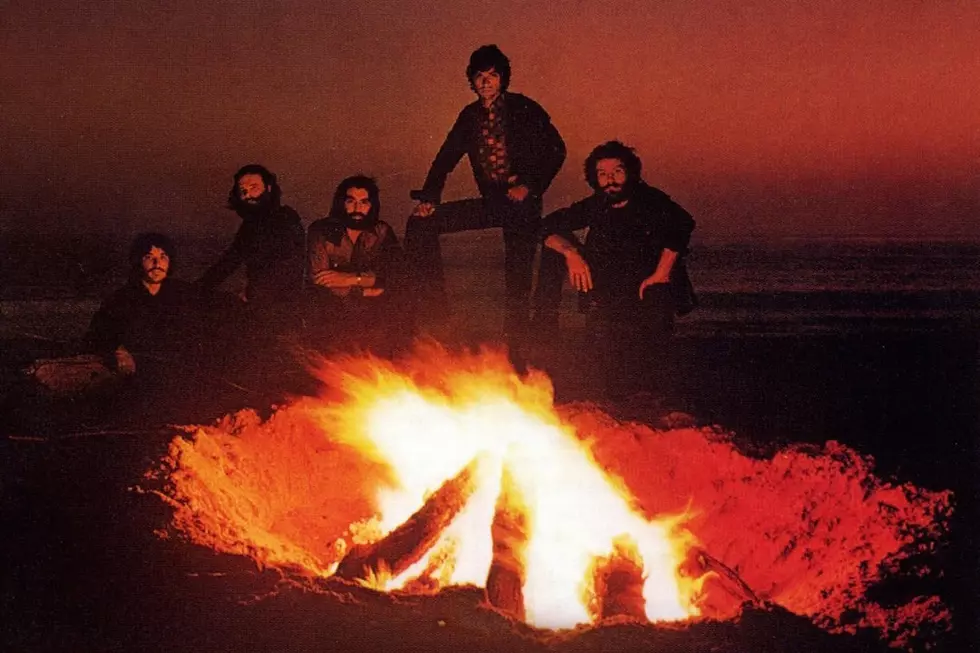 How the Band Briefly Rallied on 'Northern Lights-Southern Cross'
Capitol
Released some four years after Cahoots, the Band's long-awaited studio follow up Northern Lights-Southern Cross found them in a much different place. The feverish acclaim that surrounded their arrival had cooled, and expectations for something equalling their superlative initial trio of albums had ebbed.
Perhaps in keeping, Northern Lights-Southern Cross finished as the Band's lowest-charting Robbie Robertson-era album on their native Canadian charts. Stateside, the project stalled at No. 26 after its release on Nov. 1, 1975, a far cry from the Band's Top 10 Billboard showings for 1968's Music from Big Pink and their self-titled 1969 sophomore effort.
Time, however, has been kind to Northern Lights-Southern Cross — ultimately revealing its deeper complexities, underscoring its typically overlooked triumphs and, in some circles, re-positioning this album in the company of the Band's best work. At times, it's even superior to 1970's Stage Fright, an achievement that hardly seemed possible a scant few years before as the Band struggled with its collective muse.
Northern Lights-Southern Cross, instead, found them reborn — if not entirely as creatively robust as before. Robertson, in contrast with the Band's earliest period, was handling all of the songwriting duties by 1975. At least for now, however, his bandmates were once again adding new splashes of musical and interpretive brilliance to these initial canvases.
Technology, and this was different too, played a more central role. Northern Lights-Southern Cross saw the Band making initial use of the then-new 24-track equipment at their own California-based Shangri-La studios, something that allowed Garth Hudson – the Band's ace-in-the-hole multi-instrumentalist – an even wider palette of colors.
That was clear from the first, on the Levon Helm-sung "Forbidden Fruit." A slinky flash of spooky R&B grit, the song is powered along by Richard Manuel's height-of-cool clavinet and a far more upfront approach by Robertson on the guitar. Hudson answers with a series of embellishments on both the Lowrey and synth, even as Helm and Rick Danko combine for a chorus that holds all of the dark portent of a whispered tarot reading.
Listen the Band Perform 'It Makes No Difference'
"Hobo Jungle" follows as a straight-forward, determinedly unsentimental performance by Manuel, who sang this homeless narrative like someone who had looked into the abyss and seen it staring right back. He pulls no punches, gives nothing away to the nostalgic, the treacly or the funereal. Each word arrives like a gut punch. It is a song about dignity within loss, a song about trying to find meaning without the anchor of normalcy – about treasuring small, good things even if they've emerged from ugly, overlooked places.
Much of the credit for that goes, of course, to Robbie Robertson — who crafted a lyric as intricate as it is specific. He calls these lost souls "rounders," a perfectly old-fashioned synonym for honorable ne'er-do-wells; he understands the ultimate freedom in having no possessions because there are also no concurrent debts. But, as Manuel's ever-more-oaken performance on "Hobo Jungle" makes clear, the track would have withered in most anyone else's care.
"There's no doubt that it was thrilling to me to be able to put a song into the hands and tools of Richard," Robertson said in 2014. "To this day, I still don't know any singers that can bring that kind of sadness so boldly and movingly to the front."
Northern Lights-Southern Cross boasts a narrative centerpiece in "Acadian Driftwood," one of Robertson's most enthralling quests to frame history within an individual story. (It's very much in the style of "The Night They Drove Old Dixie Down," but this time focusing on the wandering Cajuns.) "Jupiter Hollow" is a kind of magnum keyboard opus for Hudson, while the fast-moving finale "Rags and Bones" remains an artfully penetrating moment – in that most modern-day fans have come to associate Robertson exclusively with his Native American roots. Here, Robertson instead draws on the city scenes surrounding his Jewish heritage, completing the album with a torrent of vibrant urban memories.
At the same time, Rick Danko and Levon Helm both came away from Northern Lights-Southern Cross with new signature moments: "It Makes No Difference" for the former, and "Ophelia" for the latter. It seemed, after almost half a decade and more than their share of wrong turns and dead ends, the Band had discovered their balance once again — between big thoughts and small, between individual performance and collective genius, between themselves and the towering expectations that had seemingly always surrounded them.
Listen to the Band Perform 'Acadian Driftwood'
A onion-like song of deeper and deeper complexities, "Ophelia" sounds by turns like a Dixieland delight, a guttural blues, a close-harmony lament and a '70s-style R&B groover. Helm, who kept this song in his set lists until his sad passing, provides a reliably loamy vocal, while Hudson unspools a torrent of brilliant instrumental ideas.
"The chord progression on 'Ophelia' was something that could have come out of the '30s; the storytelling was ancient and modern in the same breath," Robertson said in 2014. "The full-on modernism in the sound, in the arrangement, was paramount in Garth's experimentation. It is unquestionably one of his greatest feats, in my opinion, on any Band song."
Meanwhile, "It Makes No Difference" remains Danko's most trenchant vehicle – and one that only he could voice, as he races to the lonesome bottom of this song while retaining its sense of reckless emotional abandon.
Even there, though, what happens around that vocal completes it, just as it completes Northern Lights-Southern Cross. "I wrote this song specifically for Rick to sing," Robertson said in 2014, "and when we first started discovering the possibilities, it kept expanding to more levels of emotion. What Garth and I could add to finalize the statement of this song was purely instinctual."
Sadly, the original lineup of the Band never captured that magic again. Though they sounded (at least on the surface) whole again, Northern Lights-Southern Cross would ultimately be the five-man edition's studio swan song, a final flash of brilliance before the end.
 
 
See the Band Among Canada's Top 10 Rock Acts
Why Don't More People Love This Music?
More From Ultimate Classic Rock