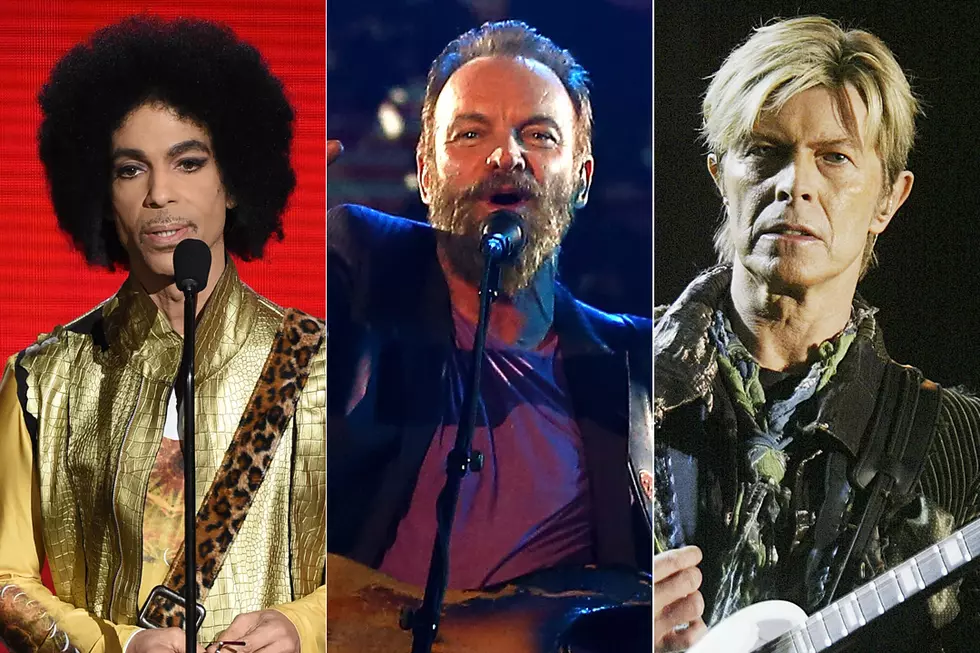 Sting's '50,000' Was Inspired by the Deaths of David Bowie and Prince
Kevin Winter / Elsa / Jo Hale, Getty Images
Ever obsessed with the big questions, Sting's new song, "50,000," finds him reflecting on the recent deaths of so many of his rockstar contemporaries, like David Bowie and Prince. He debuted it last night (Sept. 16) on the BBC's Later... with Jules Holland, and it's embedded above.
Its title refers to the number of fans lifting their voices and raising their hands at stadium rock concerts as "every word he ever wrote [is] reflected back to him." He compares the adulation of a massive crowd to "a serious drug you could never kick." In the last verse, Sting realizes that, by virtue of his age, he could be the next one to go.
Sting wrote the song shortly after Prince died in April. Although no one is mentioned by name, the many other rock legends who passed away in the early part of 2016 informed the lyrics. "Mortality does sort of rear its head, particularly at my age – I'm 64," he told Rolling Stone when the album was announced back in July. "It's really a comment on how shocked we all are when one of our cultural icons dies: Prince, David, Glenn Frey, Lemmy. They are our gods, in a way. So when they die, we have to question our own immortality. Even I, as a rock star, have to question my own. And the sort of bittersweet realization that hubris doesn't mean anything in the end."
"50,000" will appear on 57th & 9th, which is being billed as Sting's return to rock after spending more than a decade on other musical pursuits. It will be released on Nov. 11. You can hear the first single, "I Can't Stop Thinking About You," here.
The Top 100 Rock Albums of the '80s
More From Ultimate Classic Rock