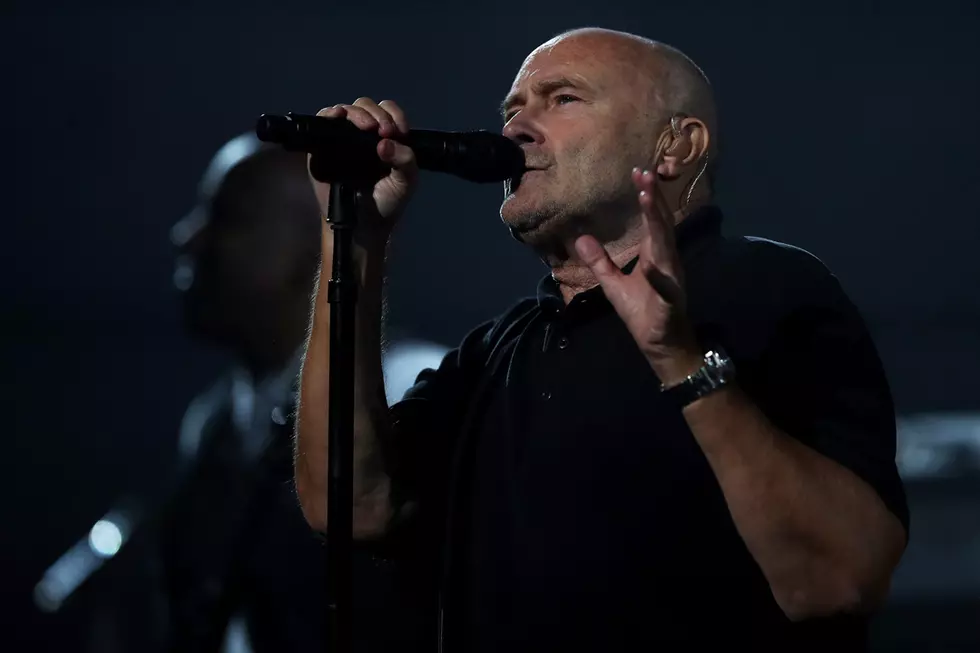 Phil Collins Says He Did Not Divorce His Wife By Fax
Elsa, Getty Images
It's a story that's dogged Phil Collins for a couple of decades, and now he's coming clean about it. In a new interview, he reveals that he did not divorce his second wife, Jill Tavelman, via fax.
"[It] really hurt my career, or my public persona," he told ABC News. "And it was based on an untruth. … So, I just thought it would be an opportunity just to lay it all out, and if I say it didn't happen, I'm trusting that people will believe me."
In 1994, it reported that the couple had split as a result of Collins talking from the stage while on tour about reconnecting with an old girlfriend and that, in the interest of preserving his voice, he was communicating with Jill and their daughter Lily with faxes. "[She] hasn't seen her father for two months," People quotes Jill as saying. "She keeps weeping, 'I want my daddy' Phil sends her faxes, but I know she'd rather hear his voice. Phil doesn't phone because he has to save his voice for the next day."
Collins is in the process of promoting his autobiography, Not Dead Yet, which was released earlier this week. He added that, in going back over the events of his life, he realizes just how ubiquitous he was in the '80s, when he was releasing hit albums as both a solo artist and as a member of Genesis.
"There was that line in Entertainment Weekly, which said, 'Even Phil Collins must know we're growing weary of Phil Collins,'" he added. "So there was a backlash ... and … when I apologize, I'm really just saying, 'I understand why.'"
The book arrives just as he's looking to restart his music career. He has plans to tour Europe next year, including a five-night stay at London's Royal Albert Hall in June. Earlier today (October 27), he said that he will be performing in the U.S. at some point. "It'll only be a matter of time until we come here," he told an audience in New York.
Phil Collins Albums Ranked Worst to Best
More From Ultimate Classic Rock