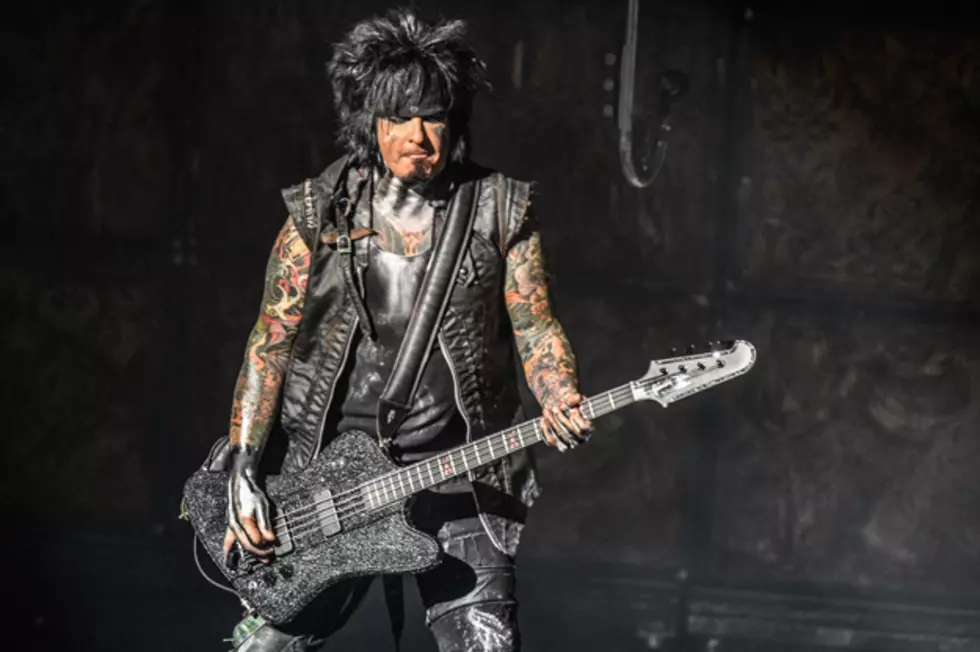 Motley Crue's Nikki Sixx on 'Sex' and Touring with Kiss
David Wolff, Getty Images
With Motley Crue's summer-long tour with fellow rock titans Kiss wrapping up, we caught up with the band's bassist, songwriter, author, fashion designer, photographer, radio host and all-around renaissance man, Nikki Sixx.
After praising his road crew for getting the show back on the road after a gear bus accident trashed some of their stage, Sixx talked about the inspiration he's gotten from his touring partners, the reaction to the band's unconventionally new released single 'Sex,' and what would happen if Kiss and Motley Crue were to raid each other's catalogs.
For more on Sixx's Twitter rant against Megadeth frontman Dave Mustaine and what lies ahead for his band Sixx: A.M, click on the button below to read Loudwire's portion of the interview.
So the tour got back on track pretty quickly (after the crash), huh?
We're really lucky that no one was playing the next night in Detroit. I know the Shinedown guys came down and hung out and they had a show tonight there. So there was a hole between our show and their show. If they still would have been there, we would have had to reschedule -- which would have been really difficult -- but everything worked out. Kiss's and Motley Crue's (road crews) worked together just perfect.
The comradery between the bands is really high, and the crew. If it wasn't for that it could have been a real disaster because that entire truck was carrying both of our gear. We hired the same carrying company so everything was super easy. (Still), if it hadn't been for everyone working so hard, they wouldn't have been able to put the stuff back together because some of this stuff, I've never seen anything like it. When the truck flipped, it basically popped like a pimple and all the gear went out the top -- the semi went over the top of a lot of the gear. So these huge bars of steel pulled all the pyro and mounted it into the rafters and stuff. That stuff was snapped like a toothpick.
You say the comradery with Kiss is good, that's good to hear. Do you still get a friendly competitive vibe (when you perform together)?
Nikki: I mean, I've talked with this about Paul Stanley. We're backstage, we're hanging, we're talking about everything and anything under the sun. Then we go to get ready. When we get on that stage, man, it's all or nothing. It's been that way since day one. It doesn't matter who we're on tour with. For Motley Crue, we have to give 150% and I know for sure the guys in Kiss, they're the same way. So are we in competition with each other? Not really as much as we're in competition with ourselves to keep pushing ourselves. Now when you have a band like Kiss playing with you, you can't f--- around and I know it's the same for them. You know, we're going out there and giving everything. It's not like you have a slacker playing right after you or right before you so I think that's like really healthy. We really didn't discuss, as in a friendly competition, but I know that it's there.
Inspiration, that's a better word. But you explained it perfectly...
Definitely, you know it's great, because I'll be like, "Hey dude that one part of your show, I loved that" and they'll say the same thing for us. It's just such a nice feeling to have after all these years. We've seen every version of touring with bands and most of the time it's really good, especially (with) the pros. You know, we did the co-headline with Aerosmith, with Ozzy, it was the same thing, like we just go up there and blow the audience away.
The new song 'Sex' is pretty cool, have you been happy with the reaction to it?
Yeah. It's really interesting, it reminds me of when were kids. We would be playing the Whiskey-a-Go-Go and we (would have just written) this song called 'Looks That Kill' and (we go to) play it and people would be like "Dude! That song's insane!" That's the kind of thing that inspires us to write more songs. It didn't get lost in the clutter, (instead we had) direct communication with fans. What we'd do in the future, I don't know.
We're going to make music. First thing you do is you write it, you record it, then you have it, then what do you do with it? Do we release EPs? Do we release albums? Do we release two songs a week? We don't know yet and that's kind of exciting, it's kind of interesting to be in that place and not be going, "Well here's the release date, the full 10 songs have to be mixed and mastered by this date." We don't necessarily know exactly what we're going to do. I mean, we like what we're doing right now, it feels good. It feels organic. We like that we have this body of work that we can pick from to play live. The band's probably getting along better than maybe ever.
You're known for doing things in unconventional ways. Were you happy with the reaction to your recent Vegas residency?
We just heard Guns N' Roses is going to take a shot at the Vegas residency thing and I heard someone else, I can't remember who... but it's kind of cool that before we went in there, all we heard was "You're going to fail," "You're going to tarnish your image," "No one's going to show up." And, you know, we sold the whole thing out and everybody was really happy. We felt like, "Wow we're kind of lucky to be the first hard rock / heavy metal band to ever go into Vegas. To see other bands going in there is really cool, because I think it's a good opportunity. I think you have to be the right band. I think you can't just go in there and play songs. You gotta put on more of a show, but it is a really cool thing.
So are there plans to do it again?
I guess at this point, you know, we did it and we knew we were going to do this tour. There's a bunch of options on the table for some other opportunities and then we can make a record. So that's kind of down the road, I'm not saying no, but we haven't (confirmed it), it's not on the calendar yet.
Okay last question -- it's quick and it's a two-parter. If Motley Crue were going to cover a Kiss song, which one would it be?
That would be good. Now, flip it around. Which one would you like to see them do of yours?
Which would they do it justice for? Um, let me think. You know, I think they can do a pretty badass version of 'Shout at the Devil.'
There you go! I can see that. That actually makes the most sense.
More From Ultimate Classic Rock