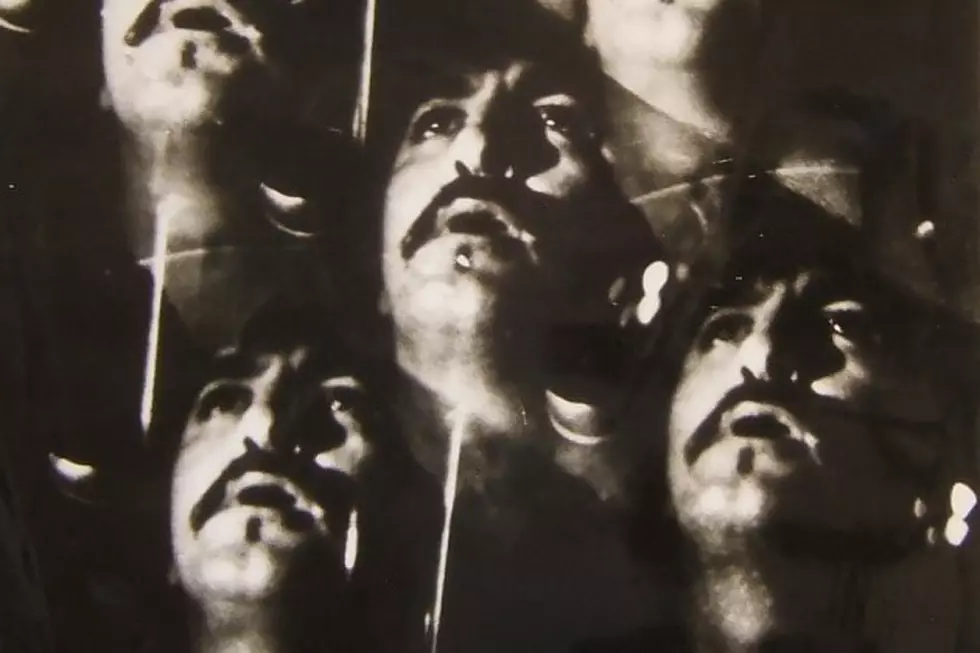 Rock's Unsolved UFO Mystery: The Night Jim Sullivan Vanished
Light in the Attic Records
Roswell, New Mexico, became forever linked with extraterrestrials on the night of July 2, 1947, when witnesses say they spotted a metallic disc-shaped object streak through the sky. The debris found at a ranch in Corona the next morning was dubbed a UFO, or unidentified flying object. Those who believe the truth is out there celebrate World UFO Day on July 2 to mark the sighting.
UFOs have also fascinated rock musicians, who have sung about flying saucers and little green men for decades. One of the more serious takes on aliens was written by Jim Sullivan, a talented but obscure singer-songwriter. In 1969, Sullivan recorded his debut album U.F.O., backed by a bevy of ace Los Angeles session musicians. But by 1975, a disillusioned Sullivan left L.A. for Nashville to look for work.
He never arrived in Music City. Sullivan vanished into the desert of the Southwest without a trace. His disappearance, as mysterious as any UFO tale, has never been explained.
A LOST CLASSIC
By 1969, Sullivan had become a local celebrity at the Raft, a bar in Malibu where his fans included actor Harry Dean Stanton and other Hollywood film folks. Sullivan had a cameo as a commune member in the film Easy Rider, even as backers – recognizing his talent – put up the cash to record U.F.O. The session musicians were members of the Wrecking Crew, who'd backed the Beach Boys, Simon & Garfunkel and other stars on many hits. They included keyboardist Don Randi, drummer Earl Palmer and bassist Jimmy Bond, who also produced and arranged Sullivan's album, which was issued on Monnie Records.
Sullivan, in the gatefold of a 1970 remix of the project for Century City Records, offered insights into his hardscrabble beginnings as "the seventh son of a Nebraska farmer that came to the big city during World War II to work in the defense plants. I decided that I would like to play music when I would sit and listen to the blues groups practicing around various houses. I watched the guitar players studiously and then went home to practice 'Okie Dokie Stomp' by Clarence 'Gatemouth' Brown until I had grown calluses on my fingertips and brain. I went to work with a few different rock groups, the music got louder and louder. A few years of bangin' around went by. I decided to move to L.A. and concentrate on writing and here I am."
Although Sullivan's style has been compared to folk-rockers like Gene Clark of the Byrds and Joe South, U.F.O. found little success. Over the next six years, Sullivan continued to perform at the Raft and other clubs, but his life was beginning to fall apart. Sullivan believed some of his music was stolen, and he developed a drinking problem.
That prompted Sullivan to pack his Volkswagen Beetle with a plan to find work in Nashville. He promised his wife Carol and son Chris that they would join him when he earned some money. It would be the last time his family saw him.
Listen to Jim Sullivan's 'Highways'
HIS EERIE PROPHECY
Matt Sullivan is the founder of Light in the Attic, a small, Seattle-based label that revives long-forgotten albums. Thirty-five years after Jim Sullivan vanished, Matt (who has no relation to the singer) began researching in the hopes of reissuing U.F.O.
Matt found a vinyl rip of the album on Waxidermy, a music blog. The comments posted by those who knew the singer offered some clues about his disappearance.
Accompanied by filmmakers Jennifer Maas and Mel Eslyn, Matt Sullivan traveled the country to retrace the singer's steps and talk to his friends, fellow musicians and family. Session players Don Randi and Jimmy Bond were contacted but remembered little about Jim Sullivan. Original album executive producer Al Dobbs had a collection of old contracts, the original album cover photo and a picture of the singer walking in the California desert. But no one could explain what happened to Jim Sullivan.
The investigation of one of rock's weirdest tales led Matt Sullivan and his film crew to the New Mexico desert, as described on the Aquarium Drunkard blog. "Santa Rosa, N.M., is a small town located two hours east of Albuquerque along Route 66. It's more like the Texas Hill Country than the vast open desert I previously envisioned," Matt Sullivan wrote.
"Jim left Los Angeles in his Volkswagen Bug sometime between noon and 1 p.m. on March 4," Matt continued. "In the early morning hours of March 5, he was pulled over outside Santa Rosa for swerving. He was taken to the local police station for a sobriety test, which he passed. He was swerving from fatigue caused by the taxing 15-hour drive. Jim checked into the La Mesa Motel, but police reports later indicated that the bed in his room was not slept in, and the key was found locked inside the room."
Listen to Jim Sullivan's 'Plain As Your Eyes Can See'
AN ENDURING MYSTERY
Jim Sullivan's VW ended up outside of a ranch 26 miles from the motel. Accounts differ as to whether Sullivan talked to the ranch owners or their workers.
"When the police found Jim's car it was locked, and the engine was dead," Matt Sullivan wrote. "A number of things were found in the car, including Jim's wallet, guitar, clothes, reel-to-reel tapes, cassettes, silver appointment book and a box of LPs of Jim's 1972 self-titled album on the Playboy label.
"Jim's family traveled out to join search parties looking for him, the local papers printed missing person stories, but the search proved fruitless. Jim's manager, Robert 'Buster' Ginter, later stated that during the early morning hours of a long evening, Jim and Buster were talking about what would you do if they had to disappear. Jim said he'd walk into the desert and never come back."
For Matt Sullivan, there's a bigger legacy than the strange happenstance of Jim Sullivan's vanishing.
"I hope that people remember him for making a masterpiece," Matt told NPR. "His voice has this kind of weathered, worldly Americana sound. Kind of a country-mixed-with-rock element to it. From there, the production, the strings: It's lush, but they're dark and eerie. I kind of look at it as pop songs that aren't happy. They're filled with despair.
"With or without his disappearance, there's something in those lyrics that is incredibly mysterious and eerie," he continued. "One thing that one of Jim's friends pointed out was that the guitar was left in the car. If Jim was going to disappear, that would have been the one thing that he would have taken – because wherever he was in the world, he could always stand on a street corner and make a few bucks playing his guitar."
How 100 of Rock's Biggest Acts Got Their Names
From AC/DC to ZZ Top, we give you all the ammo you need to be the biggest know-it-all in town.
More From Ultimate Classic Rock