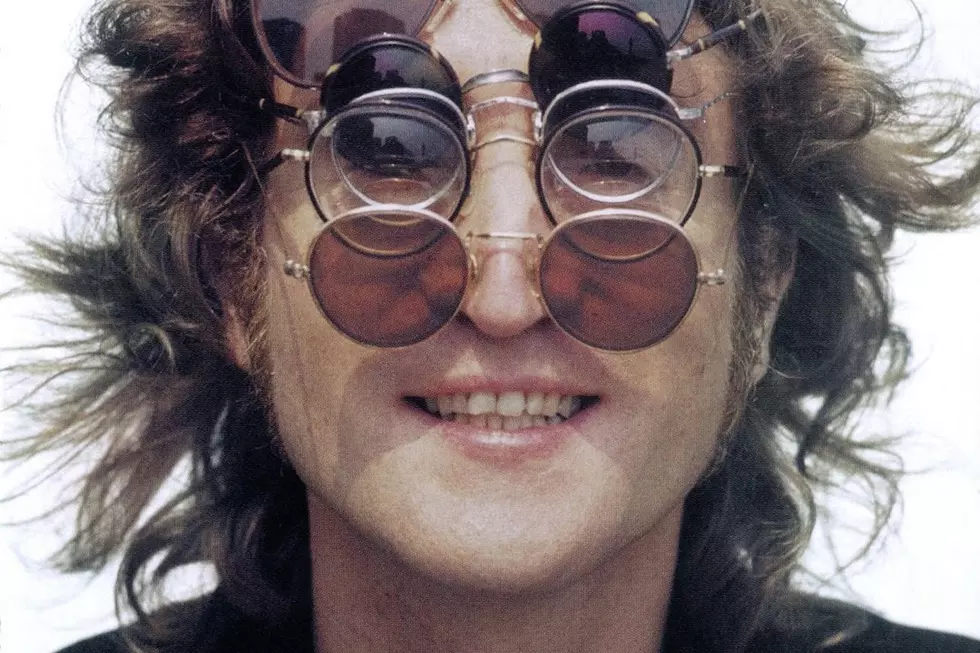 Why John Lennon Sometimes Sounded So Lost on 'Walls and Bridges'
Apple
Like most of John Lennon's solo albums, Walls and Bridges came with its share of bumps along the way. And like much of Lennon's work starting around the time the Beatles were working on the White Album, many of those bumps were spurred by Yoko Ono.
Lennon split with Ono while recording Mind Games in 1973. His year-and-a-half separation from her became known as Lennon's Lost Weekend, a fabled period that lasted way longer than a weekend, and included such figures as Ono's personal assistant (with whom Lennon shacked up), Harry Nilsson and Phil Spector.
John Lennon was about a year into his break from Ono – and about a month removed from wrapping work on Nilsson's Pussy Cats album – when he began recording Walls and Bridges in New York in July 1974. About nine months earlier, Lennon had holed up with legendary producer Spector (who had also assembled the Beatles' final album Let It Be from hours of unedited tapes, much to the disappointment of the group's fans) in hopes of making a record of rock 'n' roll oldies.
But like many things during Lennon's Lost Weekend, alcohol sidelined the sessions and Spector left with the tapes. (They'd later be revisited for 1975's Rock 'n' Roll album.) So, Lennon fleshed out the new songs he'd been working on since finishing Mind Games a year earlier, assembled some Los Angeles session vets, including some string and brass players, and began work on Walls and Bridges.
Released on Sept. 26, 1974, Walls and Bridges was all over the place, as Lennon played around with various styles (pop, rock, R&B), themes (some songs were about Ono, some were about his new love and some were about the Lost Weekend) and intention. Its best songs – "Whatever Gets You Thru the Night," "Bless You," "Scared," "#9 Dream" and "Nobody Loves You (When You're Down and Out)" – dipped as much into Lennon's past as they pointed toward his future.
Listen to John Lennon's 'Whatever Gets You Thru the Night'
Nilsson co-wrote one song. Another was a cover of an R&B oldie. Lennon wrote one song with Frank Sinatra in mind. And Elton John came in at the last minute and added vocals and piano to "Whatever Gets You Thru the Night," Lennon's first solo No. 1 hit. ("#9 Dream," the other single from Walls and Bridges reached No. 9, appropriately enough.)
The album also went to No. 1, repeating the success Imagine had achieved three years earlier. But its reputation, even at the time, is far removed from that of Lennon's 1971 classic, mainly because he sounds a little lost – emotionally and musically. No doubt some of that aimlessness had to do with Lennon's separation from Yoko Ono. But it's telling too that after relaunching his Spector-produced oldies project a year later, John Lennon took a long break from music, not returning until 1980's fateful Double Fantasy.
It was almost like the music didn't matter much to him at this point. And maybe it didn't. Rollicking numbers on Walls and Bridges like "Whatever Gets You Thru the Night" are offset by pained confessionals like "Scared." Lennon sounds torn on the album, and his retirement, in hindsight, was much needed.
When he returned in 1980 with his "Heart Play" collaboration with Ono, Lennon was refreshed – lighter and more open to the world. Past demons behind him, he was all set to enter the third stage of his career until it was ended on Dec. 8.
These days, Walls and Bridges comes off like the tossed-off Lost Weekend castaway it often is. Even though Lennon and crew set aside much of the drug- and alcohol-fueled debauchery that marked the Pussy Cats and initial Rock 'n' Roll sessions, the album can't help but take on the signs of a slight hangover ... or at least a kinda rough morning after. There may have been some good times put into it, but there were way better days long before.
John Lennon Albums Ranked
See the Beatles in Rock's Craziest Conspiracy Theories
More From Ultimate Classic Rock