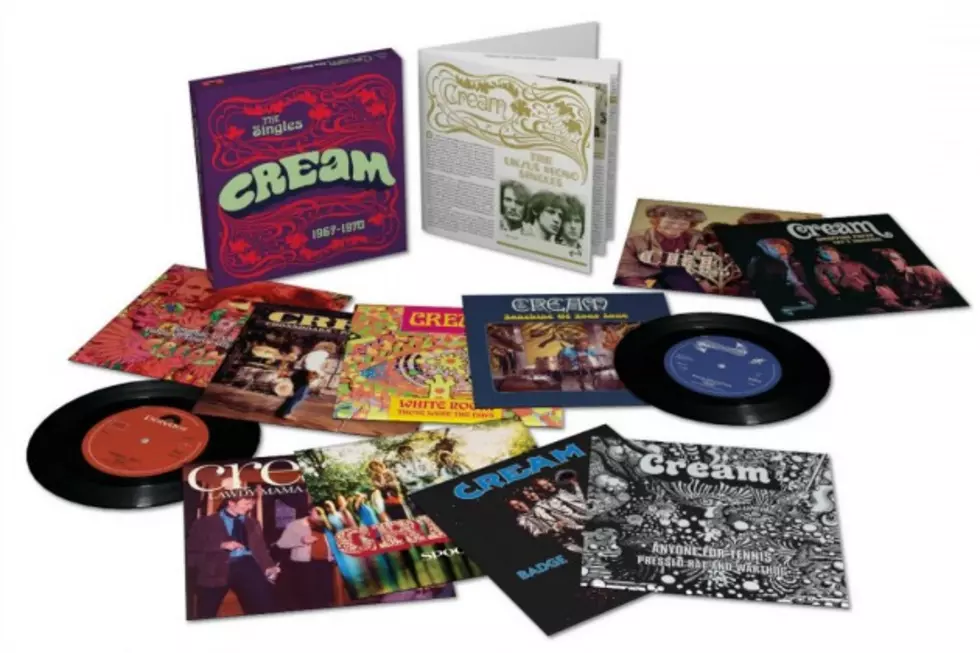 Cream's Singles Collected in New Vinyl Box
Universal
Cream's singles are getting the vinyl reissue treatment with a deluxe box featuring new artwork and remastered mono sound.
The box, sensibly titled The Singles 1967-1970, is available for pre-order through Universal's online store, and shows a release date of Nov. 26.
"Cream blazed an indelible trail through the latter half of the '60s with their challenging and exquisite mélange of blues, pop and psychedelia," reads the product listing. "These tracks offered a window to the wilder, widescreen adventures of their long players and here they are in glorious mono with specially designed picture sleeves; a fitting tribute to the skills of the three players, and especially to Jack Bruce, who left us in October 2014."
The singles box marks the second major Cream vault release of the year, following a collection of three band-related films that arrived in stores in May. Fans can also look forward to the impending arrival of Eric Clapton: Live at the Royal Albert Hall — Slowhand at 70, which captures the Cream co-founder in action during his record-breaking series of dates at the titular venue earlier this year. Check out the complete track listing for The Singles 1967-1970 below.
Cream, 'The Singles 1967-1970' Track Listing
"Wrapping Paper" b/w "Cat's Squirrel"
"I Feel Free" / "NSU"
"Spoonful – Part I" / "Spoonful – Part II"
"Strange Brew" / "Tales of Brave Ulysses"
"Anyone for Tennis" / "Pressed Rat and Warthog"
"Sunshine of Your Love" / "SWLABR"
"White Room" / "Those Were the Days"
"Crossroads" / "Passing the Time"
"Badge" / "What a Bringdown"
"Lawdy Mama" / "Sweet Wine"
See Cream and Other Rockers in the Top 100 Albums of the '60s
This Day in Rock History: October 19
More From Ultimate Classic Rock