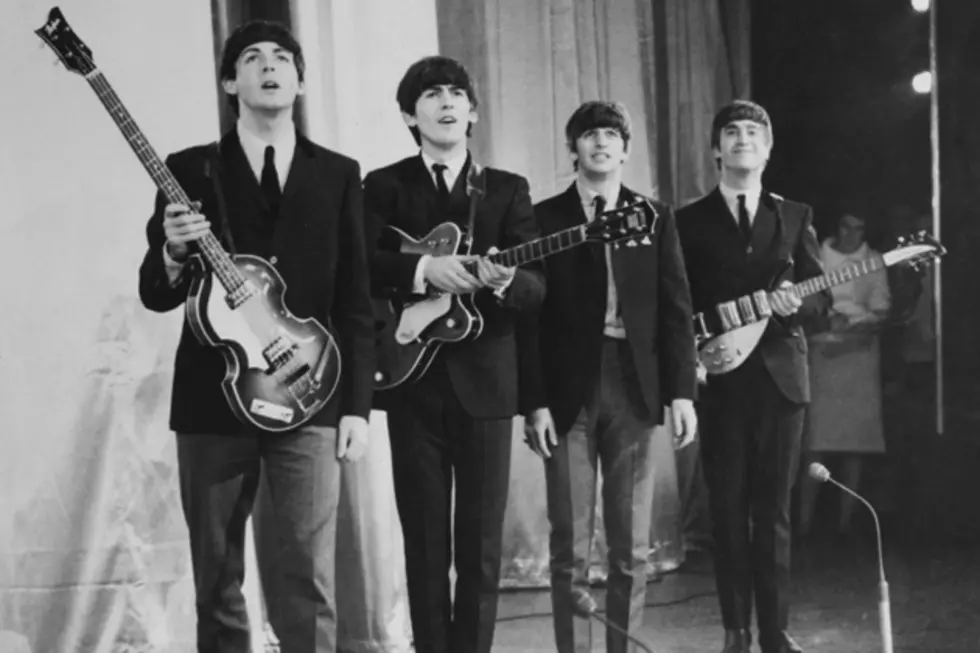 Who Played the Beatles on American Radio First?
Fox Photos, Getty Images
Earlier this week, we celebrated what we thought was the 50th anniversary of the first time the Beatles were heard on U.S. airwaves. However, some new information has come to light, providing definitive evidence that 'Please Please Me' had received airplay in several major U.S. markets long before Carroll James spun 'I Want to Hold Your Hand' on Washington, D.C.'s WWDC on Dec. 17, 1963.
On his blog, The Hits Just Keep On Comin', Madison, Wisc. DJ and Top 40 historian J.A. Bartlett calls us - and the sources we cited - out for providing wrong information. Reprinted, with his permission, are his findings:
My own research a couple of years ago indicated that the Beatles had made the radio in the States in early 1963, although they were nothing special at the time. Today I consulted the fabulous Airheads Radio Survey Archive, which has collected (as of today) 35,487 radio station music surveys dated from 1955 to 1996, for the data. ARSA shows that the first Beatles song to get on American radio was "Please Please Me." It further shows that five radio stations charted "Please Please Me" before December 1963. Others might have too, but here's the ARSA tally:

—WLS in Chicago charted it for the weeks of March 8 and March 15, 1963 (peaking at #35), before dropping it off. Some fairly exhaustive research at Kent Kotal's Forgotten Hits establishes pretty clearly that WLS was the first station in America to play the Beatles, in late February 1963, nearly a year before the outbreak of Beatlemania across the country.

—KFXM in San Bernardino, California, charted it on the week of April 6 and again on charts dated April 27, May 4, and May 11. I don't know about the weeks of April 15 and 22, but the April 27 survey shows "Please Please Me" in its first week on the chart, so I am guessing it probably didn't appear.

—WQAM in Miami got on it for the last two weeks in April.

—KNUZ in Houston has it for the week of May 3.

—KEWB in San Francisco charted it for the same week, although their chart date was shown as May 4.

The most amazing tidbit of Kotal's research claims that WFRX in West Frankfort, Illinois, was on "Please Please Me" in June 1963. A 1997 article in the St. Louis Post Dispatch reported that George Harrison's mother sent a copy to his sister Louise, who lived in Benton, Illinois (where George would spend three weeks on vacation in September 1963), and she passed it along to a DJ at nearby WFRX. (In addition, New York DJ Murray the K claimed to have played the Beatles in late September 1963.)

Most of the early survey citations list the song as "Please Please Me" by "the Beattles," which was how the band's name was spelled on the record. The release was on the Chicago label Vee Jay, and because a Chicago station would have likely have paid special attention to releases on a local label, that's more weight on the WLS claim to be first. Dick Biondi, who was on WLS in 1963 and is on WLS-FM today, has long claimed to have been the first DJ in America to play the Beatles, and there's no reason to believe he wasn't.

Regarding "I Want to Hold Your Hand," Carroll James may have been first to play it on December 17—or he may not have been. It shows up on surveys for WGR and WKBW in Buffalo for the week of December 27, and on WABC for the week of December 31, and it's reasonable to assume, as was the case with WLS, that the stations played the song for a week or two before it appeared on their surveys.
As Bartlett hints, although 'Please Please Me' was put in rotation in those cities, it didn't gain traction for long anywhere. It wasn't until the famed WWDC airing, coupled with the 'Huntley-Brinkley Report' segment the next day, that the American version of Beatlemania kicked off in earnest, which is probably why the James story had been accepted as gospel for so long.
We thank Bartlett for bringing this piece of rock history to our attention.
More From Ultimate Classic Rock