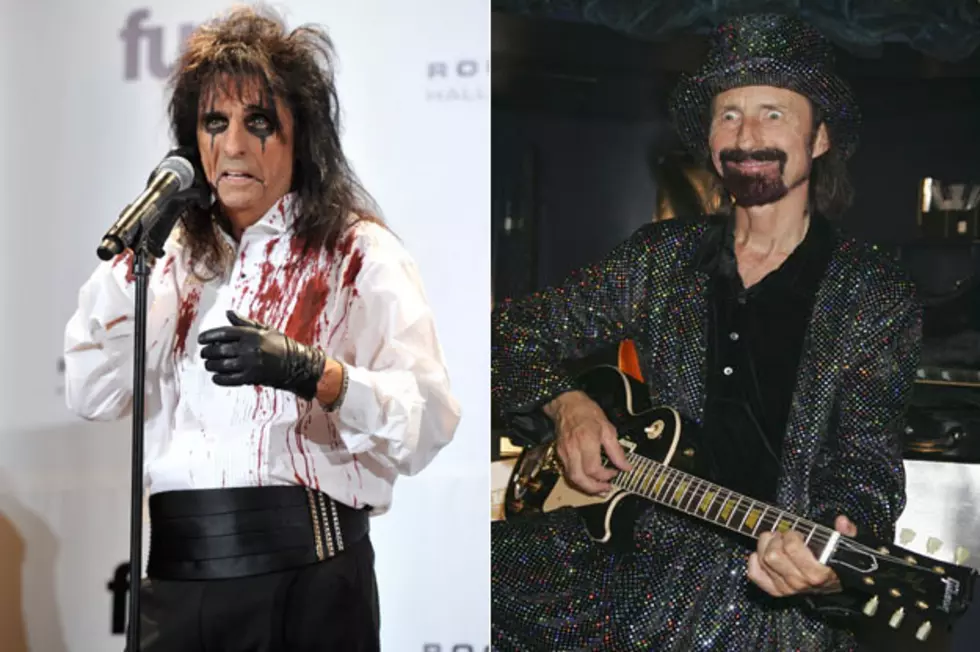 Alice Cooper Recruits Arthur Brown for Fire-Themed Halloween Show
Alice Cooper has invited psych-rock pioneer Arthur Brown to join him and a circus of freaks for a fire-themed show at the Alaxandra Palace in London on Oct. 29. Cooper recently pledged to make London the permanent home for his annual Halloween shows, and this gig (one of six nights in the UK) has pyromania written all over it.
Alice told Classic Rock magazine "We have a fire theme this year and we're in the UK – I couldn't NOT invite Arthur Brown. This is a guy who set his head on fire on TV. Can you imagine the young Alice Cooper watching that with all his make-up and hellish performance? It was like all my Halloweens came at once! He was like Screaming Jay Hawkins on …Fire!"
In addition to Arthur Brown, The New York Dolls will play a smokin' set while other acts will take a freakier approach to performing. Heidi Bradshaw, also known as Snake Fervor, incorporates nasal flossing, body stapling and being set on fire into her show. Sophia Landi plans to use a flaming bullwhip, while Ruby Blues covers the stage in sparks by taking an angle grinder to her guitar. Girls Roc plans open the show with wild dance routines and fire stunts.
Thousands of tricksters are expected to attend, and a costume party with cash prizes handed out to the best-dressed ghouls will also take place.
According to the Alexandra Palace website, Alice believes that the British have the chops to pull this event off. "It takes a lot to shock me," says Alice, "But last year even my stomach was churning, Britain really has got freaks. That's what's Halloween is all about. It's my favorite time of the year, bring on the gore!"
More From Ultimate Classic Rock