Listen to Willie Nile's New Song 'Citibank Nile': Exclusive Premiere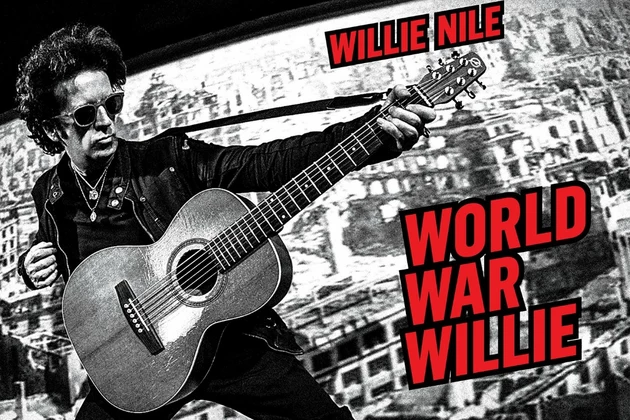 Ultimate Classic Rock is proud to present the exclusive premiere of "Citibank Nile," a track from Willie Nile's upcoming World War Willie LP.
Due April 1, the album — Nile's 10th studio effort — follows 2013's American Ride, and finds him working alongside producer Stewart Lerman and his longtime backing band. The cover shot, which depicts Nile standing in front of a WWII-era landscape of the post-bombing devastation in Dresden, reflects the record's spirit of resilience in spite of the fact that, as he puts it, "It's a tough old world out there."
"That riveting image of a world at war just spoke volumes to me about the human race. It left me speechless," said Nile. "What can you say about it that isn't right there in front of you? Surely we can do better than this. For me rock 'n' roll, at its best, helps to make some sense of the world. There can be a redemptive quality in it. I guess it's me trying to make some sense of the world with rock n roll. It also reminds me of the good old days at CBGB's in NYC."
You can listen to the song below.
Of the track "Citibank Nile," Nile explains he was inspired by the constant rise of corporate branding — and delivered what he deems a tongue-in-cheek anthem about "the deep delta roots of Wall Street." "With every arena and stadium and salt and pepper shaker named after some bank or oil company these days, I figured my band and I should all change our names to some Fortune 500 moniker to reflect that just for a laugh," said Nile. "I guess it's the Ballad of One Percent Willie."
Nearly four decades after releasing his self-titled solo debut, Nile feels like he's finally hitting his stride. "I've hit a good groove these days. I'm enjoying the writing, the recording and the live shows more than ever. This is what I was looking for when I first started my musical journey. I'm very grateful that I get to do what I love to do and as long as the fire burns I won't be stopping any time soon."
2016's Biggest Rock News Stories
Best of Ultimate Classic Rock