Top 10 Vinnie Vincent Songs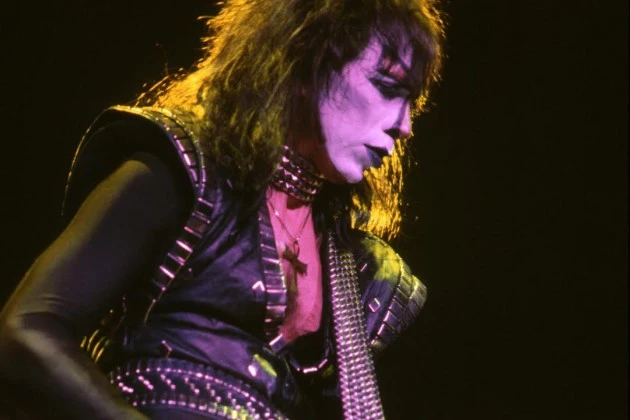 Former Kiss guitarist Vinnie Vincent's career may have lacked stability and consistency – but as this list of his best songs demonstrates, it certainly featured moments of brilliance.
Vincent is best known for his brief early '80s stint as the Ankh Warrior, Ace Frehley's first replacement as Kiss' lead guitarist. His songwriting and playing on 1982's Creatures of the Night and 1983's Lick it Up helped band mainstays Paul Stanley and Gene Simmons recover from a nasty career tailspin and return to platinum-selling status, but personal and creative disagreements soon forced his exit from the group.
He then became the leader of the Vinnie Vincent Invasion, who had a pair of minor hit albums before splitting up in 1989. Soon after that, Kiss gave Vincent another shot, this time just as a songwriter. He rewarded them by contributing to three of the best songs on 1992's acclaimed Revenge – then to hear them tell it, quickly burned that bridge a second time. Over the following years, Vincent faded into exile, turning up only in random stories about arrests and clothing auctions.
Naturally, most of the songs on this list of the Top 10 Vinnie Vincent Songs come from his equally fruitful and tumultuous stints with Kiss and the Invasion. But we found a few other hidden gems that are well worth your time, and which can't help but make us hope his career isn't as over as it seems to be.
From: 'All Systems Go' (1988)
1988's second and final Vinnie Vincent Invasion album, All Systems Go, gave most of the world their last glimpse of Mr. Vincent. But at least the strange path his life would follow didn't come before Vincent and his backing band (who, by the way, would soon defect and launch Slaughter) delivered a final batch of irrepressible glam-thrashers such as "Breakout."
From: 'Euphoria' EP (1996)
Taken from Vinnie Vincent's final release, the Euphoria EP, "Wild Child" showed the guitarist had lost none of his pop-metal vigor during his time out of the spotlight in the first half of the '90s. The presence of old associate Robert Fleischman also helped bridge the gap back to the first, promising Vinnie Vincent Invasion album. Sadly, it's been nearly 20 years of silence since then.
From: 'Let Me Rock You' (1982), 'No Brakes' (1984)
And now for tonight's trivia question! Who co-wrote the song "Tears," as recorded in yacht rock format in 1982 by then-former Kiss drummer Peter Criss, and with rather more rock bite in 1984 by former Babys and future Bad English frontman John Waite? Why the one and only Vincent Cusano, who would later be renamed, you guessd it.. Vinnie Vincent.
From: 'Vinnie Vincent Invasion' (1986)
The opening statement from the Vinnie Vincent's first album, "Boyz Gonna Rock" shot '80s glam metal into outer space (heck, almost into the loony bin) on the strength of Vincent's highly explosive fret-board work. A popular Headbangers Ball staple, the song's video contained more lace, spandex, poofy hair and reckless pouting per square inch than the average Friday night on the Sunset Strip.
"All Hell's Breaking Loose"
From: 'Lick it Up' (1983)
One of those truly underrated Kiss tracks, the surprisingly funky "All Hell's Breaking Loose" led the charge into Lick it Up's second half with the help of a hooky circular riff, a stinging solo from Vinnie, and some "no s—" actual rapping from Paul Stanley. This song clearly qualifies as one of Kiss' most interesting songs, just as Vincent earned his spot as one of their most interesting guitarists in his brief tenure with the band.
Vinnie Vincent returned to Kiss' good graces barely long enough to collaborate with Paul Stanley and Gene Simmons on a trio of solid cuts on 1992's Revenge album. Among these, the unusually foreboding "Unholy" barely edges the more conventional Kiss sounds of "Heart of Chrome" and "I Just Wanna" to earn a slot in our list of Top 10 Vinnie Vincent Songs. Too bad the song's icy, vengeful mood soon came to represent the state of Simmons' and Stanley's opinions about Vinnie.
From: 'Vinnie Vincent Invasion' (1986)
No song epitomizes the frantic, hairspray-coated abandon of the two Vinnie Vincent Invasion LPs better than the absolutely bonkers "Twisted." From its studio-concocted introductory stutter, through Robert Fleischman's hysterical vocal barrage, and cresting with Vinnie's incendiary solo, "Twisted" is a breathless bungee jump into the '80s glam metal scene's bottomless pit of excess.
From: Creatures of the Night (1982)
For all the songs they've written over the years, Kiss have only delivered a handful of truly memorable ballads. Although Peter Criss' "Beth" obviously towers above all the rest in popularity, the longtime Paul Stanley vocal live showcase "I Still Love You" just might be the better song.
From: 'Creatures of the Night' (1982)
Ace Frehley's mug may have been on the original cover, but Creatures of the Night secretly marked Vinnie Vincent's arrival in Kiss. He's credited with co-writing three songs, and reportedly played the solos on six. "I Love it Loud" was that fantastic album's most popular and enduring track, earning it a spot near the top of our Top 10 Vinnie Vincent Songs list – even if it contains perhaps the most uneventful, near-remedial guitar solo of Vinnie's career.
From: 'Lick it Up' (1983)
When all is said and done, the song most people will remember Vinnie Vincent by is "Lick it Up": the title track from Kiss' make-up removing album of the same name, for which Vincent contributed co-writes on a stunning eight of ten tracks. Coincidentally, Lick it Up proved to be the lead guitarist's only credit as an officially recognized member of Kiss. For all the animosity that followed, there's little doubt that Vincent gave the band a new lease on life, while demonstrating amazing (and uncharacteristic) technical restraint on this unforgettable tune.
Kiss Albums – Ranked Worst to Best
Best of Ultimate Classic Rock