Top 10 Clarence Clemons Songs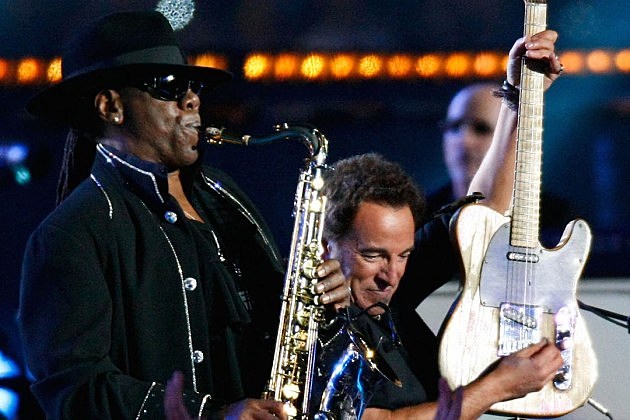 Some of Bruce Springsteen's most popular tracks could also be considered Clarence Clemons songs, such were the strengths of this late saxophonist's contributions. In addition to his work with the Boss, Clemons also collaborated with artists from Jackson Browne to Twisted Sister to Lady Gaga across a 40-year career that sadly ended after a deadly stroke in 2011. As this list of Top 10 Clarence Clemons Songs shows, however, the Big Man left plenty to remember him by …
"You're a Friend of Mine"
Of all of the work Clemons has done over the years, it's this duet with Jackson Browne that is his most well-known recording outside of the E Street Band, with Aretha Franklin's "Freeway of Love" coming in second. "Friend" somehow comes off as a musical version of the buddy movies that were popular at the time, and it has a good hook — if you overlook the dated production.
"Santa Claus is Coming to Town"
Clemons contributes a jolly solo to Springsteen's update of a Christmas classic in which everybody looks forward to Santa's visit. Especially Clarence, who purportedly is set to get a new saxophone from Santa in exchange for all of the hard work he's put into practice that year. We're not sure if Santa ever delivered on that one, but we still believe in Christmas all over again every time we hear this entry in our list of Top 10 Clarence Clemons Songs.
"Spirit in the Night"
From: 'Greetings From Asbury Park, N.J.' (1973)
"Spirit in the Night" finds Springsteen and Clemons traveling to Greasy Lake in one of their first collaborations. Recorded as one of the final tracks for Springsteen's debut, Clemons helps to make it one of the finest songs on the album.
"Prove it All Night"
From: 'Darkness on the Edge of Town' (1978)
When Bruce reunited with the E Street Band in the late '90s, "Prove It All Night" once again became a showcase for the importance of Clarence Clemons within Springsteen's music. The tag-team soloing between Clarence and Bruce always provided a priceless moment of interplay between the two that was guaranteed to give you goosebumps.
"Badlands"
From: 'Darkness on the Edge of Town' (1978)
One of the most popular songs on our list of Top 10 Clarence Clemons Songs in terms of concert soloing space, "Badlands" found Bruce handing off the spotlight to his horn-blowing friend before re-joining him at the song's conclusion to bask in the vocal embrace of the crowd. Occasionally slotted as the concert opener, "Badlands" often gave any unsuspecting audience their first full glimpse of the Big Man in full effect.
"Rosalita (Come Out Tonight)"
From: 'The Wild, the Innocent & the E Street Shuffle' (1973)
Fans are always delighted when "Rosie" comes out, and for years, you could count on getting this as one of the closing numbers of a Springsteen set. Clemons turned in a sax line on "Rosalita" that positively rollicks throughout, making each appearance of this track's heroine a truly special treat.
"Thunder Road"
From: 'Born to Run' (1975)
Clemons punctuates one of Springsteen's greatest stories with a dramatic entrance just as the singer pronounces that "it's a town full of losers, and I'm pulling out of here to win!" His tight solo helps to underscore the feeling of hope that yes, indeed, there is still "one last chance to make it real."
"Tenth Avenue Freeze-Out"
From: 'Born to Run' (1975)
"Tenth" not only tells the story of the E Street Band, but it also functions as an example of one of the many Bruce songs featuring a grand arrival from Clarence. Our hero barrels in with a triumphant solo just as Bruce finishes detailing the classic moment when "the Big Man joined the band."
"Born to Run"
From: 'Born to Run' (1975)
A longtime fan favorite, "Born to Run" has become a celebratory moment in the Springsteen setlist, typically performed with the house lights up. The epic track is one of many E Street Band tunes that found Clemons and his fellow band members burning full-throttle towards the finish line. That made "Born to Run" one of any saxophone enthusiast's favorite Clarence Clemons songs, and remains inspirational on every level.
"Jungleland"
From: 'Born to Run' (1975)
Without question, this is the Big Man's finest moment. As is often the case his song contributions, a classic solo on "Jungleland" really carries the collective emotions behind Bruce's thoughts to the next level. You'd find nary a dry eye among the emotional Bruce fans who got a chance to listen to Clarence wrap up his tender performance on "Jungleland."
Best of Ultimate Classic Rock