Top 10 Ringo Starr Beatles Songs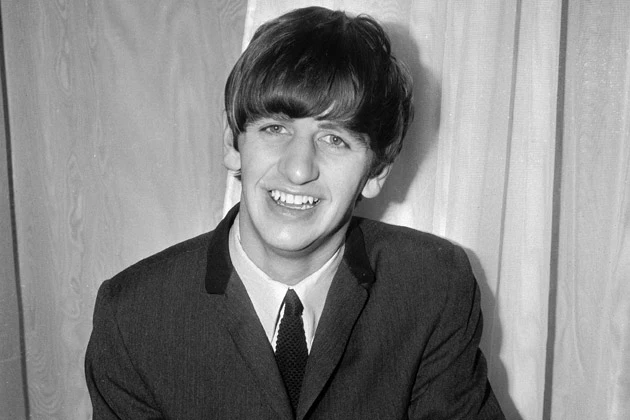 The drummer doesn't get much love. Nothing personal — it's just the nature of the business. While the three other Beatles increased their singing and songwriting contributions as their albums became more self-sufficient, poor Ringo Starr was lucky if John Lennon or Paul McCartney would throw him one of their scraps. He sang lead on 11 Beatles songs and wrote just two by himself: 'Don't Pass Me By' and 'Octopus's Garden.' If you're wondering which one was left off of our list of the Top 10 Ringo Starr Beatles Songs, it's 'Matchbox,' the Carl Perkins number he covered in 1964 that's on the 'Past Masters' CD.
'Honey Don't'
From 'Beatles for Sale' (1964)
Following 'A Hard Day's Night,' the first Beatles album to feature all original songs, the group fell back on a handful of covers for their fourth LP, no doubt necessitated by their frenzied schedule. So they went with what they knew from their early gigging days: '50s classics by Chuck Berry, Buddy Holly and Carl Perkins, who's represented twice. George Harrison closes 'Beatles for Sale' with Perkins' 'Everybody's Trying to Be My Baby'; Starr sings his second Perkins track (following an earlier EP's 'Matchbox') — the casual shuffle 'Honey Don't.'
'Boys'
From 'Please Please Me' (1963)
Starr's first Beatles vocal is also the only song he sings on the band's debut. And like many of the tracks that he took lead on, 'Boys' is a cover. The girl group the Shirelles recorded the original version on the B-side of their 1960 No. 1 single 'Will You Love Me Tomorrow' (the Beatles also covered the Shirelles' 'Baby It's You' on 'Please Please Me'). Never mind that the song is written from a girl's perspective — Starr seems to be having a blast.
'I Wanna Be Your Man'
From 'With the Beatles' (1963)
Lennon and McCartney weren't too thrilled with this hastily composed throwaway, so they gave it to both the Rolling Stones (who released it as a single, their second) and Starr, who sang it on the Beatles' second album. There's not much to 'I Wanna Be Your Man,' but at least Starr's one-song-per-album allowance was a new one this time.
There's some dispute about whether or not Starr really did write the second Beatles song he's given sole credit for (reportedly Harrison had a huge hand in its composition). Either way, it's a goofy little number that seems a bit out of step with the rest of 'Abbey Road.' This would be Starr's last lead vocal on a Beatles song, but at least he seems to be having some fun with it.
'Good Night'
From 'The Beatles' (1968)
Starr sang two songs on 'The White Album': his own 'Don't Pass Me By' and this one, written by Lennon and McCartney. It's the last track on the Beatles' double-album epic, and it's a perfect closer to the brilliant, sprawling and occasionally messy indulgences that preceded it — a hushed lullaby cloaked in swirling strings. It features the drummer's most reserved vocal performance on our list of the Top 10 Ringo Starr Beatles Songs.
Starr's best cover song for the Beatles, and one of only a few Starr-sung tracks that made it onto one of their singles (it was the flip side of 'Yesterday'), 'Act Naturally' was originally recorded by country legend Buck Owens, who took it to No. 1 on the country chart two years earlier. Starr's aw-shucks delivery flawlessly suits the song's self-mocking mood.
'What Goes On'
From 'Rubber Soul' (1965)
Starr's 'Rubber Soul' song (for which he received a songwriting credit with Lennon and McCartney) was clearly influenced by his cover of the country song 'Act Naturally' earlier in the year (see No. 5 on our list of the Top 10 Ringo Starr Beatles Songs). There's a slight twang and gallop to this light, but enjoyable, track.
'With a Little Help From My Friends'
From 'Sgt. Pepper's Lonely Hearts Club Band' (1967)
Could any of the other Beatles have sung this key 'Sgt. Pepper's' track written by Lennon and McCartney? Yes. Could they have pulled it off as effortlessly as Starr? Probably not. As the first real song on 'Sgt. Pepper's,' 'With a Little Help From My Friends' is an integral intro to the album and its concept, and it all hinges on Starr's welcoming call.
'Don't Pass Me By'
From 'The Beatles' (1968)
Starr's best original composition, and the first one for which he received sole songwriting credit, features one of his best vocal performances (his drumming on the song is pretty masterful too). But 'Don't Pass Me By' is also well-known among Beatles fans for dropping another clue into the "Paul Is Dead" mystery file: "You were in a car crash, and you lost your hair," Starr sings with joyful indifference.
Lennon and (mostly) McCartney wrote it, it was the only Starr song on the groundbreaking 'Revolver' album and it was the only single Starr sang lead on that reached the Top 5 (it stalled at No. 2). Unlike most of the other tracks on our list of the Top 10 Ringo Starr Beatles Songs, 'Yellow Submarine' sounds like a total group effort — the other members weren't just playing backing band to the singer. Starr steers the whole thing with exuberant confidence, leading the singalong chorus like it was a role he was born for. Sometimes the drummer does get some love.
Think You Know The Beatles?
Best of Ultimate Classic Rock