Thin Lizzy's 'Bad Reputation' Turns 36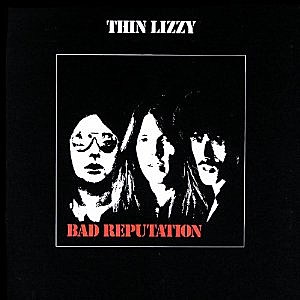 Thin Lizzy's reputation-cementing 1977 album 'Bad Reputation' has just turned 36 years old. 
Although the group had been making great rock and roll since the dawn of the decade, most American fans hadn't heard a note until the release of the gate-crashing 'Jailbreak' album in the spring of 1976.
Within the seventeen months that followed, the band issued not one, but two albums in the hopes of capitalizing on the success of that smash record. First up in early 1977 came the uneven 'Johnny The Fox,' which failed to pick up the torch from its predecessor artistically or commercially.
Then in September of the same year Phil Lynott and company (temporarily slimmed down to a three piece) unleashed 'Bad Reputation,' an album truly worthy of the standard set by 'Jailbreak.'
The trio (bassist/vocalist Phil Lynott, drummer Brian Downey and guitarist Scott Gorham) delivered a truly mighty batch of songs this time out. From the album opener 'Soldier Of Fortune,' whose lyrics remain sadly relevant today ("A soldier of fortune came home from war and wondered what he was fighting for / The sad eyed soldier broke down and cried he was so broke up inside / When will it end?")  to the dramatic closer 'Dear Lord,' the album rates as one of the best the band ever issued.
With his usual first-class production skills, Tony Visconti helped ensure the signature Thin Lizzy sound — showcased particularly well with the supercharged riffing of the title track –was as strong as ever. The upbeat, should-have-been-a-hit 'Dancing In The Moonlight' showed that there was much more to this band than hard edged rock and roll, and 'Killer Without A Cause' certainly ranks among Lizzy's finest moments.
'Southbound,' while walking similar ground to the 'Jailbreak' album, is another fine example of Lynot's way with a song. The killer twin guitar melody throughout bears a slight resemblance to, of all things, 'Knowing Me Knowing You' by Abba. 'Opium Trail' is a blazing rocker that packs epic ideas into just four minutes and features a blistering solo from Brian Robertson, who left the band before the album was finished but does appear on a few tracks.
Though the album failed to set the U.S. charts on fire, it was a top five hit in the UK, and 'Dancing In The Moonlight' hit top twenty.  More importantly, especially to American fans, it was the album that confirmed the fact that Thin Lizzy were a band to be reckoned with…a band for the ages. Long live Lizzy!
Listen To 'Killer Without A Cause' by Thin Lizzy
Best of Ultimate Classic Rock