The Who's Pete Townshend Recalls Punch-Up With Roger Daltrey While Mixing 'Quadrophenia'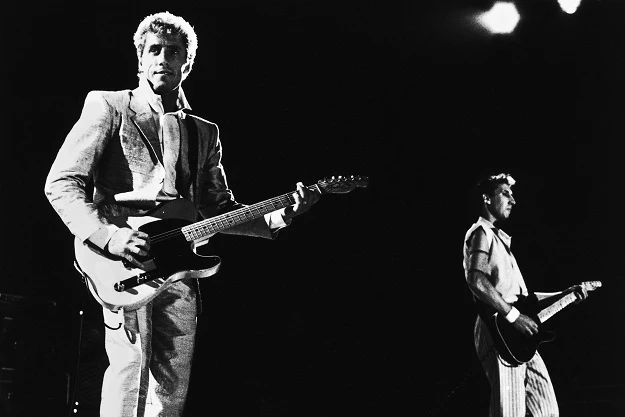 Pete Townshend considers 'Quadrophenia' "the last great album by the Who," but during recent promotions for the upcoming re-release of the 1973 album, he admitted tensions within the band ran high while mixing the disc. In fact, things got so bad that at one point, Townshend was on the receiving end of a nasty punch from singer Roger Daltrey that left him without his memory for two days.
"I walked into the studio, having not slept for two days after doing the final mixes," Townshend tells The Times. "I had been in my big Mercedes limousine drinking brandy. Roger was in the studio, having waited for me for the last five hours. 'We've done it,' I shouted at him. 'Yeah? Well I've been here since one o'clock and I'm going.'"
"'You can't f—ing go' I said,'" Townshend continues. "He pushed me out the way, I spat at him, and I got knocked out. When I came round an hour later my memory was gone for two days. He's a one-punch man Roger."
No memory for two days? We're sure staying up for 48 hours and drinking brandy in his "big Mercedes limousine" (as opposed to those miniature Mercedes limos?) had nothing to do with it.
Despite the altercation, the Who managed to mix 'Quadrophenia,' which of course went on to become one of the band's most successful and most beloved albums of all time. In fact, Townshend places it in a trinity of the all-time greatest releases from the band.
"I would say we only made three landmark records: 'Tommy,' 'Who's Next' and 'Quadrophenia,'" the guitarist told fans during a recent Q&A session in London. "I've always felt that 'Quadrophenia' was the last definitive Who album. I've always regarded it as a very ambitious album, but what got away was the story."
"To me, it felt to me like it was the end," he continued. "The reason I've spent so much time working on this new edition is because it's an epochal record, the last great album by the Who."
Want to get your hands on "the last definitive Who album?" Enter here for a chance to win a two-CD deluxe edition of  'Quadrophenia.'
Best of Ultimate Classic Rock