It Was 48 Years Ago Today: The Beatles' 'Sgt. Pepper' Celebrates a Big Birthday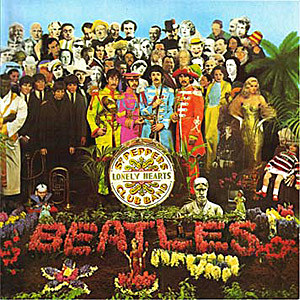 There are very few albums that so strongly capture and define that moment in time they came from. The Beatles' seventh album, 1967's 'Sgt. Pepper's Lonely Hearts Club Band' is without question one of those.
Released on June 1, 1967, 'Sgt. Pepper' would draw the line between the past and the future. It was where pop and rock and roll became, for better or worse, "rock," and when 33 & 1/3s overtook 45s, as the significance of the single bowed down to the artistic statement of the album.
Blame Bob Dylan! He started the stew brewing with 'Blonde On Blonde' a year earlier. Blame the Beach Boys, whose 'Pet Sounds' was, according to Paul McCartney, "the single biggest influence on 'Sgt. Pepper.'" Blame LSD, or, the fact that the band were no longer doing live concerts — with the recording studio now their full time home. Change was unavoidably in the air. To have gone from 'Please Please Me' to 'Lucy In The Sky With Diamonds' in just four years is still absolutely mind boggling.
It's easy to tag 1967 as the pinnacle year in the history of pop music for many reasons. Pop groups were taking risks and exploring their artistic selves, but still within the 'pop' format. Three to four minute songs and strong melodies still held the ball together. 'Sgt. Pepper' would in many ways be the last album the Beatles would make as a unified combo, before egos, and other factors, came to kill the party. It was a living, breathing statement of Pop Art.
Recording began on Thursday, November 24, 1966 for what would eventually become 'Sgt. Pepper,' with John Lennon's 'Strawberry Fields Forever' being the first track recorded. Though it (and McCartney's 'Penny Lane') would not make the album, they would be issued as a single on Feb. 17 of the new year, giving people a hint at what was to come. There is a great clip from American Bandstand (March 11, 1967) where the teens of America get a glimpse at the new look Fab Four. Their reactions are very telling. So much had already changed, and most were not aware or ready for it.
Recording of the album continued throughout the winter and spring, with any ideas put forth executed with the help of George Martin, whose role in all this cannot be overstated. "By the time 'Pepper' had come along," the producer said in a 1992 documentary, "I suppose I was a realizer of their ideas."  "He was always there for us to interpret our strangeness," added George Harrison.
The fact that all t his was recorded on a four track machine (still the standard at the time in the UK) makes it all the more amazing. Over a five month period, the album took shape. Orchestral flourishes, french horns, bass harmonicas, tape loops, harpsichord, sitar…anything and everything was used. "People played it a bit safe in popular music, but that's when we realized you didn't have to" explained Paul McCartney in a 1992 BBC interview.
Songs like 'Lucy In The Sky With Diamonds,' 'Getting Better,' 'Being For The Benefit Or Mr. Kite,' 'A Day In The Life,' and 'Within You Without You' are only a portion of the story. The album became the definitive soundtrack to that colorful year, and it has long been said that you could hear the album playing out of countless homes and cars that entire summer. It also marked the first Beatles album to have an identical release (cover art, track listing and so on) in both the US and UK.
While Lennon dismissed the notion of it being a concept album, "It starts off with 'Sgt. Pepper' and introduces 'Billy Shears,' and apart from the so called 'reprise,' otherwise every other song could have been on any other album," he said in the 'Beatles Anthology,' Regardless, it would forever carry that tag. "It's a fine album," said Ringo Starr in 'Anthology,' "but I did learn to play chess on it, because I'd have so much spare time."
45 years on, there are many people who hold up 'Sgt. Pepper's Lonely Hearts Club Band' as the greatest album ever made. Then again, there are many others who see it as where the sweet turned sour. Every dime a dozen band, and easy listening singer alike, all felt they had a grand statement in them to record, which led to some oddly curious, as well as some painfully ridiculous albums by a long list of acts trying to be 'hip.'
Still, the album stands as an incredibly amazing record that will still be talked about 45 years from now. "I think it did represent what the young people were on about and it seemed to coincide with a revolution in young people's thinking," concludes Martin.
Meet Everybody on the 'Sgt. Pepper's' Album Cover
Best of Ultimate Classic Rock