Former Members of Dire Straits to Tour U.S.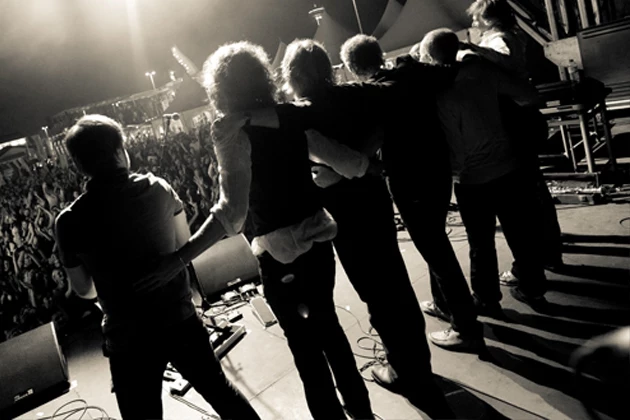 Former members of Dire Straits will be touring the U.S. in February and March, joined by Steve Ferrone of Tom Petty's Heartbreakers but not by longtime frontman Mark Knopfler.
Now called simply the Straits, the group features Alan Clark and Chris White, and will focus on familiar hits like 'Sultans of Swing' and 'Money for Nothing,' among others. Clark was with Dire Straits from 1980 through the band's breakup in 1995; White began working as a touring member of the group in 1985.
"Chris and I were having breakfast beside a pool one beautiful, sunny morning when I declared we were going to form the Straits," Clark says in a press release announcing the band's tour. "So, next we needed a band. There was only ever going to be one drummer: Steve Ferrone, probably the best rock drummer in the world and a good mate. We'd played together for some years when we were in Eric Clapton's band, and he is godfather to my son and daughter."
To fill in for Knopfler, who has focused on a solo career over the past couple decades, the Straits have recruited Terence Reis, a South African-born performer with a self-taught guitar-playing style remarkable similar to Knopfler's. "I'd always thought it would be impossible to replace the huge talent that is Mark Knopfler," Clark said, "until I discovered the brilliant Terence Reis."
The Straits U.S. Tour Dates
2/28 – Manistee, MI
3/1 – Annapolis, MD
3/2 – Portland, ME
3/3 – Buffalo, NY
3/4 – Red Bank, NJ
3/5 – Englewood, NJ
3/7 – St. Charles, IL
3/8 – Osceola, IA
3/9 – Grand Forks, ND
3/15 – Flagstaff, AZ
3/16 – Tucson, AZ
3/20 – Lakeland, FL
3/22 – Albuquerque, NM
3/24 – Seattle, WA
3/25 – Portland, OR
3/26 – Tuolumne, CA
3/27 – Boise, ID
3/28 – Stateline, NV
3/29 – Las Vegas, NV
Best of Ultimate Classic Rock