Steven Tyler Responds to Joe Perry Jab: 'Jealousy Runs Deep' in Aerosmith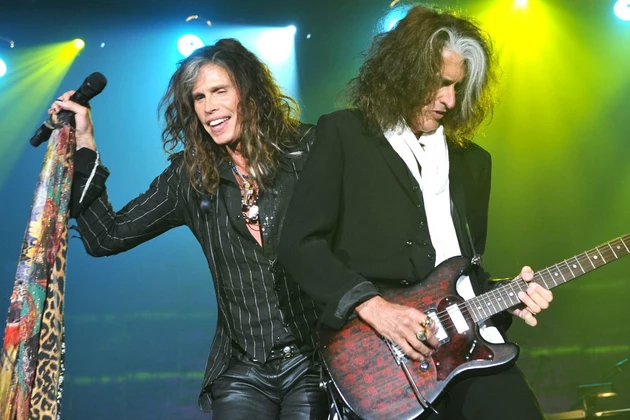 Joe Perry clearly isn't impressed with Steven Tyler's recent solo singles, but as far as Tyler's concerned, it's got nothing to do with the music.
The Aerosmith singer made his feelings clear after being confronted by TMZ recently. During a brief exchange with the gossip network's roving cameras, he was asked for his feelings about Perry's curt review of Tyler's latest solo release, the song "Red, White & You." (As previously reported, Perry shrugged, "If I didn't know him when I heard the song I'd go, 'It's okay, next.'")
"Jealousy runs deep in this family," Tyler told TMZ. "He's doing what he's doing, and I do what I do."
They might be working in different genres, but these days, the oft-squabbling bandmates are doing more or less the same thing — which is to say they're both working outside their Aerosmith comfort zone. While Tyler completes a country-influenced solo album, Perry has devoted time recently to working with the pop star Pitbull, with whom he recorded the new single "Bad Man." Neither effort has reached the commercial heights typically enjoyed by Aerosmith records, with "Red, White & You" peaking at No. 29 on the country charts and "Bad Man" so far failing to chart.
Aerosmith fans, meanwhile, continue to wait for a follow-up to 2012's Music From Another Dimension! — a frustrating state of affairs summed up by guitarist Brad Whitford, who's made it clear that in his view, this is a band that's greater than the sum of its parts. "I guess he seems to think his solo career is going to go great guns," he said of Tyler's solo detour. "He doesn't seem to realize that – in my opinion – his fans around the globe want to see him in the context of Aerosmith and don't really care for whatever he thinks he's gonna do."
Aerosmith Albums: Worst to Best
Best of Ultimate Classic Rock