Stephen Pearcy Reunites With Original Ratt Members Warren DeMartini and Juan Croucier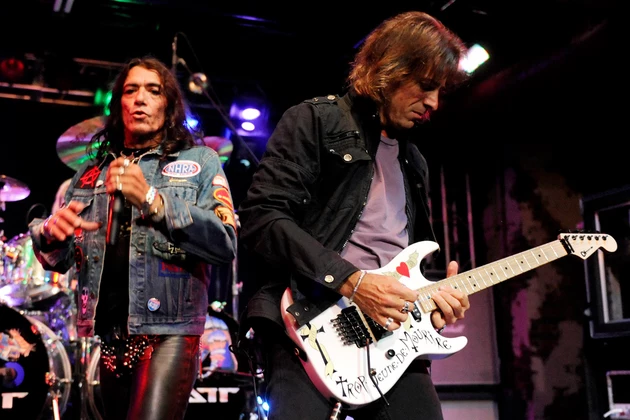 Metal fans taking part on the Monsters of Rock West Cruise this year got a little bit more than they expected. Last night (Oct. 1), Stephen Pearcy debuted his new band, which consisted of two original Ratt members, guitarist Warren DeMartini and bassist Juan Croucier.
Eddie Trunk, who welcomed them onto the stage, tweeted out a picture of the setlist, of the group and Periscope videos of "Body Talk" and the natural closer, "Round and Round." The band was completed by Quiet Riot guitarist Carlos Cavazo, who played on Ratt's 2010 album Infestation, and Y&T drummer Jimmy DeGrasso.
Photo w/the guys before I introed them @MonstersCruise . Jimmy DeGrasso, Carlos Cavazo, @Juan_Croucier , Warren DeMartini, @StephenEPearcy pic.twitter.com/RNAxGi9pZ3

— Eddie Trunk (@EddieTrunk) October 2, 2016
Set list for Warren, Stephen, Carlos, Juan, Jimmy DeGrasso. In Your Direction playing now. Always loved this riff! @MonstersCruise pic.twitter.com/b7IcD5TyO6

— Eddie Trunk (@EddieTrunk) October 2, 2016
LIVE on #Periscope: Another of my favorites. Body Talk! https://t.co/aZdVeNXn1k

— Eddie Trunk (@EddieTrunk) October 2, 2016
LIVE on #Periscope: Round & Round https://t.co/0cruvrJT5P

— Eddie Trunk (@EddieTrunk) October 2, 2016
Two months ago, Pearcy said that he was still friends with DeMartini and Croucier, adding that "Warren and I actually got together and wrote a song a while back, which is phenomenal. … Who knows what will happen soon enough? We're just waiting for some dust to settle. I really can't say anything right now, but if the public has any positive message, it's being heard."
However, drummer Bobby Blotzer remains estranged from his former band mates, although he's been on the road with his own version of the group on the grounds that he owns half of the name with DeMartini. Blotzer recently said that the fans don't mind that he's the only original member because "They wanna hear it done with great integrity, conviction, performance, show … everything. They just wanna hear the music and have it sound like the records. And I've seen other bands that have one, two, three [original members] … whatever, they go out and I look around and I'm, like, 'Wow, [the fans are] f—ng loving it,' and they don't really care if Joe Smith is on bass, or whatever. I walk out and see those faces and feel that love and give that love. It's, like, it all fades … all the negativity. I don't listen to it. I don't care. F— you guys. You don't like it? F— off."
Top 100 Classic Rock Artists
Best of Ultimate Classic Rock