UPDATED: Sebastian Bach Says He Never Asked Stryper's Michael Sweet for Help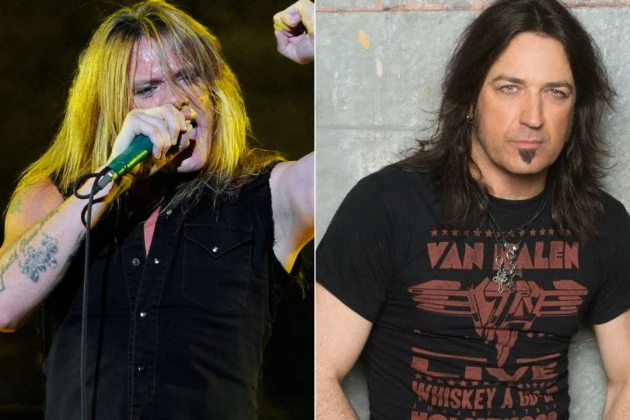 Something tells us Sebastian Bach won't be sharing any festival bills with Stryper and Sweet & Lynch singer Michael Sweet anytime soon.
Sleaze Roxx reports that Bach recently threatened Sweet in a (since-deleted) tweet, warning him, "Shut your mouth. Before I shut it for you." And although Sweet has so far declined to respond — turning the other social-media cheek, as it were — the report also digs up the likely cause of Bach's anger.
The subject of Bach's latest solo album came up during Sweet's recent appearance on the Eddie Trunk radio show — specifically, his public complaints regarding how few of Bach's Facebook fans and Twitter followers actually turned out to buy the record. Asked to weigh in on what might have gone wrong, Sweet offered a response that highlighted a tough fact of life for veteran rockers in his and Bach's peer group.
"This isn't a bash against Sebastian at all, it's just my opinion: I think people want to hear Sebastian of old. They want to hear the Skid Row Sebastian. They want to hear the hits, and he's giving them modern rock," argued Sweet. "It's a good album, it's a good-sounding album, but it's not the glory days."
As Sweet quickly admitted, it's a mistake he and the other guys in Stryper have made in the past. Pointing to their 'Reborn' and 'Murder by Pride' albums, which he deemed "a little more modern," he said, "They sold less than 5,000 the first week out. We come out with 'No More Hell to Pay,' which is going right back to our roots, giving the fans what they want and wanted, and we did almost 10,000 units first week out."
Sweet also shared that he and Bach were supposed to work on some new material together at one point, until "management got involved," and Bach seemed to have a change of heart about putting together an album of "the anthemy Skid Row stuff that everybody loves." Adding that he was never given a definitive reason for the gig falling apart, he shrugged, "I'll tell you right now, I think I could have helped Sebastian make a killer album. We'll never know."
1/31 Update: Bach has stated that he never asked Sweet — or any member of Stryper — to produce any of his albums:
ACCURATE? @Shawman23 FACT: No member of STRYPER was EVER asked to Produce ANY album by Sebastian Bach! EVER. Who do U think asks that?? Omg!

— Sebastian Bach (@sebastianbach) January 29, 2015
See Sebastian Bach in Our Video of Rockers in Funny Situations
Subscribe to Ultimate Classic Rock on
Best of Ultimate Classic Rock