Sammy Hagar and Adam Levine Debut New Santo Mezquila Liquor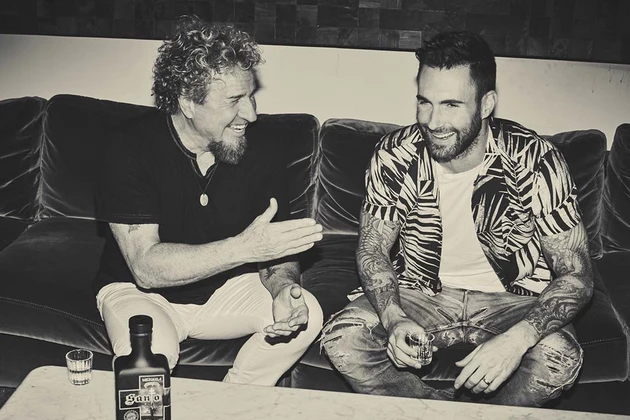 The spirits industry has been pretty good to Sammy Hagar over the years, and he's just added a new alcoholic venture to his portfolio — with an assist from Maroon 5 frontman Adam Levine.
USA Today reports that Hagar and Levine have teamed up to produce and market what the duo has dubbed the world's first mezquila — a blend of the agave-based liquors mezcal and tequila. As Hagar told the paper, they hatched the idea while discussing Hagar's initial plans to bring a premium mezcal to market.
While Hagar was enthusiastic about mining untapped demand for mezcal — a drink whose smoky character, as he puts it, makes you "feel like you smoked a cigar" after "three or four shots" — Levine preferred tequila. Hagar, having already made millions with his Cabo Wabo Tequila and skeptical of anyone's ability to muscle their way into a crowded market, knew they needed something different. They ended up blending the two spirits and meeting halfway. The result: Santo Mezquila.
"When we came up with that name — mezquila — the whole road opened up," Hagar recalled. "We know what we're going to do. It's the first mezquila. We've invented a new product. … It comes on like tequila and you smell a little bit of smoke in it, but is toned down to where you get a sweet finish. It's taking tequila to another level. When you blend the two you get a higher spirit, a brand new taste."
Santo Mezquila joins Sammy's Beach Bar Rum on the Hagar-affiliated roster of currently sold spirits. It's Levine's first foray into the field; as he told USA Today, he'd had offers to endorse various brands before, but his friendship with Hagar — cemented during Hagar's stint as a mentor to Levine's team on the most recent season of The Voice — convinced him "there's no one better, aside from the fact we get along famously and instantaneously, to jump on board with than this guy."
The Top 100 Rock Albums of the '70s
Best of Ultimate Classic Rock