Rush Announce 40th Anniversary Edition of '2112,' 'Time Stands Still' Blu-ray and DVD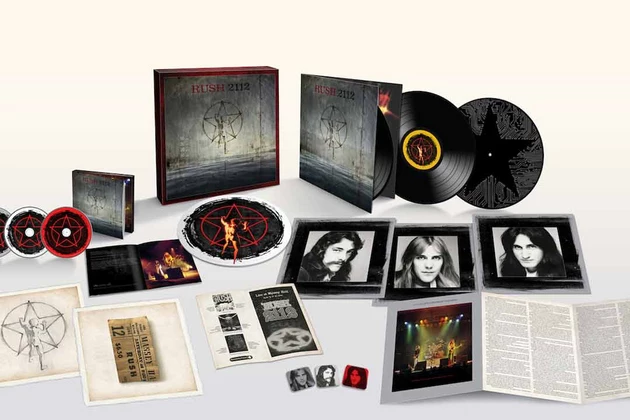 Rush fans have a lot to look forward to as 2016 winds down. The band just announced two new sets for release before the year is over.
First up, the home video version of the recent big-screen documentary, Rush: Time Stand Still, will arrive on Nov. 18. The feature-length film focuses on the band's R40 tour, which members have said will be their final series of shows of this massive size. The Blu-ray and DVDs will feature 67 minutes of previously unreleased footage.
Then, about a month later, on Dec. 16, the band releases a 40th anniversary edition of their classic 1976 album 2112. The set includes two CDs and a DVD featuring a live show recorded at Passaic, N.J.'s Capitol Theatre from the year of the album's debut.
The original album, which finally broke Rush to a larger audience four decades ago, has been remastered at Abbey Road Studios. The second disc of 2112 – 40th includes previously unreleased material as well as some newly recorded 2112 tracks by Foo Fighters, Porcupine Tree's Steven Wilson and Alice in Chains. You can see the complete track listing for the set below.
A super deluxe version adds a three-LP 200-gram vinyl (including a laser-etched side, the 2015 hologram from the second side and an exclusive turntable mat) to the material found on the disc edition.
Rush, '2112 – 40th' Track Listing
CD DISC 1
1. "2112"
I "Overture"
II "The Temples of Syrinx"
III "Discovery"
IV "Presentation"
V "Oracle: The Dream"
VI "Soliloquy"
VII "Grand Finale"
2. "A Passage to Bangkok"
3. "The Twilight Zone"
4. "Lessons"
5. "Tears"
6. "Something For Nothing"
CD DISC 2
1. "Solar Federation"
2. "Overture" – Dave Grohl, Taylor Hawkins and Nick Raskulinecz
3. "A Passage to Bangkok" – Billy Talent
4. "The Twilight Zone" – Steven Wilson
5. "Tears" – Alice In Chains
6. "Something for Nothing" – Jacob Moon
7. "2112" – Live at Massey Hall 1976 Outtake
8. "Something For Nothing" – Live at Massey Hall 1976 Outtake
9. "The Twilight Zone" – Live 1977 Contraband
10. '2112' 1976 radio ad
DVD
Live at Capitol Theatre 1976
1. "Bastille Day"
2. "Anthem"
3. "Lakeside Park"
4. "2112"
5. "Fly By Night"
6. "In the Mood"
Bonus Videos
1. "Overture" – Dave Grohl, Taylor Hawkins and Nick Raskulinecz
2. "A Passage to Bangkok," behind the scenes with Billy Talent
3. "2112 – 40 Years Later," Q&A with Alex Lifeson and Terry Brown
Rush Albums Ranked Worst to Best
Best of Ultimate Classic Rock