10 Rocking Moments From 'School of Rock'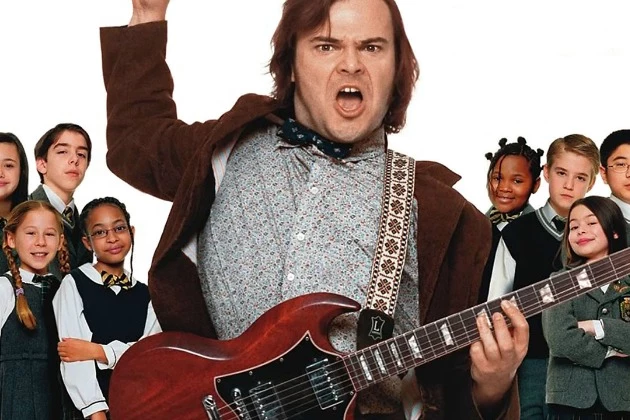 Thanks to his work as half of Tenacious D, Jack Black was almost a rock star before he was a movie star — and clearly the perfect choice to play the lead in 'School of Rock.' A rock-infused comedy about ne'er-do-well musician Dewey Finn (played by Black), whose layabout ways and excessively flashy guitar solos get him kicked out of his band — and almost his apartment — in the opening act, 'School of Rock' was the perfect movie at the perfect time, both for Black's Hollywood career and for an audience desperate to remember a time when people dreamed of being rock stars rather than DJs. It also didn't hurt that Dewey ended up teaching at a private school and making music with a group of adorably talented kids. Raise those devil horns high! Here are 10 Rocking Moments from 'School of Rock.'
There's a time and a place for everything, including wank-heavy guitar solos and topless stage dives. Alas, in the opening moments of the movie, Dewey proves he has a hard time understanding when the music — or the audience — is ready for either of these things.
The World Is Run by the Man
"There used to be a way to stick it to the Man — it was called rock 'n' roll. But guess what? Oh no — the Man ruined that too, with a little thing called MTV!"
Everyone has to start their rocking somewhere, and for Dewey's kids, the first lesson begins with some classic building blocks — starting with Deep Purple's 'Smoke on the Water,' Black Sabbath's 'Iron Man' and the Doors' 'Touch Me.'
It Will Blow the Classical Music Out Your Butt
Rock is about sticking it to the man, but it takes guts to make it happen. In this clip, Dewey gets his young charges ready to write a rock song by making sure they've got what it takes.
'My Brain Is Hanging Upside Down'
No feel-good movie is complete without a musical montage that shows the characters coming together, but 'School of Rock' made it cooler than most thanks to the soundtrack: the Ramones' 'My Brain Is Hanging Upside Down (Bonzo Goes to Bitburg).'
According to Jack Black, he and director Richard Linklater were so nervous about getting permission to use Led Zeppelin's 'Immigrant Song' for this scene that Black took the added step of filming himself begging in front of a theater full of people. It worked, obviously — and the scene works too, even dubbed in German.
From the moment Dewey finds out that his school's uptight principal (played by Joan Cusack) is a crazed Stevie Nicks fan, you just know he's going to use Nicks' music to forge a bonding moment. All it takes is a beer and a conveniently idle jukebox to make it happen.
Even in Dewey's darkest moments, you know he's going to get up onstage with his students and rock everyone's socks off. Even if 'School of Rock' has a somewhat predictable ending, there's no denying that the climactic scene — which finds them playing their original number 'Teacher's Pet' — is mighty entertaining. Here's the original cast playing it in front of a live audience for the movie's 10th anniversary.
'It's a Long Way to the Top'
They learned to rock, they inspired their teacher at his lowest moment and they slayed the crowd at the Battle of the Bands. What's left for the kids? Only to back up Jack Black during a closing-credits rendition of AC/DC's 'It's a Long Way to the Top (If You Wanna Rock 'n' Roll).'
Best of Ultimate Classic Rock